Posted on
Thu, May 5, 2011 : 5:59 a.m.
Officials taking close look at plan to expand Washtenaw County Board of Commissioners from 11 to 12 seats
By Ryan J. Stanton
A plan to redraw district lines and expand the number of seats on the Washtenaw County Board of Commissioners from 11 to 12 appears to be gaining support.
The Washtenaw County Apportionment Commission held off on deciding on a redistricting plan on Wednesday, but will meet again May 11 and is expected to vote then.
"We have two plans before us. There may be other plans provided. I think that the most likely outcome is we go with the 12-district plan or something very similar to it," said County Clerk Larry Kestenbaum, a Democrat who chairs the five-member apportionment commission.
A 12-district plan has garnered support from Kestenbaum and Mark Boonstra, chairman of the Washtenaw County Republican Committee and also a commission member.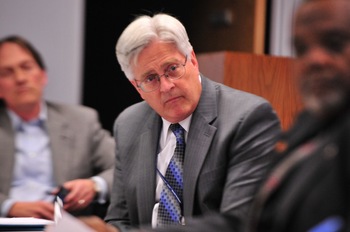 Ryan J. Stanton | AnnArbor.com
A revised version of the 12-district plan was discussed at Wednesday's meeting. Boonstra and County Treasurer
Catherine McClary
, another member of the apportionment commission, said they wanted more time to study the revisions before voting.
"I think there are some notions of making changes to it," Kestenbaum said. "But some of the concerns really can't be addressed without radically changing the plan."
Ann Arbor would keep its four seats on the county board under the plan, and a new district would be drawn for Scio Township, which has seen a 28 percent growth in its population in the last decade.
The districts would take effect for the 2012 August primary and November general election when all members of the county board would be up for re-election.
Kestenbaum said one current county commissioner — Barbara Levin Bergman, D-Ann Arbor — would be affected by the plan, but she doesn't intend to seek re-election next year.
An alternative nine-district plan has been proposed by County Prosecutor Brian Mackie, a Democrat, but it doesn't appear to have the support it needs. Mackie's plan would reduce the number of Ann Arbor districts from four to three and potentially put two current commissioners — Alicia Ping, R-Saline, and Wesley Prater, D-York Township — in the same district.
Still being discussed is the issue of "township islands" within the city of Ann Arbor — small pieces of Scio, Ann Arbor and Pittsfield townships that are surrounded by city territory.
Some members of the commission think the lines could be redrawn so larger contiguous portions of townships and their islands aren't divided into different districts, but others argue it doesn't seem reasonable to cut off chunks of the city to make that accommodation.
"I think that given the layout, this is inevitable," Kestenbaum said of having township islands. "In Scio's case, to put the part of the city of Ann Arbor that's west of Maple Road in with Scio Township would subsume that area of the city into a township district. So I think it's reasonable to essentially disregard the islands and let them be where they are."
Boonstra sees it differently.
"If you can combine the township islands with the precinct of which they are a part, then you'll eliminate a split precinct," he said. "So I want to look at those more closely before I vote."
Boonstra also said he wanted to look more closely at some of the recent revisions Kestenbaum made to the 12-district plan.
"I have some concerns about why we're joining part of the city with one township, why we're splitting York the way we are because we're splitting a precinct, and so I want to assess that further," he said.
McClary said she doesn't have a preference on the number of districts.
"We've looked at a nine plan and a 12 plan and I think we're looking at something in that range, and I think that'll work," she said. "The size that has been discussed has been eight, nine, 10 and 12, and I think all of them have some pros and cons, and we'll look at all of them."
Why not keep the board at 11 seats?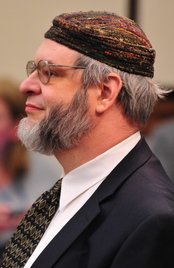 "Several people have told me they've tried to draw an 11 plan and it doesn't work with the population," McClary said. "The law is divide it by population as evenly and equally as possible, and the case law apparently says make your districts compact, and they have to be contiguous."
Whether adding another commissioner would add cost to the county's budget doesn't seem to be a primary consideration. Commissioners currently are paid a base salary of $15,500 plus other perks, including per diems and travel allowances.
"The commissioners set their own budget and they set their own salaries," McClary said of the financial implications of increasing the number of districts. "So it would really depend on what the commissioners wanted to do. Right now their budget is just over $500,000."
Cleveland Chandler, chairman of the Washtenaw County Democratic Party and a member of the apportionment commission, said he likes the 12-district plan.
"I think it'll work because it maintains the minority representation," he said. "Also, the Washtenaw County Democratic Party had a resolution to not go below 11, but we could go higher, and I think the 12 works a lot better. Because especially with the population being larger, you need more people to take care of the people's needs."
Washtenaw County's population grew by about 22,000 in the latest census counts that put the total population at 344,791 residents. Township growth includes Scio (up 28 percent), Augusta (up 40 percent), Lima (up 33 percent), and Webster (up 30 percent).
Mackie said he's not terribly wedded to his nine-district plan. He agreed the 12-district plan is looking much better than when it originally was proposed.
"I like both plans in that they generally keep Scio Township intact, because Scio and Pittsfield to a lesser degree have always been targets — if you need to make a district larger or smaller, you mess with those," he said. "And I think the fact that they're now represented by four different commissioners in Scio Township, they deserve some relief from that."
Mackie said a nine-district plan, however, would minimize variation in population from district to district and keep cities and townships intact as much as possible.
Mackie also said he's heard from some people who've served on past and present county boards that a smaller number of commissioners works better.
"Basically the board is tasked with coming up with a budget, and I think the way that process should work is we should rely on professionals who work on it year-round, and have part-time commissioners who hire an administrator and then trust him or her to do their job," he said. "We are fortunate to have an extremely good administrator for the county."
Mackie acknowledged there could be a cost savings to having less commissioners, but if more proves to be the better plan, then cost should be a secondary consideration.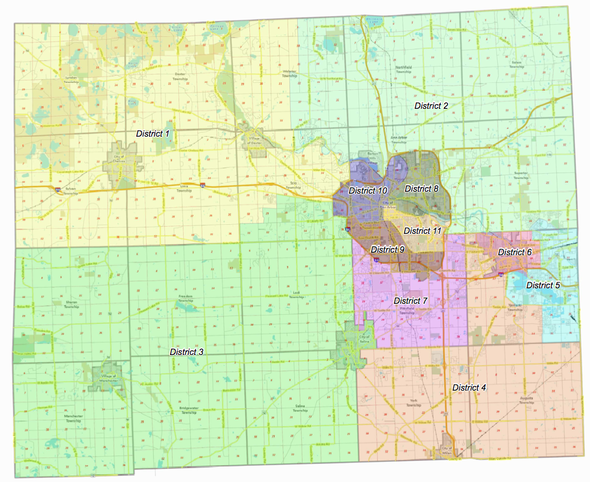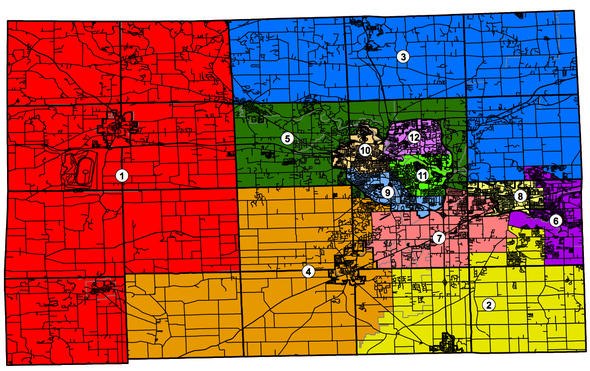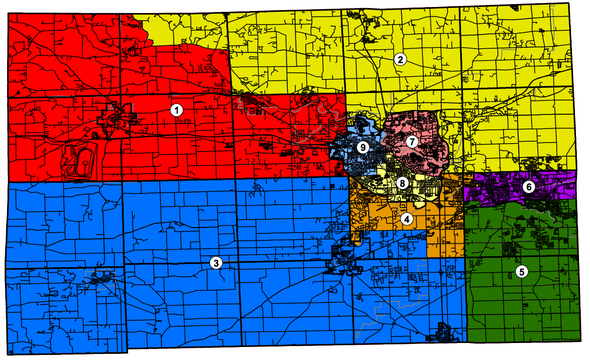 Ryan J. Stanton covers government and politics for AnnArbor.com. Reach him at ryanstanton@annarbor.com or 734-623-2529. You also can follow him on Twitter or subscribe to AnnArbor.com's e-mail newsletters.