Posted on
Sat, Nov 24, 2012 : 4:16 p.m.
Ohio fire hydrant paint job adds insult to injury for U-M fans
By Cindy Heflin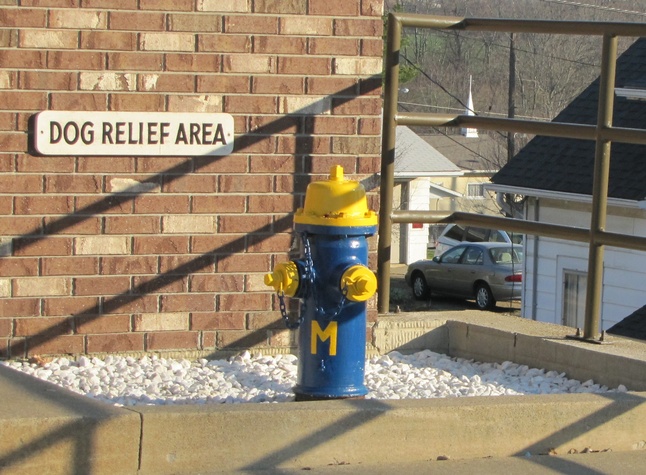 Photo courtesy of Gloria VanAlstine
An Ann Arbor resident last week discovered that some Ohio State University fans have come up with a novel way to express their opinion of the University of Michigan.
Gloria VanAlstine was in Berlin, Ohio, ahead of the U-M-Ohio State game to pick up three dogs that had been rescued from a puppy mill. While at the offices of the East Holmes Veterinary Clinic, where the dogs were being kept, she noticed what appeared to be a fire hydrant painted maize and blue.
At first she thought the vet must be a University of Michigan fan. Then she noticed the "Dog Relief Area" sign right above it, and realized that the hydrant was sending a less-than-positive message about the Wolverines.
"It cracked me up," she said.
VanAlstine and other Michigan fans were hoping the Wolverines would have the last laugh when the game was over Saturday. But it was not to be. Ohio State won the contest, 26-21.
Cindy Heflin is associate news director at AnnAbor.com. Contact her at 734-623-2572 or cindyheflin@annarbor.com or follow her on Twitter.