Posted on
Sun, Sep 9, 2012 : 12:30 p.m.
On patrol: What it's like to ride along with Ann Arbor police after a Michigan football win
By John Counts
John Counts | AnnArbor.com
Editor's note: The spelling of Officer Shellie Mathis' name has been corrected.
I expected the streets of Ann Arbor to be seas of swarming students drunkenly stumbling over one another. I expected images of bacchanalian debauchery along the lines of the "I'm Schmacked" movie circulating online that depicts revelers after last week's University of Michigan football game. In the video we see large crowds, loud music and copious amounts of alcohol and marijuana.
More officially documented were scores of fights, alcohol-related medical transports and three reported sexual assaults.
And the team lost last week. What would the party scene be like after Saturday's 31-25 win over Air Force? Off the hook, I expected.
This wasn't the case. I had the opportunity to ride along with two officers from the Ann Arbor Police Department from 7 p.m. to midnight Saturday to chronicle the craziness - but it was all calm and no storm.
"It's slow," said Officer Shellie Mathis from the driver's seat of an AAPD patrol car as we cruised downtown late into the night. "I'm shocked."
Mathis said the cooler weather with rain the night before was probably a factor, as was the fact that U-M had played Air Force, not exactly a longstanding rivalry like the Spartans or Buckeyes.
In the end, I saw two traffic tickets written, a noise ordinance ticket issued and a sleeping homeless gentlemen roused from a nap on a downtown sidewalk. For the most part, the fraternity houses were quiet, as were known party streets like Greenwood. Even by midnight, the bars on South University weren't as busy as usual.
"There's just not a lot of students out," Mathis said.
Battling the traffic
Before being paired with Mathis, I spent an hour with Shane Dennis, a 15-year veteran of the AAPD who covers the west side of the city. It was 7 p.m. when we hit the road. The game had just let out and the streets were choked with traffic when he was dispatched to a loose dog call on Oakwood Avenue.
He was skeptical he'd get to the area in time to do any good for the dog. The sidewalks were rivers of maize and blue as folks streamed away from the stadium. The streets were clogged with cars. As we sat in traffic, Dennis explained to me how game days are generally dealt with.
In general, about eight cars are on patrol when the night shift starts at 7 p.m. Some - like Dennis and Mathis - have just one officer. Other cars have two. An officer can either be working an eight or 12-hour shift.
That's any given night, though. At 10 p.m. on game day, two additional "Party Patrol" cars are added to deal specifically with minor in possessions, open intoxicants, noise complaints and other "Animal House"-type shenanigans.
We moved slowly through thick traffic on Packard. While we were stopped at a red light, a girl in a Wolverines jersey who was accompanied with a couple of other folks came up and told us she had no idea where she parked.
"Somewhere by the school," was all she knew.
Dennis helped her out as best as he could, but explained without more info, there wasn't much he could do. He explained it was a big campus. She may still be wandering around looking for her car.
There was no visible loose dog on Oakland, just a large man in his 50s rolling a city of Ann Arbor garbage bin down the street. Dennis stopped the car and rolled down the window.
"Is that yours?"
The man, who appeared slightly tipsy, stopped.
"This? No. Got it from across the street," he said, feigning a smile.
"Put it back," Dennis said.
As we proceeded to the next call, a well-being check on a 7-year-old boy reportedly unattended on South Seventh Street, I asked Dennis what the man wanted with the garbage can.
"When he goes to collect the cans, it's easier to roll to the store," he said.
Bring the noise
The boy on South Seventh was OK. I switched patrol cars and hopped in with Mathis, who has a downtown patrol, in the parking lot of the apartments where Dennis was finishing up the well-being check.
It was 8 p.m. by now. The city noise ordinance doesn't kick in until 10 p.m. The way it works is that any noise audible beyond where the property line meets the city sidewalk is against the ordinance. Police end up writing a lot of those citations, Mathis explained, especially at the beginning of the school year.
"When it comes to Football Saturday, it's zero tolerance," said Mathis, who has been working game days throughout her 13-year career with the AAPD.
The patrol felt like an endless loop that seemed to take us up and down State, South U., Washtenaw and through the neighborhoods south of Hill, with some variety, of course. There was a definite dearth of dispatch calls coming in, so we chatted while patrolling. Mathis said the previous weekend was pretty wild, but not any more or less than previous years. The fraternity houses on Oxford have been particularly bad already this year, so much so that some may be ticketed as being a public nuisance.
The problem with the fraternities persists despite the fact the presidents of the Greek organizations sit down for a meeting with law enforcement agencies at the beginning of the school year to talk about measures they can take to avoid trouble.
"It never fails," Mathis said. "They don't follow the rules and it gets out of hand."
We drove down the notorious party block of Greenwood Avenue, where the houses sit right up on the curb. The block was empty save a few college-aged kids quietly hanging out on some porches. The detritus of a pre-game celebration remained, however, like the dozens of red plastic Solo cups littered on small patches of grass and along the sidewalk.
Mathis was surprised the street was so empty. She said last weekend there were parties going on at almost every single house. They were loud enough for police to stop at each and every house to write tickets.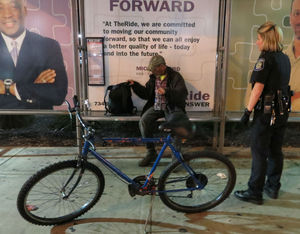 John Counts | AnnArbor.com
Since it was so quiet out, by 8:30 p.m. we were doing traffic patrol on Washtenaw. Mathis pulled over a couple of people for making an illegal turn on a red. Even by 10 p.m., as she continued the patrol, the lines outside the bars on South U. were seemingly non-existent. At 10:10 p.m., Mathis was dispatched to a home alarm that residents had unwittingly set off themselves on Henry.
The first alcohol-related call came in at 10:22 p.m. An intoxicated subject passed out at an establishment on South U. and hit his head. Huron Valley Ambulance was called to take him to the hospital. Other police units handled the call while Mathis wrapped up the home alarm incident.
Now that it was past 10 p.m., the noise ordinance could be enforced. Mathis was soon dispatched to a loud party at Dewey and Sheehan. The music was indeed loud, thundering out of a house with a small fenced-in front yard. Despite the noise, there were only a half dozen kids outside. Two other officers who are new to the force (Mathis is their training officer and is very happy to see new cops being hired) explained the zero tolerance noise ordinance and wrote them a ticket.
"We encourage no tolerance," Mathis told me. "If we hit them hard in the beginning, it's going to make it easier throughout the season."
A slow night -- so far
As we got deeper in the night, Mathis was still "shocked" that it had been this quiet. By 11 p.m., no big parties had erupted. No major incidents occurred. The crowds outside the bars on South U. were more or less behaved.
Officer Dennis had told me a disturbing story earlier in the night, however, about the large, circular concrete planters in the area of South U. and Church. Non-students will come into Ann Arbor and sit on the planters just to mess with inebriated college kids. Sometimes it turns violent.
"They think it's fun to punch out a drunk," Dennis explained.
Mathis later told me there might be plans to have the planters removed because they obstruct the flow of foot traffic so much. In short, they've become a problem.
But there wasn't much going on late Saturday night. Mathis said at 2 to 2:30 a.m., as the bars let out, she and other officers would be on the scene helping to corral the crowds.
But at 11 p.m., everything was more or less under control. At 11:31 p.m., a call came in regarding a man lying on the sidewalk with a bottle and a bike next to him. Mathis located him on Fourth Avenue near William.
The homeless man was on his back, arms crossed on his chest, asleep. Mathis woke him up and made sure he was sober enough to stay upright on his bike before sending him on his way. He wasn't arrested because he wasn't being disorderly, she explained. The only other recourse would have been to call HVA if he needed medical treatment, which he denied.
"If they can walk and talk, we send them on their way," she said.
Mathis' shift started at 7 p.m. and wouldn't end until 7 a.m. She was only midway through it when we said our good-byes.
"It's been slow," she said. "It will most likely pick up a little bit."
Ann Arbor police Sunday morning said the most significant event to occur was a stabbing of a non-student in front of an apartment in the 400 block of South First Street at 3:50 a.m. Sgt. Mike Scherba said as far as "Party Patrol" incidents, there were plenty of MIP, open intoxicant and noise ordinance tickets written by the morning, too.
Next weekend when the Wolverines take on Massachusetts in another home game, it could be a whole different story.
John Counts covers cops and courts for AnnArbor.com. He can be reached at johncounts@annarbor.com or you can follow him on Twitter.