Posted on
Sun, Jun 26, 2011 : 5:59 a.m.
One year after passage of Ann Arbor's pedestrian safety ordinance, most motorists aren't following law
By Ryan J. Stanton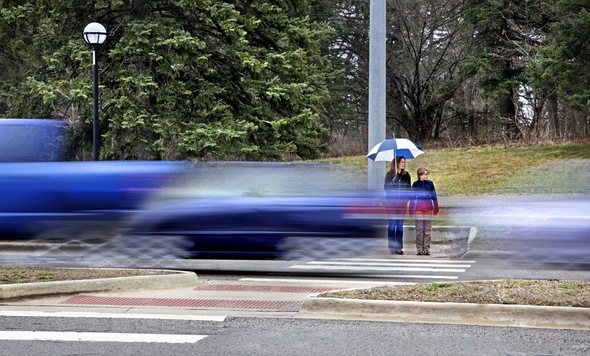 Courtesy of Aaron Kiley
Nearly a year after the passage of a
pedestrian safety ordinance
designed to give walkers the upper hand when crossing busy streets in
Ann Arbor
, not much has changed.
The overwhelming majority of Ann Arbor motorists still whiz by as pedestrians stand at the edge of city crosswalks, waiting for a break in traffic so they can cross safely.
That's a situation the Ann Arbor City Council hoped to mitigate by adopting what was considered a landmark ordinance in July 2010 that clarified the obligation of motorists to yield to pedestrians at crosswalks — even if the pedestrian hasn't yet entered the crosswalk. State law only requires motorists to stop for a pedestrian already in a crosswalk.
The ordinance was intended to foster a new kind of share-the-road culture in Ann Arbor, and city officials acknowledged it would take time to educate motorists about the new law.
But a year later, the message hasn't gotten through yet.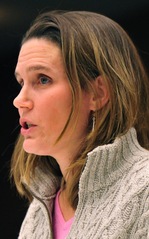 "Most people are not aware that there's been a change in the ordinance. Most folks are just not aware that they're supposed to be stopping at crosswalks," said
Erica Briggs
, a city planning commissioner and board member for the
Washtenaw Bicycling and Walking Coalition
.
The WBWC was the driving force behind the ordinance change last year, and the group now is launching a campaign to increase awareness of the law.
The pedestrian safety ordinance states that when traffic control signals aren't in place or aren't in operation, drivers must stop and yield to every pedestrian not only within a crosswalk, but also pedestrians approaching a crosswalk. Under the previous ordinance, pedestrians had to enter the crosswalk to require motorists to stop.
Now, the penalty for not stopping for pedestrians approaching a crosswalk is a $100 fine and two points on a driver's license.
Briggs said the WBWC will soon launch a campaign to educate drivers, with the help of a $6,000 grant from the Michigan Department of Community Health and $2,500 from the Downtown Development Authority. Thomson Reuters, one of the area's largest employers, also has helped out with $500 worth of in-kind donations for educational materials that the coalition plans to distribute, while the city is making a $1,000 in-kind donation as well.
"Obviously, we're working with a small grant, so it's not going to be some massive education campaign," Briggs said. "But kind of how we're approaching it this summer is to try to reach out to the Top 10 employers out there, working with the University of Michigan and Thomson Reuters and a number of other large employers in town, to make sure their employees are educated about the new ordinance."
The WBWC hopes to reach 25,000 drivers through printed materials, presentations to community groups, information disseminated to employers, radio interviews and other media, as well as education of fleet operators and portable electronic signs at crosswalks.
Additionally, the WBWC is working with the police department, which plans to conduct targeted enforcement at three locations between July and September, Briggs said.
"It's important obviously that police are enforcing this new law and letting folks know that you can get ticketed for not stopping at crosswalks when people are waiting," Briggs said. "So this summer, if people are stopped, they're more likely to get a warning than actually get ticketed, but then moving into ticketing probably in the fall."
Getting the word out
One of the hallmarks of a walkable community, Briggs said, is when you come to a crosswalk, a car promptly stops for you.
"You wouldn't ask your child to go step in front of a moving car to get a car to stop for you at a crosswalk. You're not going to do that yourself," she said. "And so people need to understand you need to stop when you see somebody waiting at a crosswalk."
But are Ann Arbor motorists doing that?
A recent study by the WBWC looked at what's actually happening at different crosswalks throughout the city and whether motorists are stopping for pedestrians. On Plymouth Road, the stop rate was 1.7 percent of 635 vehicles that passed by on a Friday morning.
On Stadium Boulevard, the stop rate was 1.1 percent of 517 vehicles that passed by on a Monday morning. On Liberty Street at Virginia, the stop rate was 8 percent of 301 vehicles that passed by around lunch time on a Monday. On Main Street, between William and Liberty, the stop rate was 5.3 percent of 604 vehicles that passed by on a Monday morning.
Briggs said she isn't disheartened by the fact that it's been a year and the pedestrian safety ordinance hasn't caught on yet — she knows it will take time.
"It's probably going to take years to get where we want to be because we're retraining people on how to drive, and the police obviously are being cut back, so enforcement is harder than ever," she said. "And they're going to take a number of years to get crosswalks designed the way that we see them designed in some places like Boulder, but it has to start someplace."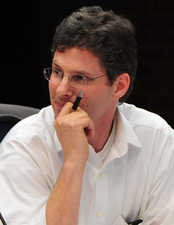 Police Chief
Barnett Jones
said he isn't sure whether any of his officers have been writing tickets to enforce the pedestrian safety ordinance. But he said Lt. Renee Bush will be working with the WBWC on training officers to bring them up to speed on the ordinance.
Jones noted he stopped for a pedestrian at a crosswalk recently and it caused a lot of commotion and he almost wound up being rear-ended by the driver behind him.
"We've got a lot of work that needs to be done," he said of educating the community about the ordinance. "And that work is in progress."
Council Member Carsten Hohnke, D-5th Ward, acknowledged the city is limited in its resources, so he's excited to see the WBWC stepping up to help get the word out about the pedestrian safety ordinance. He was one of the law's sponsors last summer, along with Mayor John Hieftje.
"It's perfectly understandable that not everybody would have seen the message yet, but I think there's certainly been a focus on it," Hohnke said. "We'd always love to have bigger budgets, but I think there's been quite a bit of output with the modest budget we have. There has been signage on AATA buses, keychains and posters educating around the ordinance."
In June 2009, Hohnke and Hieftje co-sponsored a resolution acknowledging that educating pedestrians, bicyclists and motorists is an essential part of making sure streets, sidewalks, crosswalks and bicycle lanes are used safely.
The resolution authorized spending up to $10,000 for development and implementation of a non-motorized safety education outreach program. Specifically, it directed transportation funds the city receives from the state — known as Act 51 dollars — to go toward development of a safe system of on-road bicycle lanes.
Hohnke said this will be the third year in a row that the city has dedicated $10,000 in Act 51 funds to non-motorized transportation initiatives, and a large chunk of that money is going toward educating the public about the pedestrian safety ordinance now.
According to Hohnke, there are talks of launching a yard sign campaign in which residents who live near crosswalks could agree to host signs on their property, carrying messages about crosswalk safety and best practices for following the pedestrian safety ordinance.
He also said there were two targeted police enforcement efforts last fall — one at Seventh and Washington and another at Ann and Fifth Avenue.
Rethinking crosswalks
Beyond enforcement and education, Briggs said the WBWC is working with the city on a new crosswalk design process, looking to communities like Seattle and Boulder for inspiration.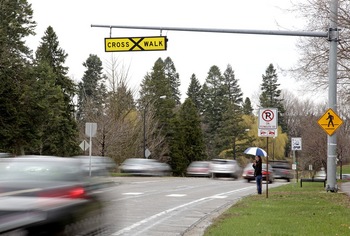 Courtesy of Aaron Kiley
Right now, she said, it seems Ann Arbor's approach to crosswalks is very reactive, and the city should develop clear guidelines that are proactively applied.
"Our crosswalks are not designed in a way to communicate to people what they're supposed to do," Briggs said.
"One thing we found is it's pretty easy to identify a crosswalk when it has a sign above it that says 'crosswalk,' but that's not what every crosswalk looks like," she said. "So a lot of folks aren't even necessarily sure what a crosswalk is, and then even if they do know what a crosswalk is, they need that reminder on the road that says 'stop for pedestrians.'"
Briggs said the city's engineers are amenable to working with the WBWC to develop design guidelines and target four or five crosswalks this summer for minor improvements.
Nearly 800 people recently took part in an online survey hosted by the WBWC that sought to determine what local drivers know about crosswalks.
Most actually said they know they're supposed to stop for pedestrians at crosswalks, but Briggs said that's not reflected in practice, and many survey respondents offered excuses for why they don't stop. Some said they're worried they could be rear-ended, some said they're worried a pedestrian might be hit by another car that doesn't stop, and some simply said they think pedestrians should have to wait for vehicular traffic to pass.
"I know I should stop; but I succumb to the prevailing behavior of not stopping," one respondent wrote. "There are no indications that I must stop, simply that there is a crosswalk," another said, suggesting a need for better signage.
"Waste of gas to accelerate back to speed," said another survey respondent. "They're walking, so they're obviously not in a hurry."
The majority of respondents said they would support better crosswalk design and education for motorists to enhance pedestrian and driver safety.
Briggs said the problem isn't as dire on neighborhood streets, but rather on larger arterial roads like Plymouth, Packard, Washtenaw, Huron and Stadium.
"And in those cases, what the research is showing is needed is treatments like the HAWK signal that we see at Third and Huron," she said. "And there are other signals that are not quite at that level, but they're pedestrian-activated that alert drivers there's a pedestrian there."
Ryan J. Stanton covers government and politics for AnnArbor.com. Reach him at ryanstanton@annarbor.com or 734-623-2529. You also can follow him on Twitter or subscribe to AnnArbor.com's e-mail newsletters.