Posted on
Thu, Feb 21, 2013 : 5:58 a.m.
Online traffic-monitoring system for Washtenaw County freeways delayed
By Cindy Heflin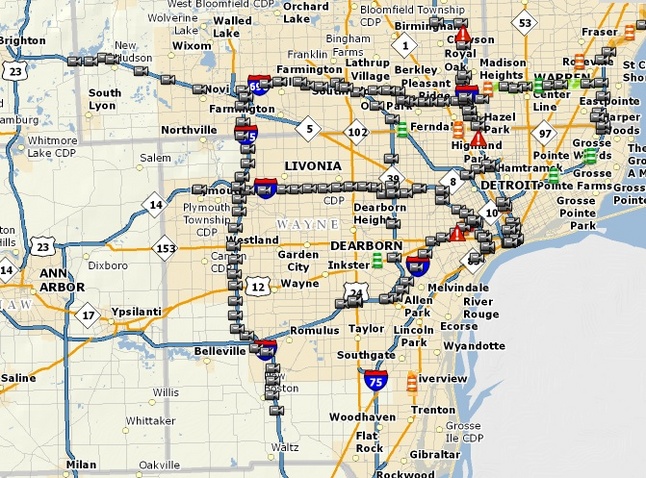 MDOT map
Technical issues have delayed the activation of online cameras that will monitor traffic on Washtenaw County freeways, but state officials hope they'll be working within a few months.
"I'm hoping for summer," said Michigan Department of Transportation spokeswoman Kari Arend.
MDOT camera image
The system was originally scheduled to go live sometime last year. It's been delayed by technical issues with the software and user interface, Arend said. Once the cameras are active, anyone will be able to go to MDOT's website, Michigan.gov/drive and get a live view of traffic on the freeways from the cameras.
Washtenaw County received 11 video cameras, eight message boards, three travel time signs and 13 travel detectors or devices that help determine traffic flow. The cameras, which have already been installed, are located at major intersections, including Interstate 94 and U.S. 23, I-94 and State Street, I-94 and Ann Arbor-Saline Road and U.S. 23 and M-14.
The message boards and travel time signs already are working, Arend said. The travel-time signs, which display estimated travel times to places like downtown Detroit and M-14, are on eastbound I-94 east of Zeeb Road and on north- and southbound U.S. 23 north of Geddes Road.
The message boards are placed in strategic locations on area freeways and can be used to warn motorists of crashes or construction congestion ahead so they can choose an alternate route.
The system is similar to one in use on freeways in the Detroit area. The closest working camera to Washtenaw County at the moment monitors traffic on M-14 west of Sheldon Road.
The federal government paid the $3.2 million cost for the project.