Ann Arbor City Council should continue to support public art
Posted on Sun, Nov 29, 2009 : 5:48 a.m.
What single event brings Ann Arbor more renown than any other? The Ann Arbor Art Fairs. What local institution just celebrated its 100th anniversary? The Ann Arbor Art Center. In these and many other ways, Ann Arbor and the arts are inseparable. This community loves and supports the arts, and benefits greatly by that association.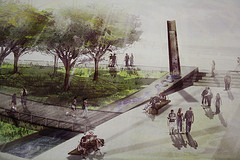 But Ann Arbor's commitment to art is now being tested by hard economic times, and by the proposal to commission a German artist for a dramatic but expensive piece of public art at the new police-courts building under construction next to City Hall.

Early next month, the Ann Arbor City Council will consider artist Herbert Dreiseitl's design for an outdoor water sculpture that is striking for both its innovative design and for the withering criticism it's receiving from people who see public art as an extravagance we can't afford right now - or who at least argue the money should be going to local artists. Such concerns are understandable, but in this instance, we disagree. It would be a mistake to back away from the Dreiseitl plan at this late stage. City Council should see it through. Two years ago, Ann Arbor joined cities like Madison, Seattle, Austin and Santa Fe in setting aside 1 percent of money from development projects to support public art. The water sculpture proposed for the police-courts building is the first piece funded by this program. It would be incorporated into a larger "rain garden'' designed to handle storm water in an attractive and innovative way. This is a locally inspired project, planned by Quinn Evans Architects and InSite Design, both of Ann Arbor. In October 2008, a Public Art Task Force concluded that it needed to move rapidly to choose an artist for the project, and turned to Dreiseitl, who enjoys an international reputation for work with water projects and had visited Ann Arbor the previous month for a public talk. This hasty decision left the task force open to second-guessing from people who think the process should have been more open and given preference to local artists. However, this particular project is unique in nature, and Dreiseitl's credentials for it are impeccable. It's unlikely that a broader search would have identified a local artist with the experience and expertise to incorporate storm water into sculpture. More likely, it would have only delayed a decision to the point where the sculpture could not have been integrated into the rain garden. Now that Dreiseitl has been commissioned, at a cost of $77,000, and has submitted his plan, City Council should carry this effort through. Dreiseitl's sculpture represents a significant piece of art that would bring an aesthetic and a prestige to the city for decades to come. We understand the sensitivity of spending what seems like a lot of money - a sum that may reach $840,000 for the entire project - during hard times. But in a community where the arts generate millions of dollars in economic activity every year, the decision to set aside 1 percent of development money for public art remains a sound one. That being said, due diligence still applies here. When City Council considers the Dreiseitl plan on Dec. 7, it must ensure that this project is done well and on budget, and that proper consideration is given to such questions as ongoing maintenance costs and the challenge of a water-based installation in a climate like Michigan's. And looking ahead, the process for selecting Dreiseitl should be the exception. The city's Public Art Commission has said that in future public art projects, artists from Ann Arbor and Michigan will be given more consideration, along with national artists. We encourage it to live up to that intention, using a more open process and looking to qualified local artists as much as possible. Ann Arbor values art; supporting local artists only increases the value.

(This editorial was published in today's newspaper and reflects the opinion of the Editorial Board at Ann Arbor.com.)