Posted on
Wed, Jun 20, 2012 : 5:50 a.m.
Ann Arbor schools need police liaison officers
By Guest Column
On June 13, the Ann Arbor Board of Education passed a budget that eliminated funding for the police officers who work directly in the schools.
I understand the school budget is currently in a mess and will remain that way for years. However, there are considerations that are above and beyond the immediate finances of the district. For example:
1) At a recent Skyline High School after-school activity, a citizen showed up wearing a gun in a holster at his side. The school police officer took the individual aside and asked why he was wearing a gun. He replied, "Because I can." As it turns out, he is right. There is no law restricting licensed gun owners from carrying a weapon to school as long as it is not concealed. And the Board of Education wants to eliminate armed school police officers from the schools?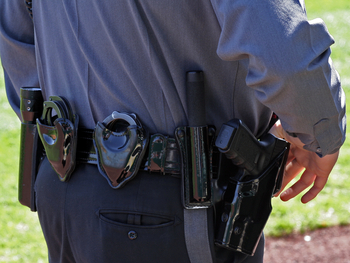 Timthephotoguy | Dreamstime.com
2) Legislation is moving through the state Legislature that would eliminate all restrictions on carrying concealed weapons. This means licensed gun owners could carry a concealed weapon into any school building, any sporting event, any concert, or any other school activity. And the Board of Education has decided to eliminate armed school police officers from the school?
3) Every year, in all of our high schools, there are students in crisis. Those crises include students who threaten suicide, relate stories of criminal sexual assault, and report physical threats and abuse. And the Board of Education wants to eliminate a trained professional first responder who is there and ready to help from the school buildings?
I was a teacher in Ann Arbor Schools for some 30 years. Most of those years were in high school but also some of them were in middle school. I know first hand the role these officers play in the every day world of the public schools. I know the role an officer played when a parent armed with a knife showed up at school to confront a student wrongly accused of sexual abuse.
I have seen officers talk with students who are in crises and have seen the officers help those students reach a safe place. I have seen the officers quietly keep the peace at a local basketball game. I have seen officers move through the halls providing a role model, an adult for a student to personally connect with, and quickly and calmly bringing peace to potentially dangerous situations.
I recently talked with the officer at Huron and was very impressed with his attitude toward his job. He sees his role as being one who is there to teach, to provide assistance, and to help make Huron a safe place for all teachers and students. These officers work not only in the high school they are assigned to, but they also work with both the elementary and middle schools that feed their high school. Their presence make all of our schools better, safer, calmer places for adults and students. And the Board of Education wants to remove these adults from the lives of our children?
Once these officers are eliminated from our schools, who will respond when there is a gun situation? When a gang fight is about to break out outside of school? When drug dealers set up shop in the parking lots? When a student needs to report a rape? Or when a student simply wants to talk to an officer?
Please, do not let these valued individuals be removed from our schools.
Rich Ballard is an Ann Arbor resident who taught for more than 40 years at all grade levels, including more than 30 years in Ann Arbor schools. He has taught everything from pre-school to graduate classes at the University of Michigan School of Education.