Posted on
Thu, Aug 30, 2012 : 5:58 a.m.
Application of crosswalk ordinance make solutions difficult to achieve
By Guest Column
Ann Arbor is widely recognized as a great, "cool" place to live. As a resident, I believe this as well and take pride in the town where I've served on the Ann Arbor Public School board and the Transportation Safety Committee. One thing that makes Ann Arbor so great is the strength we have in community-implemented solutions to solve our problems. That being said, I think we need to take one step back and evaluate the crosswalk situation with regard to the local ordinance and the crosswalks themselves.
In 2010, Ann Arbor City Council revised its crosswalk ordinance to afford greater pedestrian rights than the previously adopted Michigan code, which only requires drivers to stop for pedestrians within a crosswalk. The change went almost unnoticed for a year until the police started target enforcement and rear-end collisions began to occur - primarily on Plymouth Road. In response to citizen complaints, City Council revised the ordinance, restricting the pedestrian's right of way from "approaching" a crosswalk to merely standing "at" the curb of a crosswalk.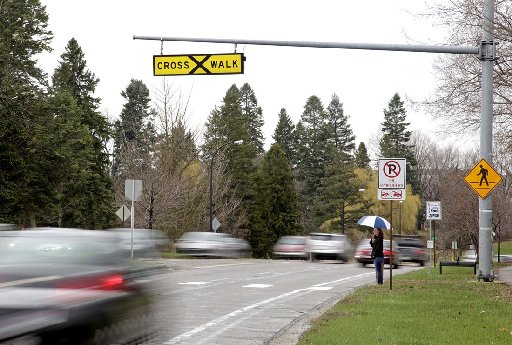 AnnArbor.com File Photo
There are three primary reasons for requesting an independent traffic engineering evaluation:
1) The appearance of a crosswalk varies greatly across our city, so while the ordinance may be well suited to certain crosswalks, for others the safety of the pedestrian is often compromised. Heavily used crosswalks in the downtown and central campus areas clearly are defined, speed limits are lower, and drivers are more likely to anticipate pedestrian activity. Pedestrians at crosswalks on major thoroughfare with higher speeds and congested traffic tend to go unnoticed without signalized controls. In many residential neighborhoods, a variety of crosswalk signs and markings, overgrown vegetation and on-street parking contribute to the confusion and risk of not seeing a pedestrian.
2) We don't have the means to educate drivers. The crosswalk signage is not consistent with the local ordinance and Ann Arbor is prohibited by the state from posting customized signs. Without this ability, we cannot make most Ann Arborites aware of the ordinance, let alone the motorists who are visiting or travelling through Ann Arbor
3) The city has neglected to evaluate the problem of motorists, pedestrians, and bikers sharing our roads as an issue of traffic engineering and has instead framed the problem as one of inequalities between the three and thus tried to rectify it by arguing for more pedestrian/biker-friendly rights. This not only puts pedestrians in danger, but it goes against the AAA School Safety Patrol teachings and what we've taught our children about street safety.
The ordinance itself may not be at issue; it is the application of the ordinance that makes it difficult to find of an effective solution for our traffic issues. This is why an independent traffic engineering evaluation is needed in Ann Arbor.
Please encourage your council members to authorize an evaluation at the next council meeting. For more information and links to recent media coverage, click here.