Posted on
Sun, Feb 20, 2011 : 5:57 a.m.
Borders must change business model if it is to survive bankruptcy
By Tony Dearing
Last Sunday, for the first time, The New York Times began publishing a best-seller list for e-books. Last Wednesday, Borders filed for bankruptcy protection. The two events are hardly coincidental.

Borders' inability to come up with a coherent strategy for selling books in the digital age is one reason for its insolvency, though not the only one. Its constant management turnover and its over-expansion in superstores are culprits as well.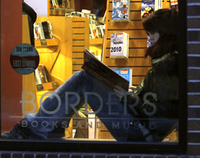 Like many in Ann Arbor, we've been waiting sadly, resignedly for that shoe to drop. The Borders bankruptcy filing is being covered by every business publication in the country. But for those of us in Ann Arbor, this is not a national story. This is a local story.

Borders was, after all, an Ann Arbor born-and-bred success story, and as it emerged over three decades from an 800-square-foot used bookstore to a national chain known for innovation and rapid expansion, our civic pride swelled and our community benefitted from the jobs and the national luster that Borders provided us.

This city's connection to Borders is as much emotional as financial. It was the sophisticated book-lovers of Ann Arbor who provided the original audience for Borders to emerge and grow. In turn, Borders changed the book-buying experience with its impressive inventory, its come-in-and-browse-a-while ambiance, and particularly with its knowledgeable, helpful staff.

For many Ann Arborites, including the growing legion of former Borders employees who were shed during recent years of downsizing, it has been depressing and painful to watch the company unravel. We can only hope that Chapter 11 bankruptcy will be the first step in salvaging what is left of Borders and getting the company back in its feet.

Even the experts are of mixed opinion on what Borders' prospects are, but Ann Arbor should not be ambivalent about this. We want the company to recover, and to remain based here. We don't know if it will be able to stay in its current headquarters on Phoenix Drive at a time when its corporate staff has fallen to about 550 , and will likely fall further as a result of the company's attempt to reorganize. Still, a smaller Borders that remains headquartered somewhere in the Ann Arbor area is what we must hope for.

And while there is nothing to celebrate in this bankruptcy filing, we must express some relief over Borders' decision to keep its flagship store in downtown Ann Arbor open, even while we regret that it must close any of its local stores. As part of its filing last week, Borders announced it will shutter its store in Arborland, while continuing to operate the downtown store and a newer store on Lohr Road in Pittsfield Township.

Downtown Ann Arbor is the birthplace of Borders and the value of having a store there is more than symbolic. These are challenging times for downtown businesses, and the continued presence of such a well-known retail anchor can only enhance the overall climate downtown. We still lament the closing of Shaman Drum, and are glad not to see downtown lose yet another bookstore.

Still, we cannot let our expectations get ahead of reality. Borders' stock value has vanished, its business model is unsustainable and its liquidation remains a distinct possibility.

It is being crushed under the $1 billion annual cost of long-term leases, and the bankruptcy filing will allow it to get out from under that burden. But closing 200 or more unprofitable stores will not save Borders. The company's problems go well beyond that.

Having seen five different CEOs in the past five years, it is desperately in need of stable, consistent leadership. Even more, it needs to rediscover its identity. Even many of its most loyal customers bemoan that the experience of shopping at a Borders isn't what it used to be.

Not that what used to work is the answer today. The emergence of Amazon and e-books have changed the industry, and Borders has floundered through the transition. A company once known for being ahead of its time, it fell behind the times and has yet to catch up. Its early decision to outsource its online sales to Amazon is seen now as a strategic blunder. And its critics say the steps it's taking now to restructure have come at least two years too late.

And yet, to criticize now is easy - almost as easy as it is to forget that for much of its history, Borders was known as a smart, exceptional company that made all the right moves. Its ascendance was a blessing to Ann Arbor in many ways. We appreciate that, and the last thing we want is for Borders to become a footnote in Ann Arbor's cultural and corporate history. We sincerely hope it survives this bankruptcy filing and re-emerges in a form that can sustain it for the future.
(This editorial was published in today's newspaper and reflects the opinion of the Editorial Board at AnnArbor.com.)