Posted on
Wed, Feb 20, 2013 : 4:29 p.m.
Ann Arbor city officials should be more careful when examining options for developing, upgrading city
By Guest Column
It is distressing and frankly depressing to learn that the Water Treatment Plant is falling apart and will soon have to be replaced or substantially repaired. It would seem this is news to our mayor and all those expensive engineers and experts at City Hall. Following some unknown "study" we may get a plan and costs sometime down the road.
And this follows bridges falling down, again seemingly without anyone at City Hall knowing it was going to happen and no money at City Hall to replace it, and the mayor and his cronies at the DDA spending tons of tax money to build a huge underground parking structure next to the Library which, according to them, will support a 14 story hotel and conference center atop a postage stamp sized lot. Oh, did I mention their 'deal' never came to pass and the taxpayer is left with the bill….again.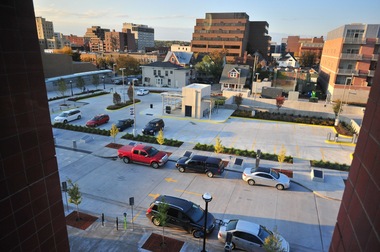 Ryan J. Stanton | AnnArbor.com
Some of us will remember the fiasco of the city getting involved with the old YMCA building and operations, where the city ended up paying a ton of money to house a bunch of nice folks who were being nicely housed by the Y, well-run and needed. We lost a ton of taxpayer money in the process.
There are others I could mention, like a City Hall and Justice Center with no parking to speak of, but the point is simple. Our infrastructure is falling apart. These are the worst roads we have ever had, and I've lived here more 50 years and this mayor and his cronies are chasing rainbows, "Pretty City Awards" and a downtown more like Canyon City than "Tree Town, U.S.A."
The Williams Street project is simply the mayor and the DDA's thinly disguised plan the sell off all five of the cities remaining downtown parking lots for commercial development of unknown nature and description…presumably more "Canyon Cities" like the State Street campus area. The more the mayor can stuff in the better. That's the mayor's motto at City Hall and the DDA these days.
The plan is being touted by the mayor and the DDA as a development of Williams Street. It's not Williams Street at all. It's Main and Fourth and Fifth and Ashley…it's all of downtown…no surface parking…period. Sold to the highest bidder.
Think about it. Where will you park?
Will there be any green space left? Certainly no room for a park.
Time for a change, folks. Wake up, Ann Arbor.
Donald H. Kenney is a resident of Ann Arbor.