Posted on
Sun, Mar 24, 2013 : 11 a.m.
Economic forecast sure to provide interesting look into Washtenaw County's future
By Paula Gardner
AnnArbor.com reported last spring that three-year job growth in this region would total 11,038 through 2014, based on an annual forecast from University of Michigan economists George Fulton and Donald Grimes.
Those numbers, we reported at the time, put the county on a job growth pace that resembled what some still call the "go-go 1990s," or 1995-2000.
Economic forecasting is notoriously difficult. Yet Fulton and Grimes, in providing this annual report for Ann Arbor throughout the past 27 years, have a cumulative margin of error of -0.7 percent.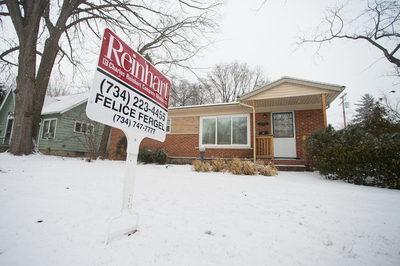 Courtney Sacco | AnnArbor.com
The 28th annual Economic Outlook for Washtenaw County will be presented by Fulton on Wednesday, with coverage in AnnArbor.com's print and online editions. The report, prepared for AnnArbor.com, also will be discussed in detail at a Washtenaw Economic Club luncheon that day.
Business reporters Lizzy Alfs and Ben Freed are preparing to go through this year's reports to write full coverage on what this region can expect in job growth, the types of jobs where employers will be hiring (or losing ground) and wage trends.
If the report shows that last year's version was on target - and, as I mentioned, it usually is - we should find that this region will:
Continue to beat the state and national average on unemployment rates.
Show yet more job growth in high-wage positions, or jobs that pay at least $57,000 per year.
Continue to benefit from this area's employment strongholds: health care, universities and automotive.
All of that is good news for this area, which suffered along with the rest of the nation during the financial crisis.
Yet this documented rebound - which started in 2010 - may still not be enough persuasion for many among us that our improving local economy means that our personal financial situations are improving, too.
State and national tax changes, rising consumer prices and global financial insecurity loom in the background of any discussion of more and better jobs in Washtenaw County.
And while more opportunities seem to be opening for people who are looking for jobs, I'm still hearing of hesitancy among many companies to fill positions quickly when an employee gives notice.
Many among us, on the corporate and personal levels, still don't trust that they could find a new job or sustain a new hire.
That's the emotional fallout still lingering from the downturn.
On the other hand, we can watch mortgage firms hire and housing takes price leaps that remind us of another era of over-exuberance. And, at times lately, it may seem like we're heading for 1998 all over again.
Fulton and Grimes are ready to tell us whether that's the case, and I look forward to hearing that report and telling that story on AnnArbor.com.
Even if we're surprised, and hiring slowed to under-projection, it's probably only a matter of time before the majority of us can answer my question at the beginning of this column with a firm, "Yes."