Posted on
Sun, Aug 18, 2013 : 5:45 a.m.
Editorial: Try to look at Ann Arbor through eyes of a visitor
By AnnArbor.com Staff
Summer in Ann Arbor brings a sigh of relief for many residents.
After all, in the weeks following the activity of Summer Fest and the Art Fairs, we're able to take a deep breath, savor the season and brace for our population to swell again as the fall semester starts.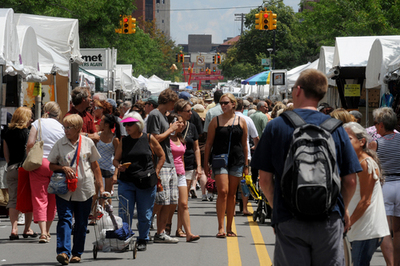 Many of us use these weeks to travel. For AnnArbor.com's newsroom staff, summer trips included visits to Chicago, New Orleans, Montana, Belize and Iceland, along with many Northern Michigan stops.
Yet every year, Ann Arbor also is a vacation destination for people who use our town for that same sense of discovery, relaxation and fun that we seek when we leave it for a trip.
It's not by accident: The Convention and Visitors Bureau actively recruits travel interest to this area, including through a national Pure Michigan ad campaign. That joint effort with the state started with a $500,000 local investment, and it now totals $1 million for 2013.
Over the past week, this community was host to at least 2,000 visitors as part of the annual United Association training sessions held at Washtenaw Community College.
Those training sessions draw participants and their families to this area, generating an estimated $5 million in related spending.
And that's just part of the benefit when people consider this area a tourist destination. In 2012, Ann Arbor led the Midwest's hotel occupancy rebound, with this community recording some of the top percentages in several states - and that's not just about football Saturdays.
With that backdrop, we thought this would be a good time to ask: What could you gain from living here if you spent a few days looking at this community through the eyes of a visitor?
Trip Advisor lists 420 dining options for Ann Arbor. When was the last time you tried a new restaurant?
It also gives 42 attractions - ranging from the Hands On Museum to the University of Michigan Law Quad. When was the last time you visited one?
And what about the shops — particularly the independent retailers that still make up a big part of our economy? If you haven't stepped inside one of the stores where our neighbors are trying to make a living, it's worth seeing what's offered here. You may not need a "souvenir" from your hometown, but the delight that you feel from browsing stores in a new destination might be recreated just blocks from home.
If nothing else, considering something new about Ann Arbor could recommit us to what we want for our future — and why we consider this area home.