Posted on
Sun, Aug 22, 2010 : 8 a.m.
Elderly woman's fall off new library ramp punctuates safety concerns
By Jen Eyer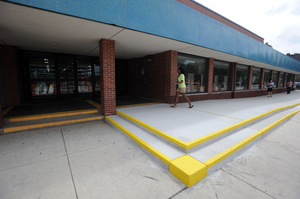 Lon Horwedel | AnnArbor.com
When Gytha Mack visited the Ann Arbor District Library's downtown branch on Aug. 13, she got two books, several facial bruises and an overnight stay in the hospital.
The 87-year-old Ann Arbor resident took a nasty fall off the library's new ramp in exactly the type of scenario that disability advocates had previously sounded warning bells about. I raised the issue in a column last Sunday, and a reader informed me of Mack's injury.
The new entrance consists of a gradually sloping ramp leading to a platform in front of the library's porch. The platform has a step leading down to the sidewalk on two sides, and, at the time of Mack's accident, a yellow painted stripe along each edge served as the only warning.
Mack, who uses a wheeled walker, told me she exited the library and turned right to go home. It was around 6 p.m., and the bright, low sun made it difficult to see, she said.
She started walking to the edge of the platform, and then noticed the sidewalk was closed in that direction. So she turned around to go the other way.
"There's a little step down, but I didn't see it," Mack said. "One wheel of the walker went over the edge, and I fell down over the walker and on my head." She was transported by ambulance to the hospital, where she was kept overnight for observation.
As I reported last week, the Ann Arbor Center for Independent Living's advocacy director Carolyn Grawi had asked the library to add extra safety features to the new entrance, such as handrails and detectable warnings, but Library Director Josie Parker declined most of the requests.
Parker said handrails weren't required under ADA or building codes and could create other problems, such as people climbing on them. Detectable warnings — textured surfaces used to signal an impending edge — could be a tripping hazard, she said.
Grawi had also asked for signs to show people which way to go, and Parker agreed to add them, but they haven't been posted yet.
After the column ran, I also heard from Ann Arbor resident Carl Anthony, who said he tripped and fell off the ramp on Aug. 13.
Anthony said he had started walking from the bottom of the ramp and stumbled over the step where the ramp divides.
"I caught myself, but I hit my leg pretty hard and awkwardly. My knee was hurting and sore. It still is today actually," Anthony wrote in an email to me on Aug. 19. "I think this is a serious issue. I can't imagine what will happen come winter and snow starts to cover it."
When I contacted Parker about Mack's accident, and to ask whether the library planned any additional changes to the entrance, she said she had no comment. Library Board President Rebecca Head also declined to comment.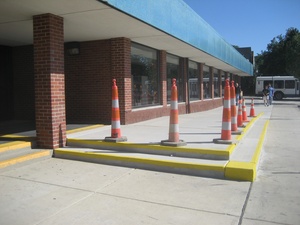 Stefanie Murray | AnnArbor.com
However, on Wednesday afternoon, Aug. 18, Grawi said she arrived at the library for a meeting and noticed orange cones lining the edges of the platform, which were still in place as this column went to print.
Grawi said she's glad to see the cones — though she would like to see an additional one at the edge where the ramp begins — and she hopes they indicate that a more permanent solution is forthcoming.
She added she hopes library officials will consult with the CIL or other disability advocates as they draft that solution.
"I just hope that the seriousness of this is addressed more formally with some additional consultation and disclosure with all parties that have been trying to help make this safe for all patrons," Grawi said.

Jen Eyer is on the Community Team at AnnArbor.com, and she writes a citizen advocacy column. Do you have a problem you'd like to share? Contact Jen at jeneyer@annarbor.com or 623-2577, or fill out this form.