Posted on
Sun, Aug 14, 2011 : 2:30 p.m.
Mayor Hieftje needs a better, more detailed plan for the Fuller Road Station
By Guest Column
In his July 27 five-page letter on Fuller Road Station, Mayor John Hieftje pointed far down the train tracks to commuter and "higher speed" rail travel. We must not let our attention be distracted from overall costs and components of the project that have little to do with mass transit. His letter paints a "green" picture that obscures the realities. The project is really two functionally unrelated elements — a parking garage for University of Michigan employees and a proposed train station. What are the costs, risks, and benefits of the proposed project for Ann Arbor taxpayers?
On funding, the mayor states that, "The FRS Phases I and II can be built without any significant upfront cost to the city." What about at least $700,000 already paid to consultants, plus the equivalent in city overhead cost for legal, engineering, administrative and planning staff time spent on FRS to-date? Are these costs not significant?
Additional associated costs for Phase I, the parking structure, include: • $1.3 million for recently approved sewer, water and storm drain relocations for FRS, that were not rated as high priority Capital Improvements, • unspecified costs for significant roadway changes to Fuller Road, • more than $2 million for design and construction of a roundabout at Fuller/Maiden Lane/E. Medical Center Drive, • the unidentified value of more than 10 acres of parkland in the Huron River valley and the destruction of trees and other natural features.
Subsequent to Phase I, costs for construction of a train station, boarding platforms, rail sidings, an elevated walkway and other elements are estimated to add at least $75 million to this major project. No plan has been presented that shows how the City could meet this financial obligation. If hoped-for grants are not available after Phase I, we will have … only a parking structure.
The mayor's letter states, "Under a plan that is still being worked out, the city will own FRS and the city's portion of the costs will be made up over time from funds generated by parking spaces."
The mayor failed to explain that while Phase I has the university's commitment to fund 78 percent of the total $43 million cost of the parking structure, the city's 22 percent share is $10 million that the city does not have. Funding that expense would require either taking on long-term debt or further reducing funds for other essential services. He did not explain the use of street, water and sewer funds for this project.
The mayor's letter mentions the Border to Border non-motorized Trail, yet plans to complete it are excluded from the project, despite multiple requests from the cycling community. Instead of improving nearby bicycle trails, more than 100 bicycle hoops will be installed as part of the parking structure. Why would a bicyclist choose to bike to a parking structure, and then ride a bus to a destination? Biking directly to a destination makes most sense.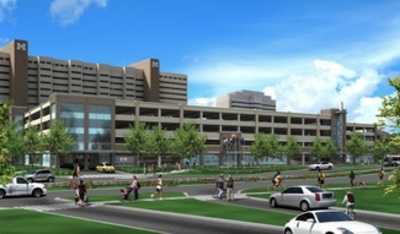 The Fuller Road Station will increase traffic in the already-congested area of Fuller Road. Currently, the university leases 250 surface spaces Monday through Friday, 10 hours a day (one shift). The new garage will house almost 1,000 cars for 24/7. Plans include adding floors, for a total of up to 1,600 cars. More than 500 buses per day will clog the area. Options for green space will be traded for a parking garage that is expected to stand for 75 years. Our gain: traffic and air pollution.
The mayor's letter indicates Amtrak interest and support for a new train station. There is no agreement for Amtrak to provide funding. Words of support do not equal funding support. Given current congressional funding problems, grant coverage of the significant Fuller Road Station costs is questionable. Grants usually do not cover the millions needed for operations.
Before proceeding with any additional funding requests of the city, or with additional construction, the mayor should provide detailed answers to the following questions:
1. What is the business plan for FRS?
2. What are the details of costs, funding sources, and timing of the overall project, including Phase I and subsequent phases?
3. Should the city own and operate a train station?
4. Is it fiscally responsible to own and operate a parking garage, when 78 percent of it will be used primarily by the university?
5. How is the cost of the land addressed in the project-funding plan?
6. How does the city benefit from yet another parking structure?
While looking forward, let's prepare for fewer cars clogging our city. Let's avoid a financial train wreck due to an expensive and outdated parking structure. Fuller Road Station is a complex proposal. A sound financial plan is needed before committing more than $120 million of public funds. The community deserves more than pro forma presentations. A robust, interactive public discussion with council members is needed before undertaking this precedent-setting proposal.
Rita Mitchell is an environmental activist and member of Protect Ann Arbor Parks, a citizen group advocating preservation of parkland in Ann Arbor and a public process and/or vote for any sale, change of use or loss of Parkland.