Posted on
Sun, Jan 16, 2011 : 5:39 a.m.
Michigan medical marijuana issues should be solved through legislative action, not litigation
By Tony Dearing
Say whatever else you will about the Michigan Medical Marihuana Act, it is not a model of clarity.
But the intent of the act is clear, and so is the level of public support for it, given that almost two-thirds of voters statewide said "yes" to it in 2008. Overwhelmingly, the public wants people who experience chronic pain to have the option of using medical marijuana.
The challenge for local officials across Michigan is to craft regulations for an otherwise illegal drug in ways that respect the spirit of the act. In Ann Arbor, the City Council is expected to take a first vote this week on an ordinance that regulates medical marijuana dispensaries and growing operations.
On the whole, we think the proposed ordinance strikes a reasonable balance, particularly with a set of amendments added by council members earlier this month. We agree with council's decision not to create a new layer of regulation at this point for people who cultivate and provide small amounts of medical marijuana out of their home, and to focus on dispensaries, which look and act more like storefront operations.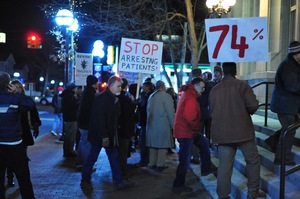 Ryan J. Stanton | AnnArbor.com
The ordinance, as originally drafted, was vehemently opposed by medical marijuana activists as overly intrusive. They objected to inspections of home-grow operations, and particularly to what they saw as the specter of the city creating a registry with the names of caregivers or patients that could end up in the hands of law enforcement.
The intent was to keep police aware of legal home-grown operations so they didn't target them as possible drug houses. But the city was right to drop the idea. The Michigan Marijuana Act is clear in its intent to protect the confidentiality of patients and caregivers - not a minor issue, given that medical marijuana remains illegal under federal law.
We only wish the law were equally clear on other issues. While we support its intent, we agree with the many critics who find the Michigan Marijuana Act to be vague and poorly written - at least from a public policy standpoint. It is, for instance, silent on the issue of dispensaries, leaving local governments to define and regulate them in patchwork fashion across Michigan.
In a community like Ann Arbor, known for its tolerant attitude toward pot, city officials have done a good job of working with medical marijuana advocates to craft reasonable regulations. The ordinance on City Council's agenda this week, along with a previously introduced ordinance dealing with zoning issues for dispensaries, deserves approval.
But the ambiguities created by this ill-defined law are so great that no local ordinance can resolve them all. Most likely, Michigan is headed into a legal quagmire of litigation over medical marijuana for many years to come, and that's unfortunate.
It would be better for the Legislature to step in and provide clearer guidelines for how this law should be implemented.
Proposed ordinance

Here are some key elements of the ordinance being considered by Ann Arbor City Council:
No person with a felony conviction may operate a dispensary or cultivation facility.

In the first year, dispensaries in the city will be capped at no more than 20 and cultivation facilities at no more than 10.
Dispensaries must have security cameras, an alarm system and a safe for overnight storage of marijuana and cash.
Dispensaries and cultivation facilities cannot do business from 9 p.m. through 7 a.m.
Marijuana must be packaged with a label that includes the patient's name, the name of the business providing the marijuana, the date of delivery, and the weight, type of marijuana and dollar amount of the sale.

The fundamental intention of the Medical Marijuana Act remains sound. It is written to allow people who suffer from debilitating pain to legally grow their own medical marijuana or get it from a caregiver. Each caregiver is to have no more than five patients. All well and good.
But as we stand now, two years later, the law is being used in ways that go well beyond its original intent - and that, in some cases, make a sham of that intent.
Clearly, people are readily obtaining medical marijuana cards who have no real underlying medical condition. And the emergence of dispensaries, which aren't even mentioned in the law, makes a charade of the patient/caregiver relationship described in the act. When medical marijuana is sold out of a dispensary, the concept of five patients per caregiver is unenforceable, and in many cases non-existent.
If the intent is de facto legalization of marijuana, that's not what was on the ballot in 2008. Michigan voters thought they were being asked to give people with debilitating illnesses the choice of legally relieving their pain through the legal use of medical marijuana.
Either way, there are many open questions to be resolved, and it would be better to answer them through the legislative process than through the endless litigation that Michigan is headed toward. Among the questions the Legislature might address are these:
Should there be a stricter regulation of the underlying medical conditions that make a patient eligible for medical marijuana?
Is the medical marijuana card that patients receive too open-ended? Should it have a fixed duration, and should it be more like a prescription, giving a dosage and a frequency of use?
Are dispensaries consistent with the law, and if so, to what extent should they be regulated?
Should dispensaries be limited to selling medical marijuana grown here in Michigan, or can they import the pot from other states?
Michigan is not inventing the wheel here. Other states have grappled with issues of medical marijuana, have experienced a variety of problems with it, and have seen their regulation evolve as a result. We should learn from their experiences, and craft policies that respect the intent of the law without letting it be twisted or abused.
(This editorial was published in today's newspaper and reflects the views of the Editorial Board at AnnArbor.com.)