Posted on
Sun, Jan 27, 2013 : 8 a.m.
Mental health screening should be made part process to purchase guns
By Letters to the Editor
"We don't ban cars because of drunk drivers. Why ban guns?"
"You can't intrude on my 2nd Amendment rights!"
"We need to train teachers how to use guns."
As a 17-year-old entering politics, I am extremely discouraged by the lack of unity between parties when it comes to gun control.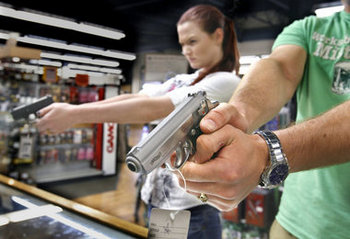 MLive.com file photo
There is little actual debate, and fact is misrepresented all over news networks. The issue is as simple as we have been facing violent crimes of larger proportions in the last few years and most of these involved the use of military grade weapons. It seems everyone would agree that this is not okay, but to my surprise, this issue has boiled down to whether it is constitutional to limit the type of guns a citizen can own.
Delusional spokesmen such as Jesse Ventura and Alex Jones seem to be raved about all over online new sources. Often, when they attempt debate on television shows, they have similar tactics: yell, shout, conspire to frighten the audience and make sure the opposition can't get a word out.
As a nation, we face a problem of military-grade weapons getting in the hands of mentally ill citizens; extremists of the Second Amendment fail to realize, or at least fail to acknowledge, that rather than having a situation where many people could die, a mental health screening for any gun purchase could significantly lower violent crimes committed through shootings.
The middle-ground is clear; it is time to act and make progress toward less gun violence.
Liam Cyr
Gregory, Mich.