Posted on
Mon, Oct 8, 2012 : 5:58 a.m.
Addressing violent crime: Sheriff's office team makes progress in neighborhoods
By Tom Perkins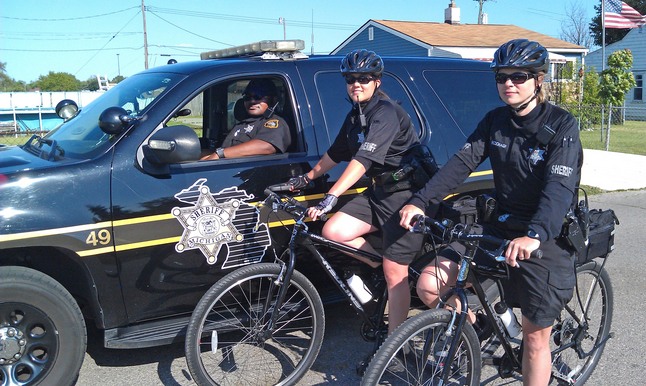 Tom Perkins | For AnnArbor.com
Last July, the Washtenaw County Sheriff's Office began investigating a suspected drug house on a tip from a resident in the neighborhood watch program.
That tip eventually led to a raid on the home in which authorities found multiple types of drugs, $12,000 in cash and a handgun stolen in a previous home invasion.
Evidence collected from that scene led police to another nearby house, where they found more drugs, cash and seized two cars.
The case was one of the success stories handled by the Sheriff's Department Community Action Team (CAT), which was formed at the start of 2012 in response to a rise in the levels of violent crime in Ypsilanti Township.
The multifaceted team relies on proactive policing and focuses on gathering intelligence and information through a variety of channels, officials say. So far, the CAT team's approach has been a success, said Lt. Jim Anuszkiewicz, who oversees the eastern half of Washtenaw County for the sheriff's department.
"If there is a robbery, a serious assault, a shooting, a drug-related crime, this team is immediately on the investigation working with a number of different resources to ensure individuals involved in that crime are apprehended," Anuszkiewicz said.
The team was assembled after the sheriff's department saw some success from a CAT team prototype that operated in West Willow during a spike in crime in the summer of 2011.
Anuszkiewicz reported assault crimes are down 50 percent from this time over last year, there has been 18 percent decrease in robberies and a 7 percent decrease in traffic crashes. After home invasions started higher throughout the first half of the year, they are now down to the 2011 level.
The department also has increased the number of DUI arrests by 21 percent.
Sgt. Dave Archer, who supervises the CAT team, said there are no specific neighborhoods where it always operates, but it focuses on "hot spots" and areas where there is more serious crime. That takes the CAT team township-wide and sometimes outside the township's borders.
The team includes three deputies and a supervisor assigned to violent crimes, several bike patrol deputies who work in the neighborhoods, two deputies who work with the neighborhood watch programs and a traffic enforcement deputy. The team also is supported by road deputies.
"Everybody has a little part in it," Archer said.
Part of the success can be attributed to the township being able to restore some of the deputies it lost during the recession. There were 44 in 2007 and that number was reduced to 31 in 2010 before being bumped back up to 35.
Anuszkiewicz said deputies struggled to complete comprehensive investigations because of the lack of staff in previous years.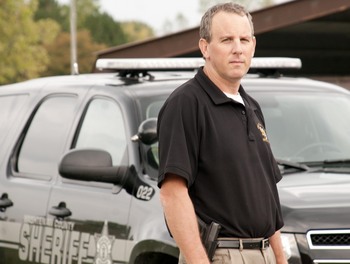 Tom Perkins | For AnnArbor.com
With the formation of the CAT team, there now is a unit in place to assist and complete investigations, and those often lead to investigations of other crimes, Anuszkiewicz said.
"They are able to support and assist a lot of deputies who essentially didn't have the time to get deeper into investigation," he said.
One example was an arrest made on a pair of robberies at a PNC Bank on Rawsonville Road in early 2012. After the bank was hit for a second time, the CAT team and road patrol began investigating three suspects, all of whom were on parole, within several hours.
The CAT team worked with Michigan Department of Corrections to gather information on the suspects and conducted surveillance the next morning. Along with the MDOC, deputies did a home check on one of the suspects and found incriminating evidence that led to another suspect.
By the end of that day, that suspect, who had robbed the bank, was arrested walking next to the road near Metro Airport.
Archer said the early hours of the investigation are critical and having a comprehensive team in place helps.
"It's like the TV show - within 'The First 48,' if you can put those resources into one of your major crimes, a lot of times you can make an arrest," he said, adding that the sheriff's department is now doing just that.
The CAT team also has been successful by keeping a close watch on known repeat offenders. Many of the people they investigate are on parole or felony probation, and Archer said the department is eager to catch those criminals before their crimes escalate.
"If we get some intelligence, such as hearing that a person is dealing drugs, then we pinpoint that person and build a case against them," Archer said. "Otherwise they start running down the community and the quality of life goes down with them."
Resident and community involvement is another key component of the CAT team's success. Like when the sheriff's department deployed two bike officers in West Willow to help quell summer violence in 2011, residents have been responsive to the department working with neighborhood groups township-wide.
"Citizens play a big part in it by calling a confidential tip line, crime stoppers, calling the Sheriff's Office," Archer said. "A lot of the information we get is from tips, so the community has been a huge help."
Carol Blackburn has lived in the Devonshire subdivision since 1969 and helped form the neighborhood watch program. She said sheriff's office Deputy Andy Holt has been responsive to the neighborhood's problems and residents' complaints.
The department addresses small issues, like people speeding through the neighborhood, to larger issues, like raiding drug houses, Blackburn said.
"We wouldn't feel as safe as we do without (Holt) coming in and taking care of neighborhood issues," Blackburn said. "He said 'I care about your neighborhood and we're going to do this together.' We felt like we're part of his team and he wanted us to take an active role. So now we're reporting problems and not feeling afraid."
Tom Perkins is a freelance reporter for AnnArbor.com.