Posted on
Sat, Dec 8, 2012 : 5:17 p.m.
New abandoned vehicle ordinance will pose hardship for many
By Letters to the Editor
I am concerned that the new abandoned vehicle ordinance is in direct opposition to the campaign to get people to use mass transit on a regular basis.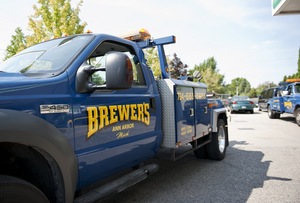 Daniel Brenner I AnnArbor.com
I know many people who have a car that they now use only for major shopping expeditions or for trips out of town. They will have to check their cars every two days to be sure they haven't been issued a 48-hour notice to move their cars or risk being towed.
Imagine cars plowed under mounds of snow being reported by someone with an axe to grind or who just covets that parking spot. After digging out the car and warming it up, the owner will face the gargantuan feat of finding another spot in which to park it.
This poses an even greater hardship for those individuals whose car use is restricted because of the high cost of gas or because they have not yet saved up enough to afford a needed repair.
This ordinance does not seem to have any provision for the car owner to acknowledge the notice and negotiate an acceptable plan. It will relieve a headache for some and create worse headaches for many more.
Susan Beckett
Ann Arbor