Posted on
Sun, Apr 4, 2010 : 6 a.m.
Recent militia arrests a wake up call for local law enforcement
By Tony Dearing
It turns out there was a very good reason that the Detroit office of the FBI declined comment recently when a reporter from AnnArbor.com asked whether local militia groups posed a threat to public safety.
At the time, the FBI was days away from launching a series of raids that would result in the arrest of nine members of the Hutaree militia group on charges of conspiring to kill local law enforcement officials.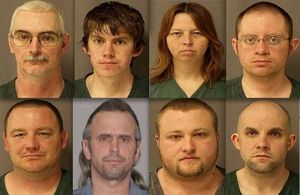 In light of the charges, it's beyond ironic that militia members were invited to work alongside sheriff's deputies searching for missing persons in Bridgewater Township on two recent occasions.
In an article published March 25, local officials expressed no concerns over what struck us as a questionable arrangement to recruit militia members to assist law enforcement. But national experts who study domestic extremist groups were emphatic in calling it a bad idea, and their words look prophetic now.
"It certainly seems poorly advised . . . to ask people who believe in completely false conspiracy theories and see the government largely as an enemy to help in law enforcement matters," said Mark Potok, director of the Intelligence Project, based in Alabama. "I don't see how that could work out well."
In January and then again the following month, Bridgewater Township Supervisor Jolea Mull asked the leader of a militia group based in Washtenaw County to assist in missing persons searches. She recruited other militia, including members of the Hutaree militia group based in Lenawee County.
In an email to AnnArbor.com, Mull defended her decision to recruit militia members, saying they were familiar with search and rescue techniques and knew the community. "... There's an old cliché that says, 'You are either part of the problem or part of the solution,'" she said in her email. "It is clear to me from these experiences that our local militia is part of the solution."
Two days after our article, FBI agents conducted raids in the Ann Arbor area as well as in Indiana and Ohio, ultimately arresting nine Hutaree members, including at least one who assisted the Bridgewater Township search. According to a federal indictment, members of the group had plotted to kill a law enforcement officer, and then use bombs to kill many additional officers who attended the funeral. The FBI said it conducted the raids last weekend because it believed the group planned to carry out the plot this month.
It is up to the courts to determine the guilt or innocence of those accused, but the charges are serious and chilling. At the very least, they should serve as a wakeup call for local officials at a time when militia membership is on the rise locally and across the country.
Militia members have the same rights as other citizens, and we do not seek to paint them all as domestic terrorists. Those who study militia groups say that many are merely survivalists who do not pose a threat to anyone. But it is clear that state and local authorities know little about the activities of militia groups or have viewed them generally as benign, when the history of the militia movement suggests the need for wariness.
We understand that Michigan State Police and local sheriff's departments have little intelligence-gathering capability. That is the role of the FBI and thankfully, in this case, the feds demonstrated they have the capability to detect and respond to a potential domestic terrorism plot. According to the prosecutor handling this case, a federal agent was able to infiltrate Hutaree and gather evidence of the group's plans.
Meanwhile, local authorities are reassessing how they view and interact with the growing militia movement in Michigan. From our point of view, that can't come soon enough. Until the FBI raids, there clearly was a lack of awareness and concern on the local level that now looks dangerously naïve. As Mark Pitcavage, director of investigative research for the Anti-Defamation League, recently reminded our readers: "They are all extremist groups, and any extremist group has the potential to go off the deep end.''
(This editorial was published in today's newspaper and reflects the opinion of the Editorial Board at AnnArbor.com.)
Click here to see AnnArbor.com's complete coverage of the Hutaree.