Posted on
Sun, Feb 17, 2013 : 8 a.m.
Retirement can be more appealing in theory than practice
By Robert Faber
"Losing it" as a problem of possessions can be a costly nuisance, but as a reference to an emerging senior-disorientation, it can be a definition of tragedy.
After a lifetime of working to raise a family and protecting and providing for all the people under that umbrella, many seniors grab the first opportunity to escape those requirements of guide and guardian in order to leisurely and comfortably bask in the pleasures of retirement. The lure of a life free of the demands of continuing responsibility can be a temptation difficult to ignore, so when the opportunity arrives, many seniors choose to quit the exhausting demands of life in the "madding crowd" and to enjoy the fruits of labors long-past.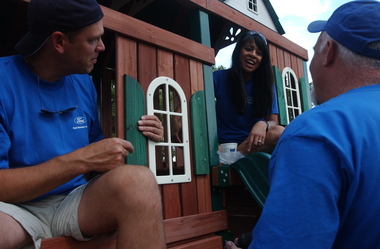 Volunteers from Ford Motor Co. put the finishing touches on a playground they helped build at Pittsfield Township's Arbor Hospice on Friday afternoon. The playground is meant to offer a place for patients at the hospice to spend time with child visitors.
A great idea - for about 20 minutes.
Unfortunately, despite all its surface appeal, that unrestrained "life of leisure" can be more damaging than delightful. The early pleasures of retirement - working little, sleeping late, immersion in a life free of care - are more enticing than enduring. Having little to look forward to other than more of same - without the satisfaction of accomplishment or the thrill of competition or even the stimulating stings of failure in pursuit of something more - tends to dull the days. After a life of active participation in the affairs of family and community, such a retreat into ourselves has some appeal, but can leave us lost in a vacuum of disinterest.
Old age is not child's play. The skills of survival gained during decades of aging quickly can fade from neglect. While it is appealing to just quit and enjoy the benefits that have accumulated throughout the years, many of us need something more, the continuing stimulus of improving the conditions of life - whether it be for ourselves or for others.
And it is that "others" that holds a special value for many of us. In a recent interview on CNN, Wolf Blitzer admired the strength and continuing activity of Israel's President Shimon Peres and, noting his age of almost 90 years, asked him about retirement. "Oh no," was the brief and enthusiastic reply. "Vacations are a waste of time. It is better to work, to be engaged, to be curious — and to care," adding that involvement with the needs and affairs of others is the best way to stay young and strong. "The secret of life is good will."
Peres was talking about projects designed to help some of the larger pockets of suffering humankind, but the same benefits accrue as well to working on small pieces of local community service. Too many seniors who have traded continuing participation for retirement simply have opted out of those many activities that largely shape each community's environment — fighting for a new road or against a new regulation or in support of a political candidate or Party. They have resigned themselves to roles of passive observer - and that can be damaging to their core.
It is the projects of longer duration and of greater value that keep our minds and interests alive. It is the energy of staying active and involved, mostly in projects outside the narrow boundary of "self," that keeps us alert and helps us avoid the curse of "losing it" — for whatever condition that "it" might represent.
Albert Einstein once expressed his belief that, "Life is like riding a bicycle. To keep your balance you must keep moving." That may not be as profound as some of his theories of the universe, but at least it should help some of we more fuzzy-thinking seniors from "losing it" quite so often and quite so far.
Robert Faber has been a resident of Ann Arbor since 1954. He and his wife, Eunice, owned a fabric store and later a travel agency. He served a couple of terms on the Ann Arbor City Council. He may be reached at rgfaber@comcast.net.