Posted on
Thu, Aug 1, 2013 : 5:57 a.m.
People-watching keeps cops entertained during summertime festivals
By Rich Kinsey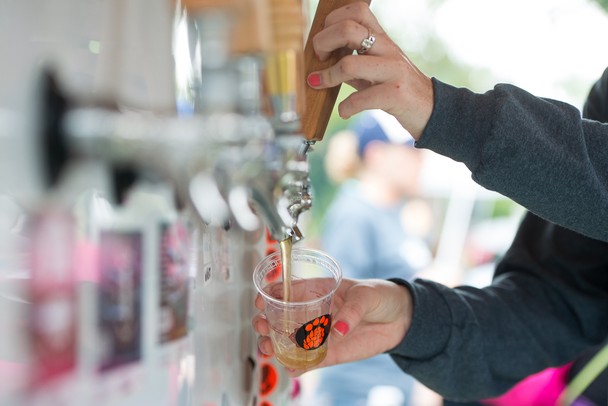 Courtney Sacco | AnnArbor.com
We in Michigan certainly appreciate our summers, and one place in summer you are sure to see a collection of happy people? Under large white tents. Not the ones in cemeteries, but the ones in places where usually there are no tents.
The white-tent phenomenon may be on a small scale for a wedding, graduation or family celebration. Or it might be on a grander scale such as concerts, hospitality tents, social tents, beer tents, exhibit tents or revival tents. Those tents attract like-minded individuals who want to enjoy being outside in the warm weather months and protected from the sun's rays, rain showers and hopefully the mosquitoes.
If the event is large enough, my brothers and sisters in law enforcement will be called to assist in handling the crowds. These particular assignments usually mean overtime — often paid by the event hosts — because for the community, the regular number of officers on the road must be maintained.
These particular overtime events for officers usually are rather enjoyable. The crowds you are controlling want to be where they are and they are looking for a good time.
At times an officer might be a little envious or wistful imagining how much more fun it would be to be in the crowd wearing shorts and flip-flops enjoying the event with friends and loved ones. I imagine that is a feeling shared by other service providers such as food handlers, bartenders, band members or event organizers.
Sometimes an officer's family and friends will be in attendance and it is always fun to sneak in a minute and interact with them. Knee-hugs or a big, drooly kiss from wee ones are worth the spots on the normally impeccable uniform when they are accompanied by squeals of, "Hi, Daddy" or "Hi, Mommy."
Maintaining a proper command bearing and stoic presence in public is always the proper thing for an officer to do, and public displays of affection are, of course, frowned upon while in an official capacity.
That being said, a smile, whispered promise or quick hug and peck from your significant other certainly can make the night pass much faster.
I was always pretty stuffy and professional about such things when working and especially in uniform, but also always flattered, embarrassed and nervous when my wife would violate rules to give me a quick peck, while I looked around quickly to see if anyone saw. She respected regulations, policies, procedures and uniform personal comfort zones. It has meant a lot and perhaps is one reason we have stayed married for more than 25 years.
Back to business — a police officer's lot can be hot and tedious on some of these special events if they do not enjoy people-watching. I love watching people, and for the past 30 years as a police officer I have had, as author Joseph Wambaugh describes it, "the best seat in the house for the greatest show on earth."
Humans can do some crazy, funny and very..."human" things — especially if they think no one's watching. Surprisingly enough, even in crowds, people — especially drunks — think they are invisible and no one else is watching.
They groom, adjust, scratch, sniff, yawn, mimic others, shake their heads, sneak drinks from flasks, let their eyes wander and stare where they probably shouldn't, burp, hiccup, talk to themselves and pass gas if they think no one is looking. It is just people letting their guard down and being human, but it is comical to watch from afar.
For the most part a crowd's attention usually is drawn one way and the officers controlling the crowd are either facing them or behind them and always watching. Officers observe a lot because they are sober and many times surrounded by a sea of people who have been drinking and whose judgment is waning. It is a great seat for watching people and enjoying their shenanigans.
Officers keep an eye out for anyone who appears as though they might be a troublemaker. Where is the drunk who wants to fight? Why is that sober guy's "head on a swivel" looking around? Is he about to steal something, or worse yet, do something evil? You have to keep your eye on "that guy" or "that gal" who is going to cause problems, even while multitasking and pointing to the location of the nearest restroom for the umpteenth time in the past hour.
My favorite place to watch people is near the entry and exit points of tents where people leave to use the bathrooms and can be readmitted. I love the drunks who see the cops and immediately stiffen up, puff out their chest and put a stern "sober" expression on their face.
They avoid eye contact and look defiant while they step with their feet as if trying to find the pavement with each step. It gives them the appearance of almost marching as they concentrate to ease each foot down, while their face remains defiant. Yeah that look is going to fool the officer — WRONG! We officers just pray that fool has a designated driver.
Then there is the sly guy or gal who is going to sneak their cup of beer outside the event. Yeah, dude … just slide that cup down by your thigh, away from the cop or security, look straight ahead and they will never see you — WRONG AGAIN! What we call the "Solo cup shuffle," is observed nightly by officers on the streets of Ann Arbor, and it only depends how busy the officer is that night, whether you will be called out on the shuffle or not. Remember: it is illegal to possess uncapped alcohol on city streets — contrary to how it might look on U-M football Saturdays.
No matter what your reason to visit those white tents this summer, get out and do it because summer is flying by. Enjoy yourself, safe with the knowledge that the cops working the event have your back while you are letting your hair down a little.
Lock it up, don't leave it unattended, be aware and watch out for your neighbors.
Rich Kinsey is a retired Ann Arbor police detective sergeant who now blogs about crime and safety for AnnArbor.com.