Posted on
Sun, Mar 20, 2011 : 11:26 a.m.
The bottom line: It takes a little effort to grow old
By Robert Faber
Editor's note: This is another in a series of occasional columns by long-time Ann Arbor resident Robert Faber on what he describes as his most recently acquired area of expertise - growing old.
Some wise old character once observed that the principal objection to old age is that there is no future in it. Most members of the tribe of elders can suggest a few additions to that single-segment list of objections, but few serious enough to devalue the many treats still available in that late phase.
The pitfalls of aging may be enough to crush its pleasures — but only if we let them. The downside of age-related deterioration is painfully clear, but concentration on its shortcomings serves no purpose.
"Old" is not new, but getting older — much older — is becoming ever more common. At the turn of the 20th century, for example, 4 percent of our population was 65 years and older. Now that number is 13 percent. That's the good news. The more troubling concern is how we old folk are handling that emerging longevity.
Doing our job and doing it well is a worthy legacy, but may not be enough to end our journey with a full sense of pleasure and satisfaction. My own choice, not universally available but preferable when possible, is to continue the search or the fight or the game well into the future, however limited or problematic that future may be.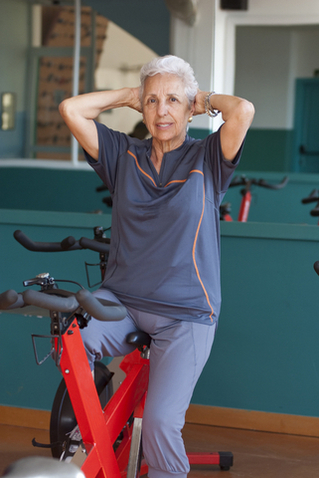 Maria Carme Balcells | Dreamstime.com
The disabilities waiting around our corner are too distressing and too well known to list, but to rest on the past and agonize over trauma that is still only pending is an excellent way to waste valuable and increasingly scarce time. However satisfying the past may have been, it is still the past. What is needed closer to the end is something to fill the empty space of inactivity.
The Greek poet Homer, writing about Ulysses, the hero of the Trojan War, ended his tale with the great warrior at home with his wife and peace and prosperity. That may sound like a pretty good conclusion to most of us, but the poet Tennyson felt otherwise about Ulysses' retirement:
How dull it is to pause, to make an end,
To rust unburnished, not to shine in use!
As though to breath were lifeAnd that is the point about the tail end of life's adventures. If the end of the tale leaves nothing but memories and an empty schedule, it's time to explore new directions, new adventures. The vacuum at the end of the process can be more agonizing than restful, so we should not quit.
To lend credibility to some of my amateur conclusions, I find support in the works of the University of Michigan's Dr. Robert Kahn, professor of Psychology and of Public Health, whose book "Successful Aging" examines some of those same issues, albeit more thoroughly and much more professionally.
He notes, for example, that for the past several decades the practice of gerontology was preoccupied more with the problems of disability and disease than with the positive aspects of aging. The new goal of today's gerontologists, however, is to look beyond the limited view of chronological age and to emphasize the positive aspects of aging, or as Dr. Kahn puts it, "to find the difference between putting one octogenarian in a wheelchair and another on cross-country skis."
Dr. Kahn then adds, "Most people seem to feel that how well one ages is hereditary, [but] . . . environment and lifestyle may be more important." He notes that while much of all mental loss connected with age is genetic, "the other half is related to lifestyle and environment. In other words, there is a lot one can do to keep one's mind sharp with age."
Very simply, exercise of any sort — whether physical or mental — is valuable and productive. In one of his successful experiments he initiated an exercise class in a nursing home. The class dealt with a wide variety of exercises, including weightlifting, and a wide range of aged participants, including a woman 98 years old. They all took part and they all improved.
Kahn then concluded, "There is a simple, basic fact about exercise and your health: fitness cuts your risk of dying. It doesn't get much more 'bottom line' than that."
That doesn't work for all of us, of course. Much is determined by our personal characteristics, by who we are and how we handled the earlier days of our growth. And that's the key to rekindling our enthusiasm — go light on the "still pending" downsides of the future and stay positive by actively planning and working for tomorrow.
In brief, it is activity that keeps us active. And it is the anticipation of that activity that keeps us interested. And it is that interest in the variables and challenges of the future that spark our later years. And all of that gives it a firm place in Dr. Kahn's "bottom line."
Bob Faber has been a resident of Ann Arbor since 1954. He and his wife, Eunice, owned a fabric store and later a travel agency. He served a couple of terms on the Ann Arbor City Council. He may be reached at rgfaber@comcast.net.