Posted on
Tue, May 1, 2012 : 7:31 a.m.
The party may be over for responsible dog owners, but who will clean up Slauson's playground now?
By Letters to the Editor
Well, the once a week, hour-long, off-leash dog gathering at Slauson Middle School is now officially dead.
Last Saturday (April 28), the Ann Arbor Police politely warned the participants that this would no longer be tolerated due to a complaint by the principal of Slauson that was no doubt prompted by exposure from the recent AnnArbor.com article and the guest column from the Slauson athletic director.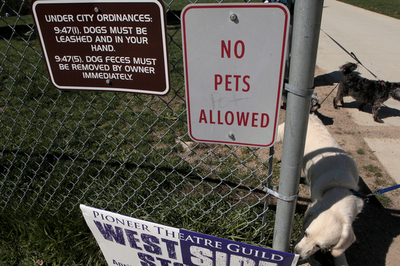 While I believe their intent was well meaning and agree kids shouldn't be exposed to dog doo, I wholeheartedly disagree with the accusations that this gathering is responsible for the problem.
Yes, there are many irresponsible dog owners that don't clean up after their pets, but the fact is the Saturday group has been very diligent about picking up not only their own pet messes but also anything else they may find. I am confident about this because I have been there many times, witnessed such diligence, and helped enforce this code of conduct. I would venture a guess that the poo issue will now get worse for Slauson since it will no longer benefit from the once a week sweep performed by the dog party participants. Maybe the school yard isn't the best place for a dog gathering but it should be noted this has been going on for better than a decade without incident and will be missed by many because of the misplaced complaints of a few.
One positive note is that this shut down may galvanize the dog community, estimated to be better than 50,000 strong, to campaign for a "legal" alternative. Perhaps the athletic director, as a responsible dog owner, will join us in this effort to create a walkable site on the near west side where dogs can enjoy some measure of freedom and get the socialization they need.

John Lawter
Ann Arbor