Posted on
Sun, Sep 30, 2012 : 5:58 a.m.
Top 5: Questions Ann Arbor should consider about impact of downtown development
By Paula Gardner
Residential construction looks like the latest growth industry in Ann Arbor as the city witnesses construction, project openings - and a stream of proposed new developments that range from additions to 14-story towers.
Last week, two more proposals joined the lineup: One above Pizza House and the other at Huron and Division, a pair that combines to create space for 296 residents downtown.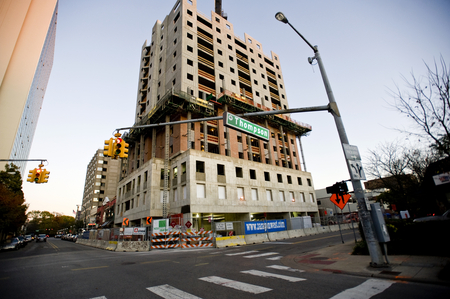 Joseph Tobianski | AnnArbor.com
Ann Arbor just watched 959 new residents move downtown as three apartment buildings opened as the fall semester started at the University of Michigan.
When I step back and compile totals on all new bedrooms built in the last few years and now proposed for downtown, the city has housing for 2,600 new downtown residents in its pipeline.
That number can change, based on what's actually approved - and then built.
But I also find the number staggering, based on both history and the pace of change sought by Ann Arbor when it tried to tackle adding density to the core city.
From the 1990 census to the 2000 census, downtown added 274 households to its mix, according to Downtown Development Authority reports. During that time, the downtown population changed from 2,653 to 2,804 - a gain of 151 residents.
Fueling the changes were projects like The Armory, which added 13 condos to downtown when it was converted to residential units in 1998.
By 2005, the Downtown Residential Task Force set goals for adding downtown population to support its businesses and sense of vitality.
Those goals seemed aggressive at the time: 1,000 new housing units by 2015, and 2,500 by 2030.
That was the time of condo proposals, when $400,000-plus price tags kept many out of the market for downtown housing. The market, it seemed would pace itself, since the pool of buyers was limited and that was the only housing style that could support the costs of new construction.
Fast forward to today, and we sit in a town that added about a thousand residents to downtown within weeks last summer. While the 'housing units' now can be counted as bedrooms, given the number of student apartments built in town, the number of downtown residents seems to be growing exponentially - and if the pace continues, Ann Arbor will far eclipse its stated goal for downtown growth.
That makes me think - as I consider how many more developers likely are making plans for still more projects downtown - that it's time for Ann Arbor to step back and consider the impact of the change.
Here are my top 5 questions for Ann Arbor to consider as our downtown housing expands.
Are all residents created equal? Student housing is rising over our city now because there's a market for it. But the effects of that market will be felt in the traffic patterns of those young residents: Where they go in town, how they spend their money and what types of stores cater to them will shape the essence of downtown. In 2004, as the city started to consider changing South University zoning to allow high-rises, officials noted that South University no longer catered to the average resident or to a visitor over the age of 21. It was perceived as a problem. We have a chance to integrate the new businesses chasing the student spending into an overall downtown mix, and create more of a university district and less of a "student ghetto." This is also a chance to ask whether there are city policies in place that make non-student oriented development as appealing from the approval and zoning points of view.
What's the saturation point on student housing? Some people say the market for better-quality and amenity-driven student housing is endless. I'm more cautious, after witnessing the condo market downtown result in too many failed projects. We may not see another Great Recession in our lifetime - and this building boom is driven by private money building on appropriately zoned property. However, residents and property owners in Ann Arbor should be asking: What happens to these buildings when the rental market changes? And how do they adapt if the financials no longer work?
How can we use this building boom to fill unmet need downtown? I've never been part of the "downtown needs a grocery" crowd, but totaling up the number of new residents does beg the question of whether we finally can support one. Or another entertainment venue. A successful public space. Or even a hotel.
What climate are we creating for independent retailers? When we talk about downtown, it's the small stores that often are the focal points of our conversation. What we value downtown is its uniqueness, and that's created from independents succeeding alongside chains -whether Kilwins or Starbucks. A lot of the housing change in Ann Arbor is accompanied by higher retail rental rates, and the city can't control that. But independents include those selling in the farmer's market or even from carts on corners, so the city can have some influence in the mix. I'd like to see what else it can come up with, especially with city-owned lots coming onto the market.
What does downtown mean to residents who don't live downtown? Every story that we do about downtown parking or retail will generate some comments along this theme: "We don't come downtown anymore." The city's attention to downtown resulted in a clear vision for how it would benefit the district. But the rapid change also signals a need to consider how the rest of us view downtown, and whether more of us could spend more time here, too. Housing sprawl and the "rim" retail development within and beyond the city limits combine to create a range of competing destinations. But would Ann Arbor be further strengthened if more residents considered downtown a vital component of life here?
Paula Gardner is Local Content Director of AnnArbor.com. She can be reached by email . Follow her on Twitter.