Posted on
Sun, Sep 23, 2012 : 5:59 a.m.
Eyeing the future: Ann Arbor developers and officials see potential with city properties downtown
By Ryan J. Stanton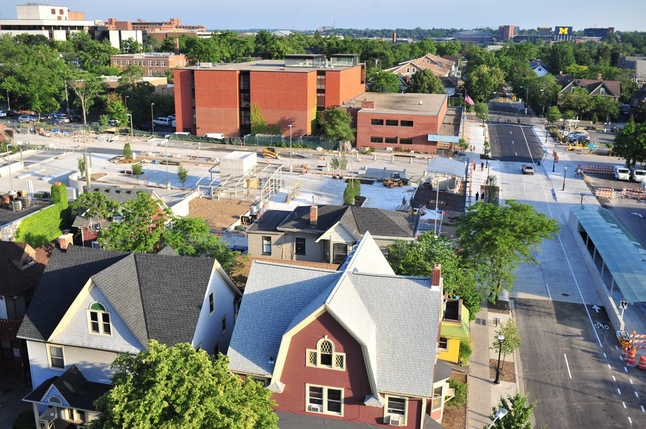 Ryan J. Stanton | AnnArbor.com
A consultant's report showing the
city of Ann Arbor could get $52 million
from selling a handful of properties it owns downtown raised more than a few eyebrows recently.
While few doubt the properties are incredibly valuable to the future of downtown Ann Arbor, and the city is likely to get millions from selling them, the numbers in the report seemed a bit high, and two local real estate experts — Peter Allen and Ed Shaffran — agreed on that.
"I think it's a crazy number," said Allen, who argued $30 to $40 per build-able square foot would be a more realistic estimate.
The two developers said the way land is valued is a function of how much density is allowed, and each of the five sites is going to be different.
"It all depends on what's going to be developed," Shaffran said. "The value of that land as a five-story building is one thing. The value of that land as a 15-story building is another.
"At this point in time, if it were truly residential, it's probably worth $50,000 a unit," he added. "So if I can put 200 units on that particular site, the land's probably worth $10 million."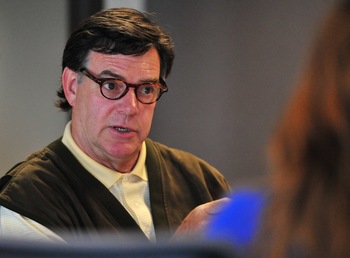 Ryan J. Stanton | AnnArbor.com
Shaffran said he's not personally interested in developing on any of the city's sites — he says he doesn't do deals that big — but he agrees they're immensely important to downtown.
"I certainly believe they should be developed over time," he said. "Absolutely. Sell them and put them on the tax rolls. I think that's where the real benefit is."
At the request of the City Council, the Downtown Development Authority is studying future redevelopment opportunities for four city-owned parking lots downtown, as well as the first floor of the Fourth and William parking garage, which could be transformed into retail or office space. It's all part of what the DDA is calling the Connecting William Street planning initiative.
DDA Executive Director Susan Pollay said the land value analysis the DDA hired 4ward Planning LLC to complete probably is overly ambitious. In fairness, she said, it's a preliminary report and the consultant doesn't have all the data in yet.
"Whatever it actually ends up being, it likely won't be anywhere near that number," Pollay said. "But the part that is interesting is we're starting a process that is actually looking at this. Even this preliminary work by a land use economics consultant is more data than we've ever really done."
The initial report from 4ward Planning puts the potential land value of the old Y Lot at the corner of Fifth and William at $24 million. Meanwhile, the small Palio Lot at the corner of Main and William could go for $3.7 million, while the larger Library Lot on Fifth Avenue could go for $9.3 million and the Kline Lot at Ashley and William could go for $15.5 million, according to the report.
The consultant took into consideration different development scenarios and crunched the numbers on a per-square-foot basis like Allen suggested. Under the three scenarios, each varying in density, the overall average price per build-able square foot ranges from $135 to $270.
The consultant predicted the city could get $45 to $89 per square foot on the Kline Lot, $849 per square foot on the Palio Lot combined with the Fourth and William parking garage's first floor, $82 to $391 per square foot on the Y Lot and $107 to $262 per square foot on the Library Lot.
After going out to the community for input over the past several months, DDA officials are working toward finalizing a set of recommendations to take to the City Council as soon as November. It ultimately will be up to the City Council to decide what to do with the properties after that.
No more RFPs?
The city has tried selling its properties in the past by issuing site-specific requests for proposals (RFPs) and then letting developers propose ideas.
By most accounts, those have been largely unsuccessful endeavors.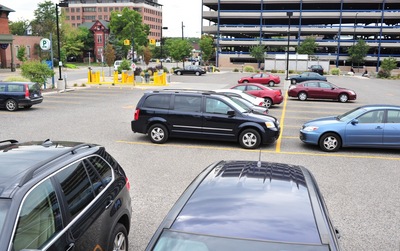 Ryan J. Stanton | AnnArbor.com
An RFP for the Library Lot a few years ago resulted in a
wide range of proposals
, including two calling for a downtown park or town square, three calling for a hotel with other mixed uses, and one calling for a 148-unit senior apartment complex with retail and office space.
City officials zeroed in on a hotel and conference center proposal by New York-based Valiant Partners and rejected the others, but the City Council ultimately decided not to go forward with the deal, citing concerns about the project's feasibility and potential financial risks for the city.
With the DDA now taking the lead on a new process, city officials are saying RFPs might not be the way to go anymore because they haven't worked for the city in the past.
"I think the city probably needs to get out of the way in some of these instances," said Mayor John Hieftje, noting too many competing interests come into play with RFPs.
Amber Miller, the DDA's planning and research specialist, said the developer and the community weren't always finding alignment with RFPs.
Miller noted the DDA is looking at five sites at once now, so it can understand how they work together to accomplish larger goals, and those will be communicated with developers up front.
The possible scenarios the DDA has been studying for the five sites include a diverse blend of residential, retail, office and cultural uses, as well as two hotel options. That includes a 330-room, 13-story hotel on the Y Lot and a 180-room, seven-story hotel on the Library Lot.
"It's really hotel rooms that we're examining. We're not examining a conference center," Pollay said. "We were looking at residential, office, retail, hotel and open space."
Pollay said none of the DDA's scenarios actually have a conference center included. However, the 4ward Planning report notes "two of the 12 scenarios modeled involved a hotel conference center facility." Pollay said that was probably a poor choice of wording.
The hotel and conference center proposal that council considered and rejected last year proved hugely controversial and set off a grass-roots campaign complete with yard signs against it. While the DDA is distancing itself from the idea of a conference center, it's bullish on a new hotel.
"I absolutely am hearing that there's a need for another hotel in downtown," Pollay said. "I'm hearing from people who want to stay in downtown and people who are looking to book a number of rooms. The challenge is during peak periods there's only a certain number of rooms."
Chicago-based First Hospitality Group unveiled initial plans for a nine-story hotel at the southwest corner of Division and East Washington in January 2011. The developer even held a neighborhood meeting on the project, but never formally submitted a site plan.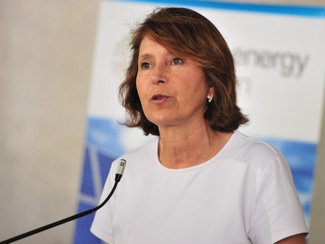 Ryan J. Stanton | AnnArbor.com
"We haven't heard anything from the owners for at least a year," said
Wendy Rampson
, the city's planning manager. A previously approved plan for apartments on the site has expired.
As the city consider options for approaching developers about the five city-owned sites, DDA board member Joan Lowenstein said there are good alternatives to simply issuing RFPs. One is to first put out a request for qualifications (RFQ), where there is a pre-qualification of developers, then go with an RFP.
There also could be an RFQ without an RFP, she said, in which case a developer is selected and then a deal is negotiated; or a request for expressions of interest to elicit "out of the box" thinking.
"Some people have also suggested a design competition, since interesting architecture has already been identified as a priority in our surveys," Lowenstein said. "These are all public processes."
Hieftje said he wants the City Council to seriously consider the idea of hiring a broker and putting the Y Lot up for sale once the DDA's work is complete.
"We may want to put a caveat on it to say we're not interested in more student housing and we're leaning toward more retail/office and housing that is designed for the non-student," he said. "But don't say too much, leave it kind of open. I think it's possible we could attract corporate clients and mixed uses. That would allow us to have, I think, a better outcome than we've had with the RFPs."
Pollay agreed it might be best to avoid RFPs.
"What I've seen in the RFPs is the developers don't know what the city wants," she said. "It's to the city's interests to say 'we're not restricting it, but this is what we'd like to see built on this site' — so inform the developer what we are willing and not willing to do."
'An incredible cash register'
Allen said new development downtown not only helps drive Ann Arbor's economy, but it means more money coming into the DDA's coffers for downtown improvements.
The DDA captures a percentage of the increase in property taxes from new construction downtown, and that amounts to more than $4 million annually now.
"That's the reason the DDA is so flush with cash," Allen said. "So the DDA is a cash cow and it's just an incredible cash register, and how that unfolds over time, it's going to be interesting to see.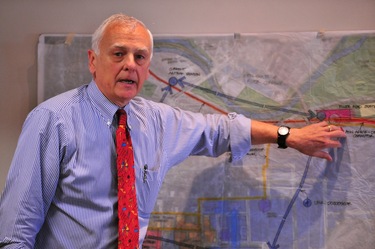 Ryan J. Stanton | AnnArbor.com
"These millions of dollars of new development are going to translate into millions of dollars of more money through the DDA over time."
Allen already is making predictions for what might happen with the Library Lot above the city's new 711-space underground parking garage, which the DDA built for $50 million. He's confident there will be a sizable park or plaza facing Fifth Avenue with potentially 15 stories of mixed-use development behind it.
"This is going to be the Downtown Diag in five to 10 years," Allen said, overlooking the site on Wednesday afternoon. "This is going to be as significant to downtown Ann Arbor as the Diag is to the University of Michigan campus."
If the Ann Arbor District Library moves forward with building a new state-of-the-art library immediately adjacent to the underground parking garage and across from the Y Lot — the two sites where the DDA is contemplating a hotel — Allen said it could become the new city center. Library officials are talking about having a 400-seat auditorium and a number of meeting spaces, and the Ann Arbor Transportation Authority is about to rebuild the Blake Transit Center across the street.
"What you have to sell is that this whole great big area is the new heart and soul of downtown, a place for downtown to come and celebrate, to grieve, to study, to have lifelong learning, to show off to their friends, just to stroll down and hear music, see art, just to be part of it," Allen said.
"It's like Bryant Park in New York. It's like a small Millennium Park in Chicago. Ann Arbor needs that kind of place, and I think this will be it and it will be a mix of office, residential and retail."
In terms of the financial markets and where investors are willing to put their money as the economy recovers, Allen said the timing is right and Ann Arbor is now perceived as a "safe haven."
"Like the $30 million condos in New York City that people are buying for art and a trophy and a safe place to park some money, Ann Arbor is now beginning to see this," he said. "This international flow of money — and looking for places to invest that are safe — is sloshing around and discovering college towns, discovering Michigan again, and really latching on to Ann Arbor."
Allen said investors are willing to get in on new development in Ann Arbor for as little as a 4.75 percent return on investment.
"People will invest in Detroit for a return of 12 to 16 percent," he said. "Ann Arbor, with 411 Lofts, it was around 6 percent. Now less than a year later, that brand-new building (Landmark on South University) has just sold at a 4.75 percent return, and I've got another client who is trying to put up a high-rise building who is happy with a 4 percent return."
While the DDA has been focused on five sites as part of Connecting William Street, Allen points out there are other sites that can be developed downtown. One of those is atop the Liberty Square parking garage, which was built years ago by the DDA with capacity to add three more stories.
"They oversized the foundations just like they did at the Library Lane site," he said. "And to put three floors of a hotel, housing, condos, flats, office — it's a huge asset of the city sitting on the books."
Ryan J. Stanton covers government and politics for AnnArbor.com. Reach him at ryanstanton@annarbor.com or 734-623-2529. You also can follow him on Twitter or subscribe to AnnArbor.com's email newsletters.