Posted on
Sun, Dec 23, 2012 : 5:50 a.m.
Washtenaw County needs to be concerned about efforts to cut hunger-relief resources
By Guest Column
Food Gatherers is grateful to the community for rising to the challenge and helping us meet our Rockin' for the Hungry food drive goal. While it is the season of giving across Washtenaw County, some of our nation's leaders are reconsidering support of hunger relief services in their negotiations as we approach the "fiscal cliff."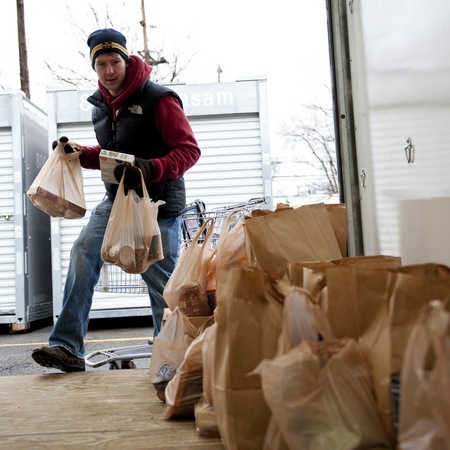 When talking about the trillions of dollars involved in the current discussions on deficit reduction, it is easy for our nations' leaders and us to forget that the tax and program funding decisions now will have a lasting impact on real people right here in Southeastern Michigan -our neighbors, our colleagues, people who are part of the fabric of our community. You only need to make a visit to Food Gatherers or any other food bank in the nation to see the "new normal." From 2006 to 2010, the number of people accessing one of the many food pantries we partner with in Washtenaw County rose by 138%. Too many people are still unemployed, and many of those who are back at work are working for reduced wages or fewer hours. That's why Food Gatherers is deeply concerned about proposals to cut hunger-relief resources as part of fiscal cliff and Farm Bill negotiations. There is no way food banks can fill the gap if anti-hunger programs like SNAP (formerly food stamps) are cut and the charitable tax deduction is limited.
Food Gatherers is a private, non-governmental response to a national problem. Less than 5% of our funding comes from grants; the majority of our food and funds are donated by businesses and individuals whose gifts are eligible for a tax deduction. Nearly 70% of our labor is donated by volunteers whose service is conservatively valued at more than $1.5 million. There is simply no way we can continue to leverage private donations effectively, if the charitable tax deduction is capped. Michigan food banks and shelters already suffered a blow this year with the elimination of the Michigan state tax credit. While some believe that hunger is a problem better solved by charity, the truth is charity can't do it alone. On the front lines, we are barely able to keep up with existing need. If you have any doubt that need is real, take a look at these numbers:
1 in 6 children and 1 in 7 adults in Washtenaw County are food insecure.
According to the 2011 Map the Meal Gap study by Feeding America, 44,850 individuals in our community don't know where their next meal is coming from.
3 of every 4 households participating in SNAP nationally include a child, senior, or disabled person, and half of all SNAP participants are children.
The average national SNAP benefit is less than $1.50 per person, per meal. For senior households, it is only $1.23. On average, monthly food stamp benefits last less than 2.5 weeks.
80 percent of food distributed by food banks like Food Gatherers comes from charitable resources.
Please join us in calling on our nation's leaders to propose balanced deficit reduction that protects hungry families.
Here's information
on how to contact your elected representatives.
Eileen Spring is the President/CEO of Food Gatherers, the food rescue/foodbank program serving Washtenaw County.