Posted on
Sat, Feb 16, 2013 : 3:28 p.m.
Ypsilanti would benefit from embracing alternative energy sources
By Guest Column
Imagine walking down Michigan Avenue or through Depot Town and glancing up to see solar panels harnessing the power of the sun from the rooftops, awnings and backyards of offices, warehouses, stores, schools, and city buildings. The reality is that we have a vast untapped solar resource, but Michigan continues to depend on outdated energy sources like coal, gas and oil that both pollute our environment and drain our resources.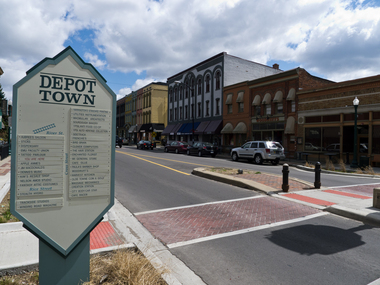 Steve Pepple | AnnArbor.com
Michigan spends billions of dollars every year importing dirty energy from other states and countries. Coal alone is one of the largest sources of soot, smog and other particulate pollution, which contributes to poor air quality and causes asthma attacks and other serious health problems for Michiganders. Solar is a homegrown solution to these major problems. Installing solar panels around Ypsilanti will inject hundreds of thousands of dollars into the local economy rather than spending money out-of-state on coal, gas and oilfossil fuels.
The case for solar power in Ypsilanti has never been stronger. Solar continues to get cheaper, with the cost of solar panels dropping by 75 percent since 2008 and with the federal tax credit knocking down the total project price by 30 percent. On top of that, DTE has restarted the SolarCurrent program, which awards a rebate of $0.20 per installed watt of solar and an ongoing incentive of $0.03 per kilowatt hour generated for about 15 years. Combined, this makes the return on investment about 8 to 10 years for a solar installation that will last at least 30 years.
Solar is growing by leaps and bounds, and it's only going to keep rising. While workers continue to be laid off as we recover from recession, solar employment is expected to grow by 17.2 percent through 2013 and to add nearly 20,000 new solar workers nationwide. Right here in Michigan, solar installations have increased more than threefold from 2010 to 2011. Ypsilanti is well-positioned to benefit from this solar growth. And the city already has demonstrated its ability to embrace the benefits of solar by bringing the National Solar Tour to town, as well as a proposed $4 million solar project by DTE.
Much of the growth in local solar can be attributed to SolarYpsi. SolarYpsi has helped local businesses, government and schools win more than $100,000 in grants and donations to put solar panels on the Ypsilanti Food Co-Op, City Hall, and Adams School, and has helped many others with their solar projects. Currently, there are 13 major solar installations in Ypsilanti.
Ypsilanti could be a national leader in solar power. Already, the city's leadership on solar is attracting attention from across the country. SolarYpsi has reached more than 3,000 people in face-to-face presentations about solar power, and well over a a quarter of a million viewers from around the world with the video Google made about SolarYpsi. The SolarYpsi website even had 1,000 online visitors in one day after the video was launched.
Let's build off of the success of SolarYpsi and set an ambitious solar goal for our city, establish programs that will put solar on more homes and businesses, and install solar panels on more public buildings and schools. We ask City Council to make Ypsilanti a "solar destination" and set a bold goal of 1,000 solar roofs by 2020. Together, we can make Ypsilanti a solar city.
Dave Strenski is the founder of SolarYpsi, and Virginia Shannon is a state associate with Environment Michigan. They are both based in Ypsilanti.