Posted on
Mon, Jan 9, 2012 : 5:57 a.m.
Ozone House makes program changes as funding dries up, demand for help increases
By Tom Perkins
For years, the Ozone House's Youth Drop-In Center at 102 N. Hamilton Street offered Ypsilanti youths from all backgrounds a place to do their laundry, eat a meal, surf the Internet, record music, take a shower or simply relax in a safe and open environment.
But as Ozone deals with budget challenges, those hours are now reduced from four hours each weekday to 1.5 hours each weekday, and the house will otherwise become a space for kids to learn "soft" job skills.
The change marks the first time the Ozone House has cut programs; the economic downturn has put a strain on the organization as revenues dry up while demand for their variety of services increases.
Over the last three years, Ozone has lost $600,000 in grant funding, a significant chunk of its annual $1.5 million operating budget.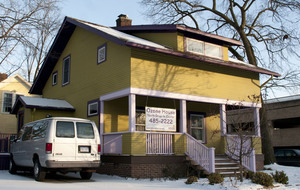 Tom Perkins | For AnnArbor.com
Ozone House Executive Director Katie Doyle said the nonprofit is nearly 85 percent funded through grants, and securing grant funds has become increasingly challenging in recent years.
"That's where we're seeing an entire drop-off," Doyle said. "Or after the grant has been awarded, the amount that was being awarding to us has been reduced.
"Individuals have stepped up and been more generous, and we're very grateful to the community for recognizing the need for these services."
That has meant full-time positions have gone unfilled and been turned into part-time positions, and staff members haven't received a pay raise in years. But the changes at the Drop-in Center are the first time there were significant cuts to a program.
Annual $100,000 grants through the U.S. Department of Health and Human Services Street Outreach Program funded the Drop-In Center since its creation in 1999, but Ozone wasn't awarded those grants the last two years.
Doyle said their grant applications are still written well, the program is still valuable and the center scored well on its federal audit. But it appears Ozone has faced more competition for funding at the national level over the last several years, she said.
Additionally, the Street Outreach Program grants are now going to nonprofits in larger metropolitan areas. Doyle theorized it appears to granting agencies that there may not be as much need for the programming in Washtenaw County, though there is actually an ever-increasing need for Ozone's services.
AnnArbor.com recently reported on the high numbers of homeless school-age children Ozone and other like-groups serve in the county. In October of 2011, Ozone House had more kids utilize its Safe Stay emergency shelter than in any three-month combined period in 2010.
Tom Perkins | For AnnArbor.com
In all, 18 youths between the ages of 10 and 17 used Safe Stay in October, and some kids were turned away. The number of calls in general to Ozone's crisis line is also up. The bulk of the kids calling are from Ypsilanti and Ann Arbor, Doyle said, but the center sees youths from nearly every community in Washtenaw County throughout the year.
What Ozone's staff is also encountering — but is harder to quantify — is the gravity of kids' situation. More often Ozone is finding that kids' extended families are in need of help, too, so there are simply no options left for the youths.
"(Kids) aren't able to rely on their informal network of family or friends, because those folks are also needing support," Doyle said. 'By the time they get to us they've exhausted everything. Their needs are deeper."
The needs of the kids who utilize the Drop-In Center aren't as critical as those who, for example, don't have a roof to sleep under in October. So when Ozone learned it wouldn't be receiving $100,000 in funding for the program for a second year, they re-evaluated what services were most needed during a three-year strategic planning process.
Instead of being able to go to the Drop-In Center from 4-8 p.m. five days a week, it will be open starting Jan. 23 from 5-6:30 p.m. and from 4-8 p.m. once a week.
Ozone owns the North Hamilton house and also use it as a work-training center where kids can learn "soft" skills such as writing resumes, how to work with a boss or conflict resolution. The program is a class, so kids can't "drop in" like the Drop-in Center, and at the end of the class kids are provided an internship at a local business.
"One big unmet need for homeless kids in the area is job training and jobs in general," Doyle said. "There's this lack of experience that kids have, and they're competing in a job market with people who have been laid off.
"This gives them low-risk job experience through the internship, and we thought that was a bigger need than the drop in space."
But she said she understood how limiting the Drop-in Center's hours could also have a large impact on other kids' lives.
"The Drop-In Center came to be a second home and a safe place for young people, so if that's the only safe place you can go, then it does feel tremendously like Ozone House isn't providing services or meeting needs," Doyle said. "We're aware a lot of young people and people in Ypsilanti can't always find a safe refuge, so there's still an hour and a half each day."