Posted on
Sun, Feb 3, 2013 : 1:46 p.m.
Panel discussion at U-M Law School will explore role of 'dark money' in Michigan judicial elections
By Ryan J. Stanton
The League of Women Voters and the University of Michigan Law School are teaming up to bring a panel discussion on judicial campaign finance to Ann Arbor.
"Dark Money in Judicial Selection: A Threat to Impartial Justice?" will explore perceived problems with the way Michigan selects judges and Supreme Court justices, as well as proposals for reform.
The event takes place from 7-8:30 p.m. Feb. 11 inside Room 250 at Hutchins Hall at the U-M Law School. Admission is free.
Panelists include retired state Supreme Court Justice Marilyn Kelly, Michigan Campaign Finance Network Executive Director Rich Robinson, and Bridget McCormack, the state's newest Supreme Court justice and up until recently a U-M law school professor in Ann Arbor.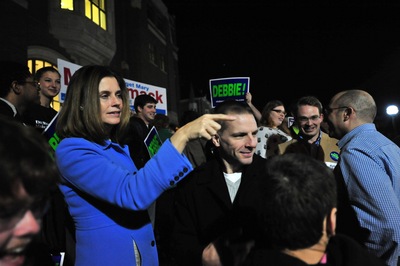 Ryan J. Stanton | AnnArbor.com
The event is made possible with funds from the Joyce Foundation and is being co-sponsored by the American Association of University Women.
In the 2012 election, 75 percent — or close to $11 million — in ad spending for Supreme Court candidates could not be linked to identifiable donors, according to the Michigan LWV.
Judges aren't supposed to hear cases involving major donors, but the LWV asks: How are voters supposed to know if judges should recuse themselves when the money is spent behind the scenes?
"Voters have the right to know who is paying for the ads that are trying to influence their vote," said Susan Smith, president of the LWV in Michigan.
McCormack, a Democrat, commented on the money spent on negative attack ads in her race after her win in the November election.
"In my particular race, there was $1 million from a D.C. Super PAC spent against me just in the last week," she said. "I think that's not the best use of our time and our money and not the best way to pick a court. Nobody knows who funds that Super PAC and what they think they're buying, right?"
After the event in Ann Arbor, the LWV is holding three more panel discussions on judicial campaign finance, including one on Feb. 12 at Schoolcraft College in Livonia, one on March 11 at Oakland University in Rochester and one on March 12 at Cooley Law School in Lansing.
The Michigan LWV is a nonpartisan organization that encourages informed and active participation in government, works to increase understanding of public policy issues and influences public policy through education and advocacy. It does not support candidates for political office.
Ryan J. Stanton covers government and politics for AnnArbor.com. Reach him at ryanstanton@annarbor.com or 734-623-2529. You also can follow him on Twitter or subscribe to AnnArbor.com's email newsletters.