Posted on
Tue, Apr 5, 2011 : 2:11 p.m.
Ordinance to expand limits on panhandling headed to Ann Arbor City Council for final approval
By Ryan J. Stanton
The Ann Arbor City Council voted 10-0 Monday night on changes to the city's solicitation ordinance to prohibit panhandling in more areas of the city, including in front of the downtown library and within 12 feet of a public alley.
The changes sponsored by Council Member Sabra Briere, D-1st Ward, now go on to the council for second reading and final approval on April 19.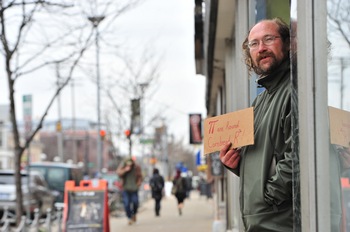 Ryan J. Stanton | AnnArbor.com
The changes were recommended by the Mayor's Street Outreach Task Force. The new prohibition on panhandling within 12 feet of a public alley would apply to Ann Arbor's famous graffiti-laden alley off Liberty Street near the Michigan Theater, where panhandlers are a common sight.
Briere said street performers, including the musicians that often do their busking in alleys, will not be prohibited from performing their craft. She said busking is not considered panhandling.
The city's current solicitation ordinance already prohibits panhandling in specific areas, such as on public buses, inside or near parking structures, from a person in a vehicle, from customers in outdoor seating areas, within 12 feet of a bank or ATM, or within 12 feet of Nickels Arcade, the Galleria and the Pratt Building on Main Street.
The ordinance would continue to prohibit aggressive panhandling, which is described as moving within 2 feet of a person solicited; following and continuing to solicit a person who walks away; knowingly making a false or misleading representation when soliciting; soliciting in a manner that is intimidating or threatening; or obstructing the free passage of traffic.
Police Chief Barnett Jones said last summer that aggressive panhandling had become the No. 1 crime in Ann Arbor. The city reconvened a task force in September to look into the issue.
After six months of work, a 42-page report from the Mayor's Street Outreach Task Force was presented to the City Council recently.
The task force is requesting that the police chief and the city administrator refocus police attention in the downtown area, with targeted foot patrols during busy hours.
It also is recommending the launch of a community campaign called "Have a Heart, Give Smart," an effort to address what it found are often the root causes of panhandling and homelessness: substance abuse and mental illness.
The campaign will encourage people to stop giving their money to individuals on the street, potentially feeding drug and alcohol addictions, and to instead make donations to local human service agencies that provide help for those in need.
Council Member Stephen Rapundalo, D-2nd Ward, was absent from Monday's meeting.
Ryan J. Stanton covers government and politics for AnnArbor.com. Reach him at ryanstanton@annarbor.com or 734-623-2529. You also can follow him on Twitter or subscribe to AnnArbor.com's e-mail newsletters.