WISD prepares to begin consolidated busing system to serve Ann Arbor, Ypsilanti and Willow Run districts
Posted on Sun, Sep 5, 2010 : 6:02 a.m.
Angela J. Cesere | AnnArbor.com
Vanessa Clarke, a parent with children at Ann Arbor Open School, says she finds it reassuring many of the routes and bus drivers will remain unchanged when school starts this week.
Until the yellow buses get rolling, most parents say they're taking a "wait and see" approach as the new consolidated bus system prepares for the upcoming school year. Starting Tuesday, bus drivers picking up students in the Ann Arbor, Ypsilanti and Willow Run school districts will be part of a new Washtenaw Intermediate School District-run bus system.
"It's definitely wait and see, what else can you do?" Clarke said. "Fortunately, I can drive my kids to school if it doesn't work. I know that the cuts had to come from somewhere, so what can we do?"
The districts agreed to consolidate in the spring in a move to save millions of dollars. Ann Arbor expects to see $1 million in savings in the first year, while the other two districts also project a similar level of savings.
The savings will primarily come from reduced personnel costs, with the top of the wage scale now at $16.50 an hour, down from the $18.09 an hour wage earned by Ann Arbor's highest paid bus drivers last year.
Brian Marcel, assistant superintendent for finance for the WISD, said the new system has been a massive undertaking. The countywide district had no transportation department before the consolidation began. He said they've managed to retain most of the personnel from the three districts to bring an air of familiarity to the system.
Clarke said her kids have established a relationship with the bus driver on their route, so she was glad when he told her he'll be back on the same route this year.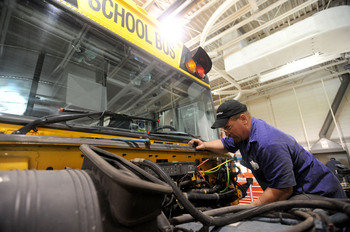 Angela J. Cesere | AnnArbor.com
Marcel expects the beginning of the year to be like any other — there are always new drivers, changed routes and some confusion. Given the monumental change in the system, he said, the beginning of this school year should be relatively smooth.
"There will be problems in any school district during that first week," Marcel said "The main thing we're stressing with drivers is be patient because issues will happen. Be safe, be consistent, be good to the kids and don't leave anybody on the bus."
Most of the bus drivers who worked for the districts reapplied for jobs after being laid off at the end of last year and were hired back as WISD employees, Marcel said. He said about 1,400 people applied for 240-250 positions as bus drivers, monitors and staff. About 190 of those applicants were employees of the three districts, and most were hired, he said.
Drivers were doing dry runs of their routes over the weekend, and monitors will accompany all new drivers, Marcel said.
The individual districts have been working closely with the WISD to transition transportation services. The county's other seven traditional school districts declined to join the countywide system for the fall, but administrators from several have said they'll consider getting on board in the future.
Liz Margolis, district spokeswoman for Ann Arbor Public Schools, said parents should expect a seamless transition. She said parents who call with questions or issues will talk to the same people they've always talked to and will see many of the same drivers and routes.
"The changes should be very gradual," Margolis said. "Parents should not see any differences, other than the name on the side of the bus will (eventually) change from 'Ann Arbor Public Schools' to 'Washtenaw ISD.'"
Laura Lisiscki, interim superintendent of Willow Run Community Schools, said her district assured parents that, while there will be snags as is the case every year, transportation should be business as usual.
"We still have the same drivers in place, even though it's in a different consortium," she said. "They're just wearing a different patch on their shirt."
Those words from administrators appear to have eased parents' worries over the change.
Andrea Johnson, a member of the Kaiser Elementary Parent Teacher Organization in Willow Run, said she knew parents had concerns when the consolidation was first announced. She said she's reserving judgment for the time being.
"It's not just about getting kids to school — that ride is important, you have to have a decent person driving them," she said. "I want to give them a chance."
Johnson said she was happy with the previous bus service in the district and hopes to see it continue.
"I understand the change was necessary, and change is a part of life," she said. "I just hope that it's still good for the kids and not too many people were put of their jobs."
Mary Beth Sheehan, a member of the Bach Elementary Parent Teacher Organization in Ann Arbor, said she hadn't yet heard concerns from parents. However, she said she wouldn't know more until her daughter actually gets on the bus Tuesday.
"I try not to get too worried or worked up until I know there's something to worry about," Sheehan said.
Kim Easterly, another Bach Elementary PTO member, said parents she spoke to hadn't seen anything surprising in the bus routes the district distributed last week. It's leading to a hopeful outlook for parents, she said.
"Until the first day of school happens, parents are cautiously optimistic," she said. "We can't really know how it will work out until then."