Posted on
Thu, Oct 18, 2012 : 5:59 a.m.
Party patrol: Police, U-M students, bars prepare for MSU rivalry weekend
By John Counts
AnnArbor.com file photo
Sparty's coming to town Saturday.
But it won't just be the Michigan State University football squad. The University of Michigan, local law enforcement agencies and businesses will also welcome an influx of tens of thousands of football fans from both sides of the divided house into Ann Arbor.
And these are just the folks without tickets. Combined with those attending the game, crowds are expected to swell in city and campus streets both before and after the game.
Ann Arbor police Lt. Renee Bush didn't want to put a number on how many ticketless types will be thronging the streets in addition to the 100,000-plus football crowd they plan for, but said she expected "a lot."
"We're very excited to be the host this year," she said. "But we're also planning for extra people that we know will be here without tickets for the game."
Tailgaters will likely assume their regular positions at places like Pioneer High School, the U-M Golf Course and surrounding areas, Bush said.
"We want them to have a great, safe time," she said. "We don't want things to get out of control."
Party patrol
Ann Arbor police, in concert with the U-M police, will have an increased presence on Saturday -- what has come to be called party patrol.
"We will have our normal, regular party patrols going out," Bush said. "They usually go out early in the day to enforce noise ordinance and alcohol (issues)."
This means four teams of officers in the area of South State and Hill streets.
"They will be thick in that area," Bush said.
Community Emergency Response Teams (CERT) will also be present, mostly around Michigan Stadium at Main and Stadium, but also in the area of State and Hoover.
"They're highly trained in first aid, crowd engagement and emergency situations," Bush said.
Authorities will also have civilian student help for this first time this season in the form of the U-M Ambassadors, who will patrol south campus districts in orange T-shirts looking for suspicious behavior.
Bush and U-M police Sgt. Gary Hicks met with a handful of volunteers Wednesday evening at the Michigan Union for an orientation. About 15 students are expected to take to the areas of Hill, State and Hoover streets between 9 a.m. and 2 p.m. where they are instructed to warn people in cases of minor bad behavior -- people on rooftops or loud music -- and call police in cases of more extreme behavior.
"You might want to get that person off that roof before they fall and hurt themselves," Mary Jo Desprez, of University Health Services, told the student volunteers at the orientation. "It's much easier coming from peers than it is having to have a police car come."
Businesses brace with extra staff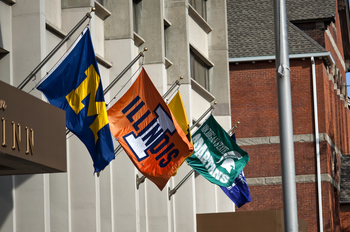 Joseph Tobianski | AnnArbor.com
While city officials like
Maura Thomson
, executive director of
Main Street Area Association
, are always happy to welcome visitors downtown, so many revelers can create problems.
"We suffered some inconveniences (on Main Street)," Thomson said about the last time the rival football game came to Ann Arbor in 2010. "It was a combination of circumstances that created a situation that got out of hand."
Thomson said the hordes of football fans left extra trash behind and damaged a few of the 46 planter beds maintained by the association on Main Street.
"When you have that many people coming into town … Main Street's pretty full," said Michelle Murray, manager at Conor O'Neills, an Irish pub on South Main. "We're so close to the stadium you can see the herds start piling out."
Murray said the bar is expected to be busy all day long. In order to deal with the crowds it will be opening earlier than usual and putting extra staff behind the bar, in the kitchen and at the door.
"Michigan State's definitely a big one because of the rivalry and it's such a close distance from East Lansing for everyone to drive in," she said. "I think it's one of those traditional games everyone gets excited for. Everyone is in high spirits."
Murray, who has worked at O'Neills for five years, said she doesn't recall any major incidents from 2010.
"We normally have a pretty good crowd here," she added. "For the most part, people tend to get along. I think Michigan and Michigan State fans … just like to pick at each other. For the most part, it's all in good fun."
The bar scene near South University Avenue, which is more student-oriented, also experiences large crowds on game days. Establishments in that area, however, are hoping to having a busy - but safe - rivalry weekend.
Ben Hammond, assistant manager at Good Time Charley's, said he expects larger crowds on Saturday, but that it doesn't necessarily have to do with MSU specifically. He's seen crowds similar to MSU games during Ohio State or Nebraska games in the past.
"We do beef up security just to make sure everybody is safe," he said. "We always have to beef it up just because of some of the zealots, or the people who go a little wild and get a little out of hand. You have to make sure everyone is safe."
Good Time Charley's also has developed a good relationship over the years with the Ann Arbor police, many of the officers whom they know by name now, Hammond said.
"We've helped them with things, they've helped us with things," he added. "It just makes for a safer environment."
Jason Watson, one of the managers at the nearby Brown Jug, said everything went smoothly for the Spartan-Wolverine game in 2010. The only incidents he could recall happened outside the bar involving vandalism and an assault on the street.
Watson said he heard about a green S being painted on more than one car in the area from patrons two years ago. Watson also remembered an assault on South University where an unconscious man was beaten. At the time, AnnArbor.com reported a 23-year-old man was arrested in the incident, which was just one of several fights police dealt with before, during and after that game.
In total, there were 250 police calls for service, 96 vehicles towed from public and private parking lots and 64 people kicked out of the game for various reasons on Oct. 9, 2010, when MSU beat U-M 34-17. From Friday to Saturday night that weekend, police also issued 125 open intoxicant tickets and 38 minor in possession tickets.
Watson said he's noticed an increased police presence near campus-area bars after a particularly raucous St. Patrick's Day, when Ann Arbor police forced taverns to close early due to the amount of revelers in the street.
As far as Saturday is concerned, Watson and Brown Jug general manager David Root said more staff are scheduled to work that day and night. They estimate that between their extended hours of 10 a.m. to 2 p.m., about 2,000 people will come through the bar.
"It's a college area," Root said. "People will be having a good time."
John Counts covers cops and courts for AnnArbor.com. He can be reached at johncounts@annarbor.com or you can follow him on Twitter.