Posted on
Wed, Sep 11, 2013 : 5:59 a.m.
Perceived shortage of taxi stands in downtown Ann Arbor getting discussion
By Ryan J. Stanton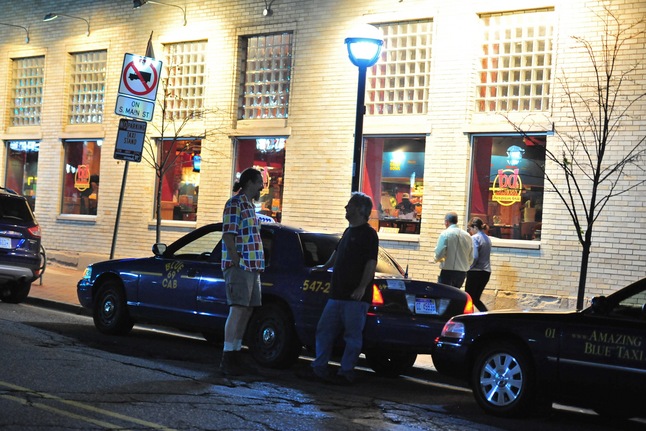 Ryan Stanton | AnnArbor.com
As chairman of the city's Taxicab Board, Ann Arbor City Council Member
Stephen Kunselman
hears a lot about the ins and outs of the local taxi industry.
One concern that's surfaced recently, Kunselman said, is there might not be enough taxi stands — curbside parking spots reserved for cab drivers — in the downtown.
"We have heard from taxi businesses that there may not be enough — particularly on weekend nights when there's a lot of downtown activity," he said. "So they are left in the position of cruising around the blocks, trying to find their fare or waiting to be hailed."
The problem with this scenario, Kunselman said, is that police don't allow vehicles to stop in the middle of the street to pick up or drop off passengers.
"You're supposed to pull over to the curb and do it safely," he said. "But without the taxi stands, that makes it a difficult endeavor."
Kunselman, D-3rd Ward, raised the issue Monday night at a joint meeting of the City Council and the Downtown Development Authority.
He suggested using commercial loading and unloading zones — which typically serve their intended purposes during daytime hours — as taxi stands at night.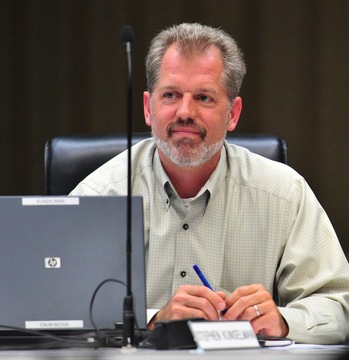 Ryan J. Stanton | AnnArbor.com
"That may be a concept that would be very workable, given the limited amount of street space we have," he said, noting there are loading zones in front of the Fleetwood Diner and near the Cloverleaf Restaurant at the corner of Liberty Street and Fourth Avenue.
"Right now loading zones are a defacto free parking spot," he said. "They're non-metered, but no commercial loading for businesses is taking place at night."
DDA Executive Director Susan Pollay said the DDA would be willing to consider specific suggestions from the Taxicab Board about where more taxi stands should go.
"I do hear the interest in having more places to stage, because at 2 o'clock — boom — you need it, and you just don't have enough curb for all of them to line up and be ready, and they're getting calls for service from all over downtown," she said.
Pollay said it could prove tricky to create situations where certain spots have different daytime and nighttime uses, though.
"The question that was asked is could we have daytime and nighttime signage," Pollay said. "What I've heard in meetings with staff is the challenge is people don't read signs — they just see a free spot — and later when they get a ticket or get towed, they're really frustrated."
Pollay said she doesn't want to get into a situation where people are getting ticketed or towed because they don't notice a sign indicating a change in use during certain hours.
Kunselman still thinks the loading zone idea can work.
"People know loading zone signage pretty well and that you can get ticketed and towed," he said, suggesting the DDA could "do something creative and make them taxi stands."
As they stopped Monday night at a taxi stand on Washington Street, just west of Main Street near Mongolian Barbecue, local cab drivers Randall Grenham of Blue Cab and Rick Albitus of Amazing Blue Taxi said they would welcome the convenience of additional taxi stands.
Right now there are a handful of taxi stands downtown, including some spaces in front of Hill Auditorium, the Michigan Union and the Federal Building. Grenham lamented that there used to be three spots in front of the Federal Building, but now there's only one.
"What we really need is one on South U, because you can't pick up there," Grenham said. "The cops will give us tickets for obstructing traffic because there's nowhere to pull over. There is one spot where you kind of crowd the corner, but it's not officially a taxi stand."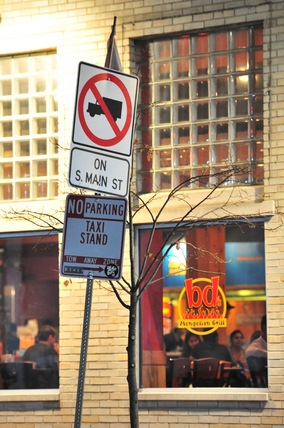 Ryan Stanton | AnnArbor.com
With the lack of taxi stands, Grenham said, drivers will use the curb space between the last parking spot and the intersection as a makeshift drop-off/pickup spot.
Told about Kunselman's idea of converting commercial loading zones into taxi stands at night, Grenham responded enthusiastically.
"Wow, that would be sweet," he said. "That's a nice proposal."
Albitus said cab drivers like him could use one more two-car stand in the Main Street area and another in the campus area.
He doesn't see a taxi stand happening on South U, but expressed hope for one maybe around the corner on Church Street or East University Avenue.
He noted only city-licensed taxicab companies — not limos operating as taxis — can use the taxi stands. Kunselman said that's something the city needs to enforce.
"On top of that, we have limo drivers who are also parking in no-parking zones and waiting for people to walk up," he said.
Pollay said she understands the challenges taxicab drivers face, especially when hundreds of people come flocking out from downtown bars at 2 a.m.
"We haven't found exactly the right answers, but it's nighttime economy and daytime economy," she said. "The taxicabs are serving us all day long, but they're particularly valuable to us at night when the bars let out. But that same space they're sitting in can have a really important daytime purpose."
And so the DDA's struggle, Pollay said, is that there's a limited number of parking spaces, and there needs to be the right balance of uses.
"We have found some spaces, for instance, on East Liberty Street and South Division. They're good places for the taxicabs to stage from," she said. "And if we can find a few more of those … I'm really hopeful the Taxicab Board can come back with some very specific ideas and locations."
Ryan Stanton covers Ann Arbor city hall for MLive. Reach him at ryanstanton@mlive.com or 734-623-2529 or follow him on Twitter.