Posted on
Thu, Feb 28, 2013 : 5:59 a.m.
War on limo drivers? Ann Arbor's ramped-up enforcement of taxicab ordinance causes stir
By Ryan J. Stanton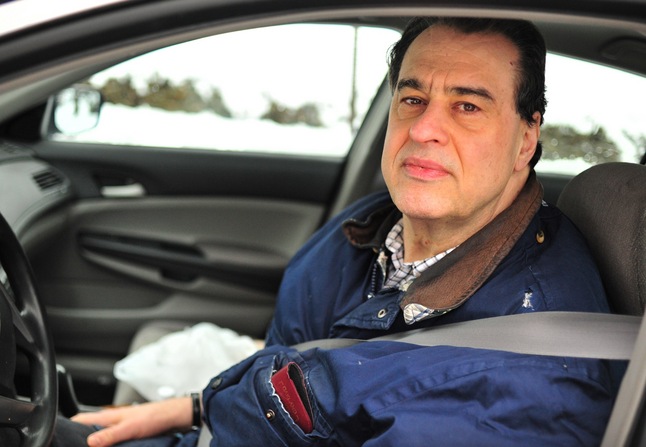 Ryan J. Stanton | AnnArbor.com
Paul Epstein
, a driver for Yellow Cab and now
Yellow Car
in Ann Arbor for all but six of the past 32 years, says city officials are unfairly targeting his industry.
"This is probably the worst page in the entire book of cab driving in Ann Arbor ever," said Epstein, one of a number of drivers angry with Stephen Kunselman, chairman of the city's Taxicab Board and a member of the City Council, for prompting heightened enforcement of taxicabs and limousines.
"It does not seem this enforcement benefits anybody," Epstein said.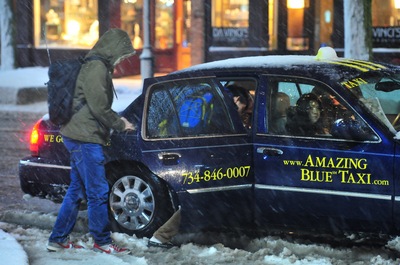 Ryan J. Stanton | AnnArbor.com
Police Chief
John Seto
confirmed the Ann Arbor Police Department did ramp up enforcement of the city's taxicab ordinance this past weekend in conjunction with an educational campaign.
In the wake of three alleged assaults on women by taxi drivers, police are making sure residents are aware of the differences between city-licensed taxicabs and state-licensed limousines, and they're cracking down on limos that act like taxis by trolling for fares.
In one of the reported assaults, a city-licensed taxicab driver from Blue Cab was charged with two misdemeanors for inappropriately touching and attempting to kiss a customer.
It's unclear what companies the other two drivers accused of assaulting the female passengers worked for and if those drivers were licensed by the city or the state.
The city licenses more than 100 taxicabs and more than 200 taxi drivers, but there are limousine companies operating under state law that have been acting like taxicabs in Ann Arbor.
Cracking down
Kunselman said it's an important distinction that state-licensed limo drivers can only pick up pre-arranged customers and cannot go "trolling for fares in our downtown" without a taxicab license from the city. He said he simply wants to put a stop to limo companies acting like taxis.
"I wouldn't call it waging a war, by any means," he said. "My advocacy as the Taxicab Board chair is to ensure the paramount safety of our citizens. Limousine drivers that come into our community and troll up and down our streets looking for fares is a violation of our taxicab ordinance."
Among the companies Kunselman has publicly accused of skirting the city's taxicab ordinance and "impersonating" taxis without a city license is Yellow Car.
The company operated for years in Ann Arbor under the name Yellow Cab with taxicabs licensed by the city, but it changed and became a limousine company licensed by the state in 2011.
"If you want to operate a limo in the city, that's fine, but if you're going to operate a limo in the same vein as a taxi, then no, that's not OK," Kunselman said. "We as a community need to know who these drivers are when they're picking up our citizens, and the limousine law does not allow for that."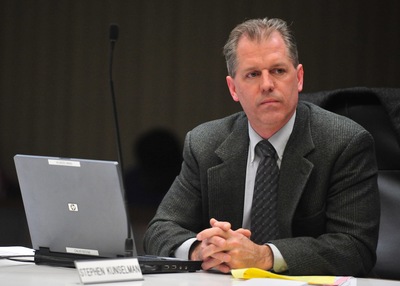 Ryan J. Stanton | AnnArbor.com
Seto said there were some citations issued this past weekend, but he didn't have the exact number or the specific violation for the tickets. He said the fines could be up to $500.
"We started with an education process to make sure that people are clear on the ordinance and also on the state law," Seto said. "We are going to make sure that our ordinance is enforced."
Epstein said he and his fellow drivers at Yellow Car, some of whom are planning to attend tonight's meeting of the city's Taxicab Board, have unnecessarily become the culprits in a "war on limo drivers." He said one consequence is that many members of the public might go without rides home from the bar now.
"The public, which is responsible for this demand for for-hire vehicles, may have to do without, and meanwhile drunk drivers are now free to drive all they want, since police are pulling over cabs and limos by the dozen," he said. "I wonder if John Cleese could dream up something so absurd."
Epstein said he's been a night owl for years, working shifts that last through the early morning hours, but as of this week he's changing his schedule. He's switching to day shifts.
"It's just a really precarious situation out there at night," he said, referring to the crackdown. "I've always been very oriented toward taking people who hail me, and now I realize if I do that, I might be pulled over and get a ticket for $500. It's just something I don't even want to be around."
Elliott Snow, who has been a driver with Yellow Cab and now Yellow Car for 19 years, emailed City Council members this week to offer his thoughts on the issue.
After driving around the past weekend, Snow said it seems the city's efforts to crack down on limos accepting walk-up business has been successful in getting many of them to leave town.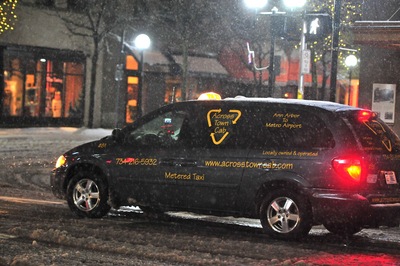 Ryan J. Stanton | AnnArbor.com
As a result, an hour after the bars closed early Saturday morning, Snow said, his company still had about 45 pending requests for cars between South University and Main Street that it was unable to fulfill. He said it was a similar situation after the bars closed early Sunday morning.
"There were perhaps 30-40 people milling around outside Conor's and Rush Street, looking for 'cabs' that weren't there to take them home," he said. "It was 20 degrees out, these people had been drinking, and many were really not dressed to be out for a prolonged time in cold weather."
He said those were people who had gotten used to going to bars downtown and finding ready transportation to take them home at 1 or 2 a.m.
Regardless of what type of licensing his management chooses, Snow said, it's still the same company with the same drivers providing the same service. He called Kunselman's remarks about Yellow Car an "appalling betrayal" of one of Ann Arbor's best, long-term, home-grown businesses.
He and others have argued the city should be more concerned about out-of-town limos and cabs poaching in Ann Arbor and grossly overcharging customers.
Dual-licensing proposed
In his email to council, Snow suggested dual-licensing, where state-licensed limos also could work as taxis if they register with the city, as a way to make sure the community's needs are being met.
"The state licensing of limos actually is a plus, because those can go work elsewhere during the slow days/weeks like spring break and the entire slow season of summer, leaving what business remains to the local companies," Snow said. "But when it is busy, as on many weekends and special events, they would help out with meeting the increased demand."
Snow believes a dual-licensing model would provide the city with a handle on limos should any issues arise. He suggested the city also could require they visibly post their rates or even require them to give up-front price quotes like Yellow Car does to avoid overcharging.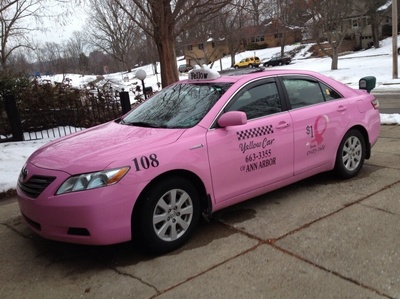 Ryan J. Stanton | AnnArbor.com
"Such a registration requirement might also tend to keep away the really fly-by-night operators who have no valid state license in the first place," he said.
Kunselman said if Snow wants to submit a written proposal on how Ann Arbor can improve its taxicab regulations, the Taxicab Board is willing to consider it.
Mayor John Hieftje said he's going to leave it up to the city's Taxicab Board to figure out the best solution.
"They seem to be really delving into it and taking a hard look at it," he said.
Kunselman said he doesn't expect the Taxicab Board to take any action on the issue at tonight's meeting, but he does expect a good discussion about the new enforcement.
"It has certainly raised the ire of a few taxicab drivers — although, I wouldn't call them taxicab drivers because they're not running taxicabs. They're limousine drivers," he said. "That's a very important distinction because they're operating without adherence to our taxicab ordinance."
Kunselman said he stands by his previously stated position and he will continue to advocate for a well-regulated taxi industry in Ann Arbor to protect the safety of residents.
He said he has spoken with a representative of the Great Lakes Limousine Association who agrees "rogue limos" give the industry a bad name. He's inviting the group's director to speak at tonight's meeting, which starts at 5:30 p.m. inside city hall and includes a public comment period.
"The Taxicab Board is certainly open to any changes in our taxicab ordinance that any of the citizens out there or industry people want to submit," Kunselman said. "We're certainly working on some legislation at the state level, but this is a tough, complicated issue."
Ryan J. Stanton covers government and politics for AnnArbor.com. Reach him at ryanstanton@annarbor.com or 734-623-2529. You also can follow him on Twitter or subscribe to AnnArbor.com's email newsletters.