Posted on
Mon, Mar 14, 2011 : 7:26 p.m.
Momentum building for movement opposing Rick Snyder's University of Michigan commencement speech
By Nathan Bomey
University of Michigan students are organizing to oppose the recommended appointment of Gov. Rick Snyder as the university's 2011 spring commencement speaker.
An online petition drive to convince the Board of Regents to reject Snyder's appointment had already collected 1,483 signatures from students and U-M staff as of 7:18 p.m. Monday.
The university announced this morning that President Mary Sue Coleman would recommend that the Board of Regents approve Snyder as the April 30 commencement speaker.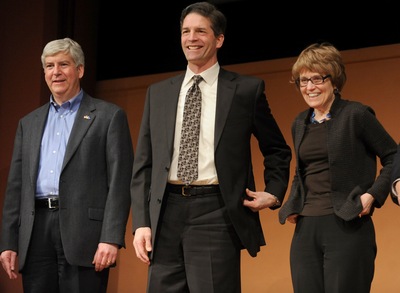 Angela Cesere | AnnArbor.com
The petition against Snyder also calls for the university to stop inviting politicians to deliver its commencement addresses, a rule that would have prevented President Barack Obama from speaking at the 2010 spring ceremony.
U-M student Rick Durance, who started the petition against Snyder, said he was turned off by Snyder's budget proposal — which includes business tax cuts, a pension tax increase and funding cuts to a wide range of programs, including higher education — and pending "emergency financial manager" legislation.
"I find the fact that he's cutting higher education by 15 percent and showing up at a public school commencement to be hypocritical at the very least," Durance said. "People really would like to see someone more inspirational. They don't find our governor inspirational, which I think is telling."
Separately, a Facebook group created to organize a protest is also gaining momentum. As of 7:18 p.m., 447 Facebook users said they were planning to attend an anti-Snyder commencement protest, which is set to take place from 1 to 2:30 p.m. Wednesday at the Diag on U-M's Central Campus.
The board plans to vote Thursday on whether to give Snyder the commencement podium.
U-M senior political science major Zach Goldsmith said he's organizing the protest to provide a forum for what he described as a "huge backlash" sparked by the commencement announcement.
Goldsmith said that because of Snyder's policies, he was "very shocked" at Coleman's decision to recommend Snyder be appointed as commencement speaker.
"I can think of few people who would have been a worse choice and would have been more unpopular at Michigan," Goldsmith said. "He wants to shore up the budget on the backs of the poor and the backs of the elderly, which are hurting because of the economy."
If the Board of Regents approves Snyder's appointment, Goldsmith urged graduates to turn their backs to Snyder during the commencement address.
Sara Wurfel, a spokeswoman for Snyder, said in an e-mail: "The governor appreciates and strongly respects this exercise in democracy. But he's also committed to forging ahead and tackling misinformation and the tough issues, like he said he'd do, and building a solid and strong Michigan that works for everyone. The proposed budget and tax plan is based on fairness and preserving core safety net services while improving and strengthening our economy so ALL can prosper and benefit."
Kelly Cunningham, U-M spokeswoman, said it was premature for the university to comment on the petition.
"The governor was chosen, not only because it is tradition to invite the state's newly elected chief executive to present the commencement address, but also because the governor's distinguished accomplishments in both the public and private sectors makes him uniquely positioned to tell our graduates about the challenges and rewards of leadership," Cunningham said in an e-mail.
Goldsmith added that he was disappointed by Coleman's choice for speaker.
"I don't understand. She's a smart woman. She's the head of the state's leading university and the state's leading university is on the chopping block," Goldsmith said. "Most of Rick Snyder's cronies escaped the chopping block. They're getting tax breaks."
In an interview last month, Coleman said she "understood that there has to be sacrifice."
"I can look at the numbers, I can look at the revenue and I just have realized that it takes a brave governor to tackle every little piece of it, and that's what he's trying to do," she said. "We need to get our financial house in order in this state."
The petition against Snyder's commencement address calls for the university to consider naming film director Spike Lee or CNN journalist Anderson Cooper as the replacement. Lee is scheduled to receive an honorary degree from U-M at spring commencement, and Cooper is praised in the petition for publicly defending Michigan Student Assembly President Chris Armstrong last year.
Durance said students "are more enthusiastic about celebrities and movie directors." He said politics don't have a place in commencement ceremonies.
"Honestly, graduation should be the one moment where we can come together and transcend this," he said.
Contact AnnArbor.com's Nathan Bomey at (734) 623-2587 or nathanbomey@annarbor.com. You can also follow him on Twitter or subscribe to AnnArbor.com's newsletters.