Posted on
Thu, Jun 23, 2011 : 12:43 p.m.
Pioneer High School student confronts racial issues while learning to be a rapper on MTV's 'Made'
By Kyle Feldscher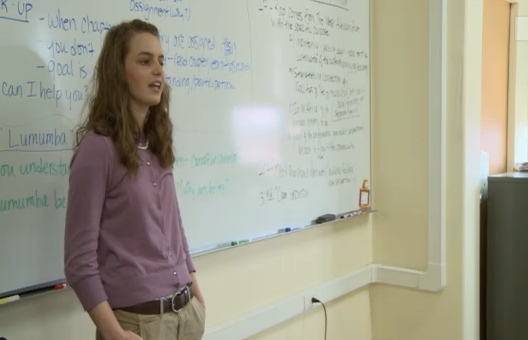 Update: Teacher Vicki Shields says 'Made' distorted story on race
Pioneer High School student Emma Hamstra went on MTV's show Made to learn how to become a rapper, but the reality show also documents what the teen calls an attack by students and a teacher during a discussion that turned to race.
The episode will air at 4 p.m. today.
The show follows Hamstra - a college-bound field hockey player, poet and feminist - as she becomes a rapper performing her own song on a stage in front of a crowd of about 2,000 people.
A clip from the episode posted on MTV's website shows Hamstra, 17, speaking to teacher Vicki Shields' African American humanities class at Pioneer about wanting to become a rapper and being confronted by the teacher and students.
She'd been invited to the class by Shields to discuss why Hamstra - a white teen - wanted to rap.
In a promotional clip for the show, Shields tells Emma Hamstra she can't understand the issues of African Americans.
Hamstra said the discussion escalated into a conversation about the role of race in rapping and whether Hamstra had a right to express herself through it. She's also wondering how the entire experience will be portrayed on the show.
"I felt like there was a mob mentality in the classroom," Hamstra said. "Everyone in the class wanted to rally behind Vicki and it was definitely really uncomfortable.
"The camera woman stopped filming and stopped the conversation because she was so upset."
Hamstra recently graduated from Pioneer and is attending the University of Massachusetts in the fall to play field hockey. Her life goal, and the reason she wanted to be on Made, is to be an English teacher in an urban neighborhood and she thought translating her poetry skill to hip-hop music would help her connect to her future students.
District spokesperson Liz Margolis said administrators at Pioneer are aware of the clip and have met with Hamstra numerous times about the incident. She said Pioneer principal Michael White is waiting to see the whole episode before talking to Shields about it.
"She was trying to show that Emma didn't know her experience just like she (Shields) didn't know her cousins' experience in Detroit," Margolis said. "There was clearly some undertones and you can see the kids taking their cues from her and looking at her."
"Pioneer administration is very much aware of this," she said.
Attempts to reach Shields via email and with phone calls were unsuccessful Thursday morning.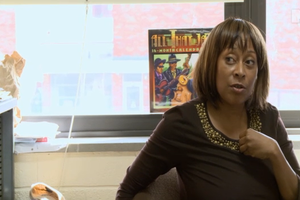 Courtesy of MTV's Made
Hamstra said she'd learned that Shields' class had been talking about her effort to rap on "Made." The invitation to come to the class followed Hamstra meeting privately with Shields.
Hamstra said after the talk in Shields' classroom, students called her a racist in the hallways, and others would say, "Free Vicki!" as she walked by. Her Facebook page was also marred by hate mail.
Ruth Hamstra, Emma's mother, said her daughter grew throughout the experience of filming the show. She said Emma would always stand up for other people but not herself before filming, but the experience in Shields' classroom made her confront her fears when it came to others putting her down.
"We were pleasantly proud of her," Ruth Hamstra said. "She never responded when kids were yelling and calling her names, she never yelled back. It made her confront when kids bully her, why would she stand up for everyone but herself."
The producers of the show, rapper P.L. who coached Emma Hamstra throughout the six weeks of filming and the film crew who would meet her at school at 8 a.m. and trail her until midnight were all friendly and helpful, Ruth Hamstra said.
The family hasn't seen the episode in full yet and Ruth said everyone is nervous about how the show's producers will end up editing the episode.
Emma said the only way she could end up actually putting on the performance and block out everything around her was by dropping certain activities and focusing on her rapping and field hockey.
For more information
"I just buckled down and focused and didn't focus on the things that were going on around me," she said. "MTV wanted to take me to Detroit and do fun things but I said no, I had to focus on my rap so I didn't look stupid."
If filming the episode was stressful, the process of applying to be on the show was just as intensive.
Emma Hamstra said she tried out to be on the show to become a rapper on a dare from her field hockey teammates, who were also trying out.
"I never did rap music before and I'm rhythmically challenged, so I thought having a hip-hop knowledge would be good," she said.
About 20,000 kids try out to be on the show and 20 kids end up being selected for the whole season, Ruth said. After the initial audition, Emma did four phone interviews with show officials, was filmed for two days around Christmas, had a four-hour psych evaluation and a physical.
The experience didn't end after filming wrapped. Three weeks ago, the family was flown to New York City by MTV to do voiceovers for the episode. While there, the network set Emma Hamstra up with the writer of "Black Swan", her favorite movie, for a two-hour talk over coffee about writing and graduate school and had dinner with the head of the film crew in Brooklyn.
Ruth said the experience ultimately helped her daughter grow as a person and, despite the stress incurred during the filming, ended up being a good experience. Emma Hamsta's song she performed at the end of the episode was named "Super Ball," for her ability to bounce back after the setbacks she went through during filming.
"It was a really good thing for her to have to face," Ruth Hamstra said. "Not to worry about how bad it feels but to face, 'What are we going to do and what am I going to do to bounce back.'"
The episode was at least the third time Made has visited AAPS for an episode, Margolis said. Two Huron High School students had been made into a fashion designer and a football player in different seasons, she said.
Kyle Feldscher covers K-12 education for AnnArbor.com. He can be reached at kylefeldscher@annarbor.com or you can follow him on Twitter.