Pioneer High School teacher on MTV's 'Made' said show distorted discussion on race
Posted on Thu, Jun 23, 2011 : 6:31 p.m.
The Pioneer High School teacher featured in an episode of MTV's "Made" about a white student wanting to become a rapper said she's a victim of "very negative editing."
Vicki Shields, speaking shortly after the episode aired Thursday, said her students warned her about how the show's producers would end up presenting the episode if the conversation in her African American Humanities class with Emma Hamstra ended up not going as planned.
Shields said she had talked to "Made" producers before Hamstra met with her and then came into her classroom, and was told to "keep it real."
The episode showed Shields and her students, who were predominantly black, asking Hamstra a variety of questions about the history of hip-hop and how Hamstra planned to bring her music to that audience.
Shields said Hamstra spoke for 45 minutes about why she wanted to be a rapper before students started asking questions, which was the only thing the show showed.
"I want people to know that this is TV and the way they're editing it is designed to make it controversial and people shouldn't make judgments based on a clip," Shields said.
"The stuff that clarifies the conversation is cut out."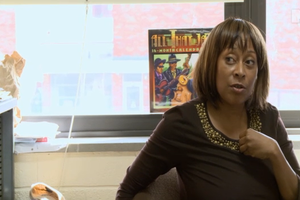 Courtesty of MTV's Made
The episode of Made will re-air on MTV at 10:30 a.m. Saturday.
Shields spoke with AnnArbor.com about one hour after the show aired on MTV and said she was already receiving emails calling her a bully and telling her she shouldn't be teaching.
Shields said the fliming of "Made" was going on during her class' conversation on cultural appropriation. She said one of her students had brought up Hamstra's quest to become a rapper during a discussion, and later Hamstra approached her about speaking in class.
Students in the class warned Shields not to participate in the show because "it takes so long to get to the place where you're open enough to talk about race and we can't have a real discussion with her in an hour," she said.
Shields said her students believed she was being set up by the show.
However, Shields said that if someone comes to her with a question about race, she feels obligated to answer and discuss it.
During the episode, students are shown reading questions from a sheet of paper to Hamstra. Shields said she had provided Hamstra and the show's producers a copy of the paper with the questions before she came into the classroom so she knew some of the questions to expect.
"To say I was prompting my students, that's just unfair," she said.
For more information
The "Made" cameras showed a one-on-one meeting between Hamstra and Shields before Hamstra spoke to her class where Shields said, "We know ya'll don't like us anyway."
Shields said the quote was taken out of context and was used to say that white people can use black culture for profit without understanding the struggles others inside that culture went through to create that music.
She used the example of blues music and said the topic of discussion in her class was "how can a white artist take something from a blues artist and not be concerned about the plight of where that blues music came from." She said that was a negative aspect of cultural appropriation.
However, others might listen to that same music and expose themselves to a culture they would never otherwise encounter, either because of socioeconomic background or other circumstances, and end up understanding more about others' world.
Shields said she recognized Hamstra was uncomfortable during the discussion and realized that Hamstra was sensitive about the topic. Shields said she told her class to simply ask questions, let Hamstra answer them and not interrupt or do anything to make her feel uncomfortable.
She said the show was edited to show the few moments when Hamstra was interrupted and to make the discussion seem much more contentious than it originally was.
Another major part of the episode that received some negative reactions from students at the end of the "Made" episode was Hamstra's reference to "Icky Vicki" in her song, apparently referencing Shields.
Shields said she felt it was unfair to have a shot taken at her when she didn't want to be involved in the episode in the first place.
Ultimately, Shields said, conversations about race in Ann Arbor can be a no-win situation.
"One thing that gets me is she came to me and if you tell people your opinion and you don't agree with it and other people don't agree with it, you're a negative person," Shields said.
"You're damned if you do and damned if you don't."