Pioneer tennis coach humbled by court naming: 'This was never work for me, it was all fun'
Posted on Fri, Nov 9, 2012 : 5:49 a.m.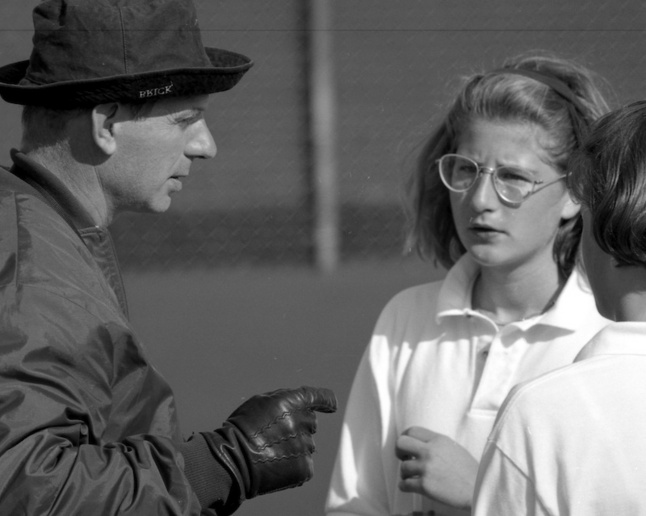 Ann Arbor News file photo
Longtime Pioneer High School tennis coach Tom "Brick" Pullen was humbled and a little embarrassed to be honored by the Ann Arbor school district Wednesday night.
But Liz Margolis, the district's director of communication, had Pullen take the podium anyway to receive praise, thanks and a standing ovation from the Board of Education and the audience after the school board unanimously approved naming Pioneer's tennis courts after him.
Pullen, who it has been rumored in the past was
mulling
retirement, had just a few words to say.
"You keep mentioning all this work," he said to the trustees, who praised him for his hard work and dedication in impacting so many young lives. "But this was never work for me. It was all fun, all passion. It was never, never work. So thank you very much for this."
Sandy Lymburner, an Ann Arbor Public Schools parent, spoke at the meeting. She read some words from her daughter, Courtney, who previously played tennis for Pullen and is now a sophomore at California-Santa Cruz. Courtney helped nominate Pullen for the naming honor.
In her statement to the board that her mom read aloud, Courtney said tennis is a sport in which the player must be on top of not only his or her physical game, but also his or her mental game. She said Pullen taught her about perseverance and how to apply mental and physical toughness to all aspects of her life.
"He is, second only to my parents, a major player in my life," Courtney wrote. "...He'll be one of those people in my life that I will never be able to thank for all of the things he's given me."
Pullen's history with Pioneer High School's tennis programs includes:
Boys coach for 23 years
Girls coach for 22 years
All but one of his teams has finished in top six in the state
Pullen led the girls to five state championships and 11 state runners-up
The boys under Pullen have won 10 state championships and three state runners-up
The boys went eight years without a loss
Numerous Coach of the Year awards
Two National Coach of the Year awards