Pittsfield Township sees improved fire service with switch to full-time fire department
Posted on Sat, Mar 16, 2013 : 5:58 a.m.
In December, the Pittsfield Township Fire Department responded to an arson call to a third-floor apartment at the Spice Tree Apartments where a woman was trapped inside.
The department's seven firefighters on duty at its three stations responded and the first truck was at the scene within five minutes.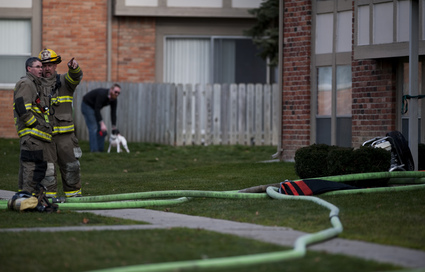 Daniel Brenner | AnnArbor.com
Additionally, its full-time firefighters who weren't on duty at the time also were able to quickly respond and provide back up.
After being found unconscious, the woman was transported to the University of Michigan Hospital where she spent several weeks in the intensive care unit before being released.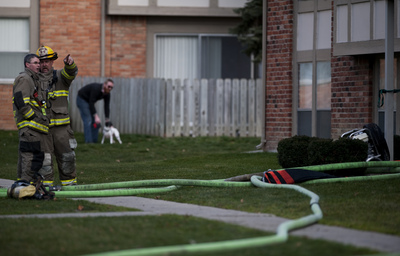 Daniel Brenner | AnnArbor.com
Officials from the fire department say the quick response time with adequate manpower were responsible for saving the woman's life and helping contain damage to only four apartments in the dense complex.
Until recently, the township's fire department may not have been able to respond with as many men in a timely fashion. Late last year, it completed a three-year conversion from a partially paid "on call" department to a full-time department.
City officials say the change has improved the township's fire service by keeping more readily-available firefighters at its stations 24 hours a day.
"Generally when we got a fire call during the day, we weren't getting our paid on-call people to come because they all work full-time day jobs," Pittsfield Fire Chief Sean Gleason said of the Spice Tree fire. "We were able to get the lady out and she was OK after spending a couple weeks in the ICU."
In 2009, the fire department staffed 39 paid on-call firefighters who responded to emergencies, but had to drive to the station when calls came in. The department received 2,660 calls in 2012.
"For us, it was a reliability issue," said Matt Harshberger, public safety director for Pittsfield Township. He praised the dedication and work of the paid on-call firefighters, but said it was difficult for those with full-time jobs or a commute to leave their jobs on a moment's notice.
As the township continues to grow, it also is now receiving more calls — which is where not having a reliable fire department was becoming an issue. Gleason said the model worked when he started at the department 21 years ago, but on-call firefighters don't work in bigger municipalities.
"It had nothing to do with (on-call firefighters) personally," Harshberger said. "It was a business decision to maintain and improve service to the community,"
Now the township has 26 full-time employees with six to eight firefighters manning three stations at all times during the day, and that does not including the chief and fire marshal.
"We have more folks on staff at any given time, not coming in from work or unable to come at all," Harshberger said. "We have additional firefighters on each shift. From a training aspect and as far as our response time, we have created a more effective model."
The change also has come at no cost to members of the township. Training and outfitting a high number of on-call staff was costly, Harshberger said. The move also reduced the township's overtime pay by 50 percent, and Gleason noted it improves firefighters' ability and skill when they are needed on calls, because they train daily instead of once a month.
Because of the savings from the shift to the more effective model, the fire department was able to hire several of the part-time firefighters it previously employed, Harshberger said. Pittsfield's firefighters' annual salaries begin at $42,254 and max out at $55,969 after five years.
The fire department has a budget of $3.5 million, though it's slightly higher this year because it purchased a fire truck.