Posted on
Thu, Aug 15, 2013 : 2:38 p.m.
Pittsfield Township moves forward with public surveillance camera program
By Tom Perkins
Pittsfield Township could soon have security cameras in place to monitor public places.
At its Tuesday, Aug. 14 meeting, the Board of Trustees unanimously approved the purchase of six cameras.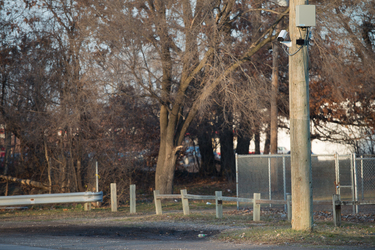 Courtney Sacco | AnnArbor.com
The vote was only on purchasing the hardware, and the board will next consider policy for implementing the program and monitoring data that township staff and Public Safety Director
Matt Harshberger
is drawing up. No date on that vote has been set.
"The intent, of course, is to enhance public safety services and make us more effective," Township Supervisor Mandy Grewal said.
The cameras would first be installed on township properties in places like parks, parking lots and outside of restrooms, but could eventually be included at three apartment complexes, Harshberger said.
The township is also currently in negotiations with real estate company McKinley, Inc. about installing cameras near exits and entrances at Glencoe Hills, 2201 Glencoe Hills Dr.; Evergreen Apartments, 3089 Woodland Hills Dr.; and Golfside Lake, 2345 Woodridge Way.
Grewal said the apartment complexes are being considered because of their high crime rates and high number of calls for police service originating from them.
Vandalism and graffiti have also been an issue in places like public parks.
"I think we're trying to target places where we've had high crime rates. I think that's the logic," Grewal said.
The purchase is for six security cameras, one server with offsite hosting and repair/maintenance service for one year from Camtronics. The total price tag for all of it is $31,667, with $28,500 coming from a state grant the township has been awarded. Pittsfield would provide 10 percent matching funds for the program.
Grewal said Harshberger has consulted with Ypsilanti Township, which piloted a successful public camera program in the West Willow neighborhood and in other areas throughout the township.
Officials there say they believe it has helped cut down on crime in those areas, and in the most dramatic case an image from the cameras led to the arrest of a sexual assault suspect.
Addressing concerns that cameras could invade residents' privacy, Grewal noted that the township contacted the American Civil Liberties Union as it began considering purchasing cameras.
"We reached of to ACLU right off the bat to make sure we're not going places we shouldn't," she said.
She also stressed that the cameras will send images to a server which will only be examined if it will help with a police investigation.
"The information gathered is going to be used for investigative purposes only. We're not going to be monitoring a stream of data," she said.
Tom Perkins is a freelance reporter. Contact the AnnArbor.com news desk at news@annarbor.com.