Posted on
Thu, May 17, 2012 : 5:57 a.m.
Officials: West Willow security cameras' value 'demonstrated in dramatic fashion' with sex assault arrest
By Tom Perkins
Nearly a year after Ypsilanti Township installed five public surveillance cameras in the West Willow neighborhood, one camera captured an image that directly led to the arrest of a man accused of sexually assaulting several girls last week.
It comes after some raised concerns that "Big Brother" was watching West Willow, but officials say the latest incident is proof the pilot camera program is an effective tool and re-asserted residents' privacy is protected.
Mike Radzik, director of the township's office of community standards, underscored that the cameras are only viewing public spaces, not residents' homes, and said he is pleased the camera system played a central role in apprehending a suspect wanted for a violent crime.
The suspect,
Daniel Jackson
, allegedly groped an 11-year-old girl and a 17-year-old girl in separate incidents on May 10. He
faces 13 charges
and has previously served 18 months for crimes related to sexual assaults.
Jackson was apprehended after Washtenaw County Sheriff's Office investigators circulated an image taken from security cameras posted in West Willow.
Radzik said officials are grateful law enforcement personnel identified a suspect before any additional assaults occurred.
"As details unravel, it appears the suspect is a violent repeat offender who likely would have continued until stopped. Clearly, the value of the township's camera system has been demonstrated in dramatic fashion," Radzik said.
"The ability to quickly distribute a 'wanted poster' containing high-quality images of a suspect captured in close time and space proximity to the sexual assault and attempted abduction of a child is a powerful and effective tool. This is exactly what the township board envisioned when the pilot program was initiated."
In April 2011, the Ypsilanti Township Board of Trustees unanimously approved paying $30,000 for the program out of the township's police fund.
In response to privacy concerns, Radzik said the township board set "strict parameters" when developing the pilot program.
"We were very careful to place and aim the cameras only at public property and to restrict access only to law enforcement personnel, so use of the technology in this way is consistent with any expectation of privacy on public property," Radzik said. "Captured images show what a witness would see if they were standing in the same place at the same time, and the technology preserves the images for instant distribution to law enforcement and the public to help solve crimes."
The cameras are fixed in place in five locations, cannot zoom, only record public places and do not face any homes. They are wireless, transmit images via cellular service and are attached to DTE Energy-owned utility poles.
Upon detecting motion in an area, the cameras start recording still images and transmit them back to a central computer. The images are selectively downloaded by the Sheriff's Department for investigative purposes. Images not downloaded are over-written by the device every four to five days, depending on the volume of activity, Radzik said.
The cameras don't provide a live stream and no one regularly monitors the recordings. Instead, police could preview and download the images from a local computer at the police station as needed, Radzik said.
Officials previously said West Willow was selected for the pilot because of its high concentration of crime and because it is "defined and contained." The triangular-shaped neighborhood has five entrances and is bordered by Interstate 94 to the west and south; the I-94 service drive to north and west and Wiard Road to the east.
Sheriff's Department Lt. Jim Anuszkiewicz said he wasn't aware of any overwhelming concern about privacy issues.
"I believe the arrest of the suspect in this cases is a prime example of why the cameras were put in place," he said. "Law enforcement continues to see alternative solutions to fighting crime through technology and this is one example of it."
Anuszkiewicz said the cameras have been useful in general.
"We have utilized the cameras on and off since their installation," he said. "They continue to be a useful tool to the Sheriff's Office in a number of ways. Not only do they assist with solving crimes such as the sexual assault arrest but they are also useful in validating investigations."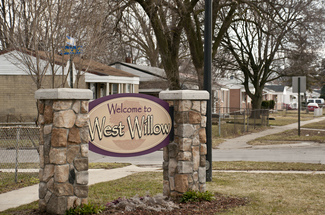 Tom Perkins | For AnnArbor.com
Angela Barbash
, who is involved with the New West Willow Neighborhood Association, said the cameras were welcomed as long as they didn't interfere with privacy, were not moved and footage was maintained by elected officials.
But she said the group has asked township officials for "written policies and procedures that would ensure these protections, and reduce any misunderstanding about how and where the cameras would be used."
"We have not yet received a written policy and are therefore keeping a close watch on their use as it unfolds," Barbash said. "That being said, we heard from many residents who were very excited to see that they were helpful in this investigation. This certainly makes us hopeful that they will continue to be used in a manner that is most consistent with the concerns and well-being of our community."
Radzik said official guidelines are in place for sheriff's office personnel when accessing the system, and a policy will be finalized if the pilot program is continued.
He said several other neighborhood groups have expressed interest in having cameras placed in their neighborhoods.
"The program's future will be deliberated as we approach the one year mark, and there appears to be widespread support to continue it," he said. "We are developing a funding strategy so that it can be sustainable into the future."