Posted on
Tue, Feb 5, 2013 : 12:45 p.m.
Pittsfield Township, residents ask federal government to block Ann Arbor airport expansion
By Amy Biolchini
The Pittsfield Township Board of Trustees and a citizen group have formally asked U.S. Transportation Secretary Ray LaHood to stop the proposed runway expansion at the Ann Arbor Municipal Airport, township authorities announced Tuesday.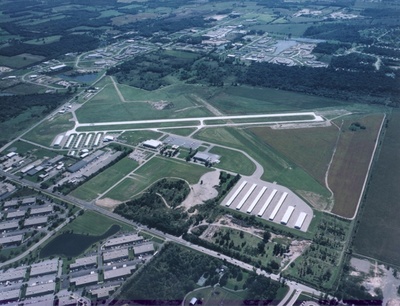 The township board and the Committee for Preserving Community Quality - a group of 400 residents from Pittsfield and Lodi townships, Ann Arbor and Saline - submitted a petition to the federal government asking it to deny approval and funding for the project, citing safety and environmental risks it would pose to residents living near the airport.
Acting under a legal provision that gives communities the ability to directly petition the transportation secretary when an airport is located in one community and governed by another and the governing authority requests federal funds for airport projects, the township and citizen group have submitted a 54-page petition.
The Ann Arbor City Council has plans pending for the expansion of the Ann Arbor Municipal Airport, which is located within Pittsfield Township but owned and operated by the city of Ann Arbor.
In August, council members voted 6-3 to approve a $42,500 grant contract with the Michigan Department of Transportation's Office of Aeronautics for work related to an ongoing environmental assessment.
That study still must be finalized, reviewed and approved by MDOT and the Federal Aviation Administration.
Pittsfield Township has been working in tandem with a group called the Committee for Preserving Community Quality to oppose the expansion of the airport for the past four years.
The city wants to lengthen the runway to 4,300 feet, which the township fears would bring larger and heavier jets to the airport. The airport's runway is 3,500 feet long, and the facility is near a residential subdivision.
About 15 percent of the water pumped to Ann Arbor's Water Treatment Plant comes from wells located at the city's airport.
In addition to calling for the transportation secretary to block the expansion, the petition calls for the city of Ann Arbor to consult with and receive the approval of Pittsfield Township before beginning any construction with federal funds.
The petition also asks for a more detailed Environmental Impact Statement be conducted to assess the impact on the surrounding communities, should the transportation secretary choose not to immediately halt the expansion.
Amy Biolchini covers Washtenaw County, health and environmental issues for AnnArbor.com. Reach her at (734) 623-2552, amybiolchini@annarbor.com or on Twitter.