Police: Ann Arbor bicyclist still in critical condition from crash on Monday
Posted on Wed, Aug 15, 2012 : 4:13 p.m.
Related: Do you feel safe using Ann Arbor crosswalks?
The bicyclist who was struck by a car in a crosswalk Monday in Ann Arbor remains in critical condition, police said.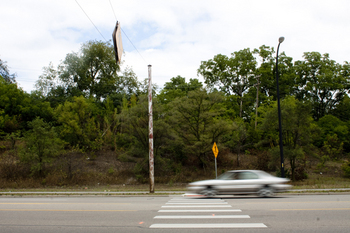 Jeffrey Smith | AnnArbor.com
Ann Arbor police Lt.
Renee Bush
said the 55-year-old Ann Arbor woman suffered broken bones and a head injury after she was hit by a Ford sport utility vehicle while crossing Washtenaw Avenue near Platt Road in a crosswalk at 5:40 p.m. Monday. As of Wednesday morning, the woman was still in critical condition at University of Michigan Hospital. Police have not released her name to this point.
The woman was hit by the SUV being driven by a 25-year-old Ann Arbor man, who stopped and rendered aid with a number of other passers-by after the accident. No charges have been filed yet, and police are still investigating the incident.
A witness who was riding her bike in the same area on Monday told AnnArbor.com the impact knocked the woman about 7 feet in the air before she came to rest on her side.
Sgt. Bill Clock, the lead investigator on the case, said Tuesday that excessive speed did not appear to be an issue in the incident, but a speed estimate was being done as a part of the investigation.
Police are still unsure whether the man violated the city's pedestrian crosswalk ordinance, which states drivers must stop for pedestrians about to enter a crosswalk.
Once in the crosswalk, state law states that drivers must stop for pedestrians. While the woman was riding her bicycle, defined as a vehicle, the Michigan Motor Vehicle Code states any bicyclist legally in a crosswalk has the same rights as a pedestrian.
The crosswalk on Washtenaw near Platt crosses five lanes of traffic and has an overhead sign, along with signs on the sides of the road. There are no traffic lights at that particular intersection.
Clock said Tuesday the Washtenaw County Prosecutor's Office will review the investigation when it is finished to determine whether any charges will be filed.