Posted on
Fri, May 4, 2012 : 9:43 a.m.
Police: Former U-M student Brice Moss believed to be alive, voluntarily missing
By Kyle Feldscher
Six days after he was reported missing, there's finally some good news regarding the disappearance of former University of Michigan student Brice Moss: Police believe he is alive.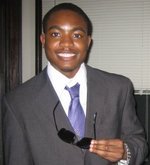 Courtesy of Facebook
Ann Arbor police Lt.
Renee Bush
couldn't confirm how investigators have come to that conclusion, because the case is still open, but all indications are that Moss left of his own free will.
"The investigation leads led us to believe he's alive," she said. "It appears at this time he voluntarily left and he is still considered missing."
Moss's disappearance was reported to police Saturday after his mother came to Ann Arbor and expected him to graduate. Moss never showed up, and his mother told police she believed he was in danger.
He was last seen by his friend and roommate at 2:40 a.m. Saturday, and his tan 1999 Lincoln Town Car was last seen parked near a friend's home on Ann Street at 12:30 a.m. Sunday.
Although his mother expected him to graduate Saturday, Moss hasn't been enrolled at U-M since April 2011, university officials said.
Ever since Moss was reported missing, friends and family members have been expressing their sadness at his disappearance on various social media platforms. A Facebook page titled "Help Find Our Friend Brice Moss" had nearly 1,800 likes as of 9:25 a.m. Friday.
Bush said that outpouring of support might encourage Moss to reach out to someone.
"We're still hopeful he will reach out to a friend or family member and let them know he's OK," she said.
Bush couldn't confirm a report in The Michigan Daily Wednesday that Moss had been seen on U-M's North Campus. She said detectives are still investigating the case and, even though it's believed Moss is alive, the search will not stop until his location is confirmed.
Anyone with information Moss's whereabouts is encouraged to call the Ann Arbor police at 734-794-6921 or 911 if in the city of Ann Arbor.
Kyle Feldscher covers cops and courts for AnnArbor.com. He can be reached at kylefeldscher@annarbor.com or you can follow him on Twitter.