Posted on
Tue, Feb 26, 2013 : 5:59 a.m.
Police chief asking Ann Arbor City Council for boost to overtime budget
By Ryan J. Stanton
Police Chief John Seto says Ann Arbor would have a stronger police department if the City Council approves a tentative budget plan unveiled Monday night.
Authorized staffing levels in the city's police and fire departments would remain unchanged under the plan, but Seto believes a sizable boost in the police overtime budget could go a long way.
Seto, who oversees both police and fire as the city's safety services administrator, gave an overview of the budget requests for both departments during a special council work session.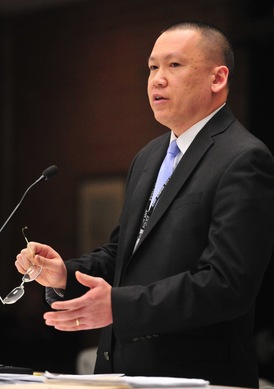 Ryan J. Stanton | AnnArbor.com
The police budget assumes $24.2 million in baseline expenses to start next fiscal year on July 1, and Seto is requesting an additional $263,312, bringing the budget up to nearly $24.5 million.
Seto is asking for an extra $205,787 for police overtime, plus another $70,000 for excess comp time to be paid out as overtime, $28,000 to provide funding to Washtenaw County for existing animal control services, and more than $18,5000 for materials and supplies.
Some of those requests are partially offset by proposed reductions in other line items. Separate from Seto's requests, $19,000 in increased overtime already is built into the police budget.
The police department's budget has been squeezed over the years to the point that the department has held off on filling vacant positions for fear it might experience overtime cost overruns, Seto said.
Having more flexibility with overtime, he said, would help ease the situation and get the police department back up to full strength.
"For instance, my authorized FTE is 119 right now, and it has been for the last couple of years," he said. "We have not been close to that targeted 119. Currently we're at 113.
"So we're always battling with balancing our ability to fill those positions with the overtime impact," he added. "I believe that is not a good policy to proceed with."
Seto provided a breakdown of the department's $1.17 million overtime budget (a two-year average not including communications), showing $322,000 is reimbursable for contracted services, including officers provided during University of Michigan football and basketball games.
About $137,000 is for investigative overtime, $64,000 is for patrol overtime and nearly $645,000 falls into another category that includes holiday double-time pay and overtime pay for the time officers spend appearing in court for traffic hearings and other matters.
Council Member Sumi Kailasapathy, D-1st Ward, asked Seto if he had done an analysis to determine if it makes more sense to pay more overtime instead of hiring more officers.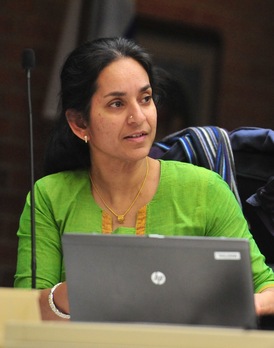 Ryan J. Stanton | AnnArbor.com
"In areas that we can optimize and reduce overtime, we will continue to try to do that, but the window is smaller because most of it is contractual or reimbursed overtime," Seto said.
Council Member Jane Lumm, an Independent who represents the 2nd Ward, told Seto she'd like to see data for the last 10 years that show the number of sworn officers in Ann Arbor each year and the amount of overtime paid each year.
During his presentation to council, Seto noted the police department's projected budget includes the cost of keeping three school liaison officers that had been covered under a contract with Ann Arbor Public Schools for many years until the school board decided to stop paying for them this past year.
"The cost of those three school officers has been absorbed into the budget," he said. "So in essence we're getting three additional officers for me to deploy in our operations."
Seto provided only a brief explanation of the added costs for animal control services. The county has wrestled with how to fund animal control services over the past two years.
"This was a request from the county to assist in their funding for animal control," Seto said. "They do have two animal control officers that do assist the city while they're on duty."
Without additional adjustments, the fire department's baseline expenses are slated to rise to $14.4 million in the next fiscal year. That includes maintaining four firefighter positions that were added to the budget this past year — three of which are grant-funded for another year.
Seto and Fire Chief Chuck Hubbard are asking for another $94,526 on top of that to cover a handful of items, including positions changes and step increases, uniform and equipment costs, and some new thermal imaging cameras. That would bring the department's budget up to $14.5 million.
The fire department has 86 full-time employees and is at full strength right now.
Seto said at this point he's not requesting additional staffing in the police or fire departments, but that will be something council could discuss as the budget process moves along.
The City Council is expected to vote on a final budget at its May 20 meeting. Between now and then, the schedule includes a March 11 work session, another work session March 25 if needed, release of the city administrator's recommended budget April 15, and public hearings May 6.
Ann Arbor officials readily acknowledged Monday night that one of the impacts of the city's budget reductions over the past decade has been a reduced police force, while a reduction in fire staffing has created deployment challenges for the Ann Arbor Fire Department.
Seto said proactive policing efforts have been reduced and the department has become primarily reactive, while downtown beat officers were cut.
"That was probably one of the more visible reductions that we've had," he said. "Ten years ago we probably had about eight officers assigned to beat areas."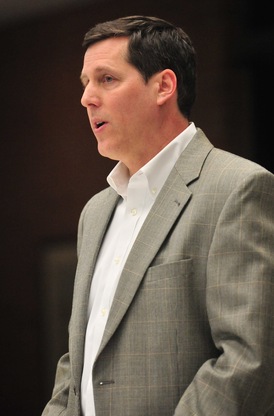 Ryan J. Stanton | AnnArbor.com
Seto said the city's officers are now deployed to be reactive and he believes the department has been effective, particularly with regard to a spike in home invasions last year.
"As far as reacting to those types of crimes … we have made a lot of significant arrests, and that's due to our reactive policing," he said. "From August through February of this year, in six months' time, we've arrested 20 different individuals for home invasions and closed out 70 cases."
In the first six weeks of 2013, Seto said, home invasions are down now.
"From a reactive response, I think we're being very effective, but I don't have much flexibility left," he said, adding "something's gotta give" in order to get more proactive and do more community engagement.
Mayor John Hieftje said it's hard to say if the City Council will take any action to increase staffing levels in police or fire this year.
"If you take a look at what our projected revenues are, it's hard to see any room in there, because the city government is extremely slim," he said.
"If we had a better outlook, I could see us adding a few folks on the police and fire side, and we may yet find a way to do that, but we're certainly not there now."
Hieftje said he thinks all of the special requests for police and fire that were outlined Monday night, including an increased overtime budget for police, will be supported by council.
However, he expects some of the requests in other departments' budgets will be trimmed down to "just what's needed" by the time the city administrator's budget comes out.
"We're at a point now where, coming out of the recession, we can't celebrate yet," he said. "Things are looking good, but we're already projecting some problems in future years that we need to be cognizant of, but I can assure anybody that the city operation is extremely lean at this time."
Hieftje said it's important to note there are two police departments in Ann Arbor, and the University of Michigan has an additional 55 armed and sworn officers to match the city's force.
Tom Crawford, the city's chief financial officer, gave an updated financial forecast that included some detailed budget projections at Monday night's meeting.
He said the city's two-year budget outlook calls for maintaining existing service levels while permitting some one-time expenses, including addressing deferred maintenance needs.
Crawford noted it's the first year since he's been the city's CFO that he's seen city departments requesting funding increases instead of proposing reduction plans.
The city is expecting a 2.3 percent increase in general fund property tax revenues in the next fiscal year, a 6 percent increase in state shared revenue, and a 20 percent increase in parking revenues from the Downtown Development Authority. Overall, the city is forecasting general fund revenues will increase 3.9 percent next year, while expenses tick up 2.3 percent.
Crawford said it's the year after that presents a challenge. The city predicts a 1.5 percent increase in general fund revenues and a 3.3 percent increase in expenditures in 2014-15.
Costs going up include payroll, pension contributions, retiree health care contributions, electricity, vehicle costs and debt service for capital projects.
Crawford is projecting $82.3 million in recurring revenues and $80.8 million in recurring expenditures in the general fund next year, leaving a nearly $1.48 million surplus to work with.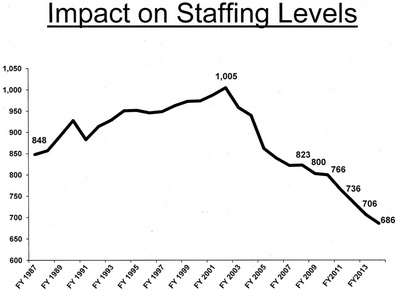 City of Ann Arbor
But that's before factoring in $698,000 in recurring funding requests from departments that would drop the general fund surplus down to $779,000.
Additionally, there are another $431,000 in one-time expenditures and nearly $1.3 million in capital improvement requests in the general fund that council will have to consider. If everything was funded, Crawford said, the city would operate at a $950,000 deficit in the coming year.
Projections for 2014-15 show the annual deficit would grow to nearly $3.5 million if everything was funded that year as well. Even before considering one-time costs, balancing recurring revenues against recurring expenditures in 2014-15 leaves a $514,000 deficit.
"We still have some challenges for this year," Crawford said. "We can't meet all the needs, so in the remaining couple of months we have an opportunity to rationalize those needs.
"We, of course, will continue to be as efficient as we can on the operations and investments, but at this point there are enough delayed needs that are greater than the resources we have still," he added. "But we're in a lot better shape than we have been."
Crawford didn't give specifics Monday night, but he said city employees are stretched thin in some departments and the city could deliver services better if it filled some staffing holes. The city's full-time employee count has dropped from 1,005 to less than 700 since 2001.
Crawford doesn't expect any notable changes in FTE counts, though.
"We have no recurring resources to add FTEs in this budget that I see, unless we re-prioritize, make some cuts someplace, and pull it from someplace else," he said. "What we do have is some one-time monies to deal with some issues we have, but they're not monies to hire FTEs."
Ryan J. Stanton covers government and politics for AnnArbor.com. Reach him at ryanstanton@annarbor.com or 734-623-2529. You also can follow him on Twitter or subscribe to AnnArbor.com's email newsletters.