Posted on
Mon, Sep 9, 2013 : 10:05 a.m.
Police expect to finish investigation into crash that killed U-M student by end of the week
By Kyle Feldscher
Ann Arbor police expect to submit their investigation into the crash that killed Sharita Williams to Washtenaw County prosecutors by the end of this week.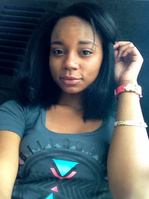 Facebook photo
The news comes one month after Williams died from her injuries suffered in the Aug. 7 crash. She died at University of Michigan Hospital Aug. 9 at the age of 20.
Sgt. William Clock said crash reconstructionists are close to finishing their investigation and expect to send their report to the Washtenaw County Prosecutor's Office.
"Myself and the other crash reconstructionists working on it are close to finishing it up," Clock said in an email over the weekend. "We should have it to the prosecutor's office for review by Friday."
After the case is submitted, it'll be up to prosecutors to determine if there will be charges filed against the driver.
A green Chevrolet Cavalier struck Williams about 3 p.m. Aug. 7 on Plymouth Road between Nixon Road and Traverwood Boulevard. Williams was crossing the street from north to south in a pedestrian crosswalk and was struck in the right eastbound lane, police said.
The Rapid Rectangular Flashing Beacon (RRFB) lights at the crosswalk were activated and flashed for about 30 seconds before the crash took place, witnesses said. Other vehicles had stopped for Williams to allow her to make it nearly out of the roadway before she was hit.
Police interviewed the driver of the green Cavalier at the scene for an initial statement, but she declined a follow-up interview on the advice of her lawyer. She is allowed to drive while the investigation continues, and her license cannot be taken away unless charges are filed and a review is ordered.
Police did not do a sobriety test on the driver at the scene because they did not have any reason to believe the woman was intoxicated.
Williams was entering her junior year at the University of Michigan and was a native of Clinton Township.
Kyle Feldscher covers cops and courts for AnnArbor.com. He can be reached at kylefeldscher@annarbor.com or you can follow him on Twitter.