Posted on
Fri, Dec 4, 2009 : 1:24 p.m.
Pittsfield Township homeowner being released as police investigate whether shooting was self-defense
By Amalie Nash
Updated story: Pittsfield Township police say evidence points to self-defense; man who was shot was armed
A Pittsfield Township man arrested following a fatal shooting outside his home Wednesday is being released today without charges as police investigate whether the shooting was self-defense.
Washtenaw County Chief Assistant Prosecutor Joseph Burke said the prosecutor's office has asked detectives to continue investigating before a decision is made on any possible criminal charges. He said that investigation would include more witness interviews, autopsy reports and other information.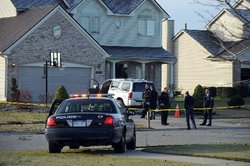 Adham Mofiid Abu Farha, 34, was arrested Wednesday morning after a shooting that killed Michael Robert Rajchel, 28, of Van Buren Township.
Pittsfield Public Safety Director Matt Harshberger said at 1:20 p.m. today that police are investigating whether the shooting was in self-defense. He declined to immediately provide further details about what happened that morning or what Farha told police.
Harshberger said additional details may be released this afternoon.
The shooting took place inside a car in Farha's driveway on Rockport Court in the Arbor Creek subdivision at 8:30 a.m. Wednesday. About 20 students were waiting for the school bus across the street.
A witness earlier told AnnArbor.com she saw two men shake hands in the driveway before multiple shots were fired minutes later.
Burke declined to discuss the reason for today's decision or any other aspects of the investigation.