Posted on
Fri, Jan 22, 2010 : 6 a.m.
University of Michigan Survival Flight crew describes trip to retrieve Haitian patients
By Tina Reed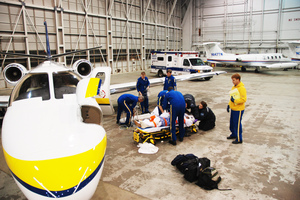 A Survival Flight crew with a Haitian patient is shown in a Willow Run airport hangar on Wednesday evening. Photo courtesy | University of Michigan Health System
Just a few days ago, the earthquake in Haiti was still just a news story to Wilson Bowers, a flight nurse who is part of the University of Michigan Survival Flight crew.
But on Tuesday night, the situation got much more real for Bowers and other crew members when they began a 24-hour journey to the devastated nation to pick up a seriously injured patient. By Wednesday, they were scrambling to treat two injured patients from Haiti on a return trip to Michigan where they could receive medical treatment.
Last week, U-M announced its jet was on standby should it be needed for the rescue efforts in Haiti, and it was considered a preferred provider by the Federal Emergency Management Agency. The fixed-wing aircraft is part of the Survival Flight fleet and is a leased aircraft managed by Pentastar Aviation Inc.
Preparing as best they could for the trip, the crew packed extra relief supplies like baby formula and peanut butter. They also tried to figure out exactly what extra supplies they would need in the jet, which has been described as being an intensive care unit in an airplane.
"We were assuming there might be extremity injuries that might keep us from more standard ways of accessing patients' veins, and we took more IV fluids we'd take on a normal flight because we knew the time would be long," said Jeffrey Pothoff, a chief resident in U-M Emergency Medicine.
The group flew out of Willow Run airport Tuesday evening and headed to Fort Lauderdale, Fla., to get in position. By midday Wednesday, the group was making its final approach toward Port Au Prince, Haiti.
The plane had to abort its landing three times before it was finally able to make it to the ground because the airport doesn't have a radar tower and so many planes are trying to access the runway.
So the plane circled the Haitian city and saw just how bad the situation is on the ground, Bowers said. They looked at the city and saw the aid ships out on the water, including the Navy's hospital ship, the U.S.N.S. Comfort.
"Then coming in on the final approach to the airport, we got a good look at the destruction of the city, and it is just mind boggling," Bowers said. "Port au Prince is a very large metropolitan area... you see two or three blocks of houses that are intact, and then you see blocks that are just sheer rubble."
After the group finally landed, pilot Jason Donaldson of Pentastar Aviation said they found the airport crowded with every kind of aircraft imaginable. It was packed with pallets full of boxes, presumably full of medical or food aid.
They noticed it was intensely hot outside. And in an unusual arrangement, the group was asked to park the jet in the grass to leave room for the larger jets to park on sturdier ground, Donaldson said.
They received their patient quickly, and the flight clinicians got to work asking the doctors already treating the patient for some basic health information. Is the person's body performing basic functions? What is the sodium level? Do you have a X-rays? That's when they learned the full extent of how bad things were on the ground, Bowers said.
"You hear people say it's 'jungle medicine, it's battlefield medicine' down there right now," Bowers said. "They really are just doing basic first aid. They are doing a good job with what they have."
The health system and crew declined to discuss details of the injuries or patients, citing privacy laws.
The Survival Flight crew was on the airport compound for a few hours before they began making the trip back. Taking into account the weight of everything aboard, the pilots determined it was safe to take a second patient on the flight.
After switching for fresh pilots in Florida, the group finally finished the trip about 8 p.m. Wednesday evening at Willow Run Airport. A Survival Flight helicopter and a Huron Valley Ambulance were waiting to whisk the patients back to hospital in Ann Arbor to begin "advanced specialized care."
The university declined to discuss details of how the flight and patient care were being paid for, indicating the details are still being worked out.
On Thursday, health system officials announced to employees they were caring for the two patients.
"The patients have injuries that require complex care that's available at few medical centers in the country, among them UMHS," the university said in a statement e-mailed to employees. "Due to privacy laws, we are not releasing further details about the patients or their injuries at this time. However, we are proud to play this small role in the world's response to the massive tragedy in Haiti and to offer our air medical transport and our care to these patients."
Part of the job for the crew is to handle some of the worst emergency situations, and Bowers said he's able to put most of them aside. But this is one emergency call he doesn't think he'll ever forget.
"Until you actually experience that that type of thing, I don't know how you prepare for that?" Bowers said. "You just go down there knowing you've got the right equipment, you've got the best people and you do the best you can."
Tina Reed covers health and the environment for AnnArbor.com. You can reach her at tinareed@annarbor.com, call her at 734-623-2535 or find her on Twitter @TreedinAA.