Posted on
Mon, Jul 9, 2012 : 2:59 p.m.
YOLO: Prankster reprograms East Stadium Boulevard road sign in Ann Arbor
By Ryan J. Stanton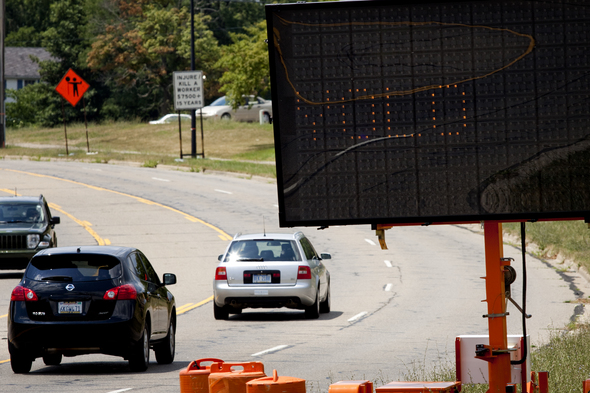 Jeffrey Smith | AnnArbor.com
This story has been corrected to note that State Street is expected to be open to both north and south traffic by Wednesday.
Road construction signs in the Ann Arbor area have been reprogrammed in the past year or so with racial slurs, warnings of zombie invasions and now something more positive.
"YOLO," reads the digital message board along East Stadium Boulevard near Tappan Middle School.
The acronym, which has gradually invaded our lexicon, stands for "You Only Live Once." YOLO also was spray-painted recently on the side of a local resident's home.
An unknown prankster hacked into and reprogrammed the sign on East Stadium sometime in the last few days. It was brought to the attention of city officials on Sunday afternoon.
Homayoon Pirooz, head of the city's project management unit, said on Monday afternoon the city was trying to get a hold of the company that owns the sign.
"Only the contractor can come back and reprogram it," Pirooz said, acknowledging the city has seen other cases where people have tampered with other message boards.
The sign on Stadium is supposed to read "road construction ahead." The work being done on East Stadium includes replacement of underground water mains between Packard and Brockman Boulevard, and resurfacing from Packard to Washtenaw Avenue.
Traffic is limited to two westbound lanes and one eastbound lane. Crews already have installed new water main on the north side and are now working to install a main on the south side.
The road should be resurfaced and reopened by the end of October, Pirooz said. The nearby Stadium bridges are scheduled to reopen to traffic on Nov. 14.
"Everything we're working on is on schedule. I don't have any reports on anything being late or behind," Pirooz said. "Things are moving very nicely."
State Street, which was partially closed as part of the Stadium bridges project, is expected to be open to traffic in both directions by Wednesday. Pirooz said there's a chance the Stadium bridges project could be finished earlier than planned, but not by much.
A newly repaved portion of Hill Street should be open by the beginning of next week in time for the Ann Arbor Art Fair, Pirooz said.
Meanwhile, work on Packard is expected to be done by the end of August, and work on Dexter Avenue should be done by early November.
Ryan J. Stanton covers government and politics for AnnArbor.com. Reach him at ryanstanton@annarbor.com or 734-623-2529. You also can follow him on Twitter or subscribe to AnnArbor.com's email newsletters.