Posted on
Thu, Apr 15, 2010 : 2:24 p.m.
President Barack Obama's commencement address at U-M to be broadcast on Big Ten Network
By Amalie Nash
If you can't score tickets to see President Barack Obama deliver the University of Michigan commencement address, there's always the Big Ten Network.
The channel announced today it will broadcast a special edition beginning at 10:30 a.m. May 1. The ceremony will begin at 11 a.m.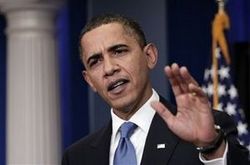 Obama's address will be broadcast live from Michigan Stadium as a special edition of the network's University Showcase programming.

Obama's speech will be the first televised commencement address for the three-year-old network, a partnership between the Big Ten Conference and Fox Cable Networks, the Big Ten Network said.
The entire commencement ceremony will also be streamed live at www.BigTenNetwork.com.

Big Ten Network President Mark Silverman said in a release that such a major national event taking place on a Big Ten campus was a natural fit for the network.
"President Obama's commencement address at the University of Michigan is undoubtedly a newsworthy occasion, and we're pleased to be able to carry it live to a national audience," he said in the release.
In addition, local Comcast channel 22 will broadcast the commencement address live, as it has in years past, U-M said.
Obama will be the fourth sitting American president to visit U-M, following George H.W. Bush in 1991; Gerald R. Ford, who launched his re-election campaign there in 1976; and Lyndon B. Johnson, who announced the Great Society Program at the campus in 1964.